A new party bike company with pub crawls and history tours rolls into town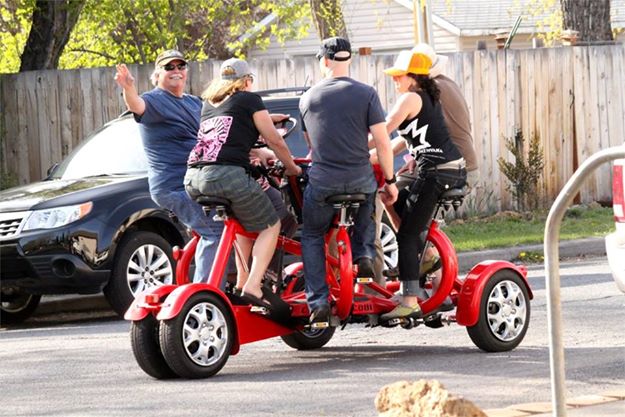 SacTown Social Bikes, a new tour company based in downtown Sacramento, is bringing more pedal power to the capital city.
Co-owners Ruben Amaya and his fiancée Lalena Nelson have been slowly rolling out bikes for tours since early February, and tentatively plan to officially launch March 3 to coincide with the opening of Cantina Alley— a new Mexican eatery in midtown, which will be one of the company's two pickup locations, along with downtown's Vallejo's Restaurant.
Like the other bike tour outfits in the region, Sac Brew Bike and Off the Chain, the new group offers a 15-seat party bike, but SacTown Social also curates tours on two smaller six-seat bikes, which are configured in a circular formation so that riders can easily engage with each other while pedaling along the street.
"A lot of people can't always get 15 [friends] together, so we decided to bring in this little bike," Amaya says of the human-powered six-seaters, which have cup holders and an umbrella in the middle.
While Amaya and Nelson will host bike tours that stop at pubs, taprooms and restaurants like Federalist, Fox & Goose and de Vere's, they have also created routes that show off local history and popular tourist spots with stops at the Capitol and in Old Sacramento. Nelson points out that because the six-seat bike is smaller, children as young as 12 can partake in the less booze-forward tours.
"Our main thing is for everyone to get on the bike and have a great time," Nelson says.
Eventually, the couple plans to expand its company to El Paso, where part of Amaya's family lives. The Texas city does not yet have an ordinance allowing brew bikes on its roads, but is currently working on one modeled after Sacramento's plans. How's that for street cred?
Tours start at Cantina Alley (2320 Jazz Alley) or Vallejo's Restaurant (1100 O St.). 968-2453. sactownsocialbikes.com
You Might Also Like
A new outdoor movie series for grown-ups launches in June with four Coen brothers films
Ruhstaller signs lease on new downtown taproom
Cesar Chavez Plaza's new Mexican restaurant to open this spring