A new playground for dogs and their pet humans to open in Sacramento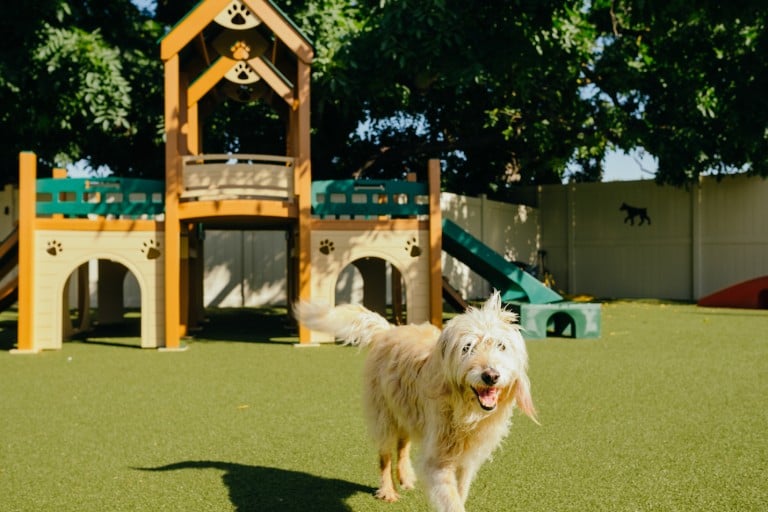 You know the scene: A fenced-in, sunbaked dirt lot doubling as a dog park, with nary a hydrant nor a tree nor a patch of grass upon which rambunctious canines might take aim. Nevertheless, there are many of them running amok, so good-natured and grateful to be off leash among their fellow Fidos that the thought of something better than this barren plain would never cross their innocent minds.
But soon, the earthly equivalent of a doggy nirvana will open in Sacramento. Mark and Kristin Minnie—owners of The Local Bark pet resort in Rancho Cordova and The Animal Den Pet Resort & Spa outside Tahoe Park—will launch The Local Bark Park at The Animal Den on Friday, July 3, as the city's first membership-based pet recreation area.
"People love giving their dogs the ability to run and play with other dogs in an off-leash setting. However, the lack of structure and rules can lead to disaster," says Kristin.
The list of requirements to join the furry fray includes a full vaccination record, spayed or neutered status for dogs over the age of 10 months, and a temperament test to assure harmony on the AstroTurf. But the quality assurance for the hangout doesn't stop there—pet owners will be required to attend an orientation, not only to familiarize themselves with the human rules of attendance (among them, no smoking, no disciplining someone else's dog and, in the age of COVID, wearing a mask and practicing social distancing), but also to ensure their active participation in the park. Even though The Animal Den's "team of dog professionals"—the pet resort remains open to the public for grooming and boarding—will be monitoring the play on the field, Kristin offers the following caveat: "No setting your dog loose and then kicking back on your phone."
Once you make it through the admission process, a sprawling 7,500-square-foot park awaits, complete with doggy-friendly amenities like a splash pool (humans can only wade in if their pet is in distress), a jungle gym situated under the cool canopy of a big walnut tree, and a sand-digging pit to work out all of those natural yard-destroying tendencies.
Pet owners will also enjoy fringe benefits of membership—after all, they're the ones paying the monthly dues ($20-$35 per month per dog; guests can make up to two trial visits—which are $15 each—before committing). A charming, corrugated island-style shanty, the likes of which you'd see on a semi-deserted Caribbean beach, will supply snacks and frosty canned beer from local breweries like Sudwerk, Device and New Glory. A covered patio area will come equipped with water misters for the summer season (and heaters in colder weather), as well as Adirondack chairs from which to take a load off, watch movies on the big-screen television and in general relish in the welcome relief from a beating summer sun.
Birthday parties for dogs will soon be available at the park, but until then, Saturday evenings will have to do for a regular celebratory occasion—that's when over 200 bouncy tennis balls will drop from an uninjurious height of 12 feet upon a pack of unsuspecting and subsequently joyous, jumping dogs, including the four-legged members of the owners' family: Jagger, a Chihuahua mix; Jake, a labradoodle; and Goose, a German shepherd. "Every city needs a dog park like this!" says Kristin.
$20 a month for small dogs; $35 a month per medium to large family dog; $15 for trial visits (max of 2). Tues. 5-8 p.m. Fri. 5-9 p.m. Sat. 10 a.m.-9 p.m. Sun. 10 a.m.-8 p.m. 4024 Power Inn Road. 916-456-4720. animaldenpetresort.com