A new traveling Yuletide cocktail bar with a tiki twist pops up in Sacramento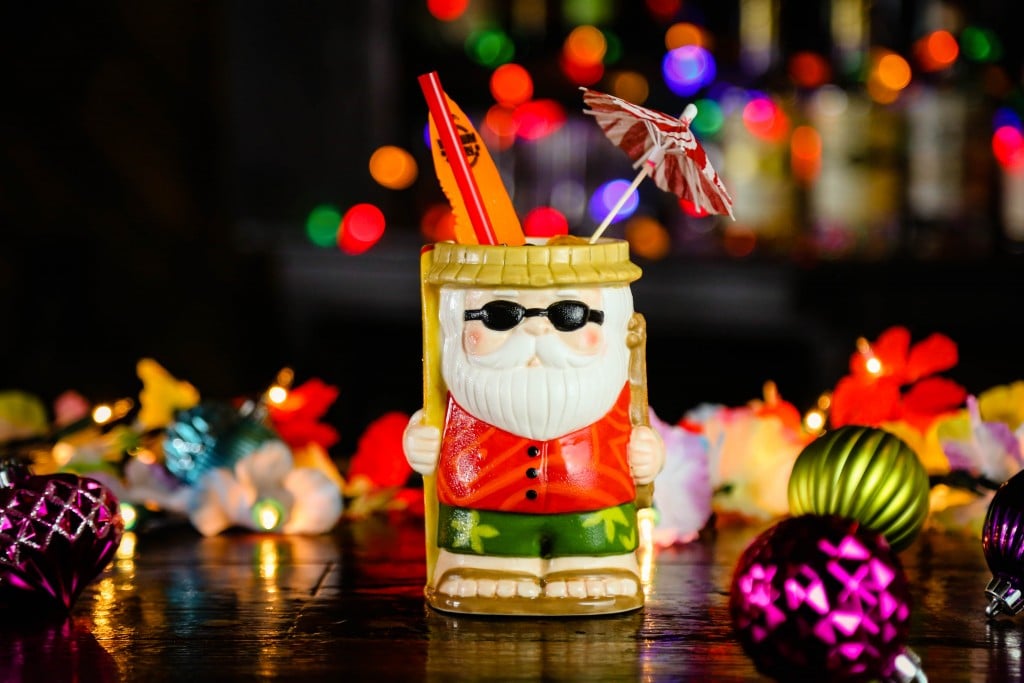 'Tis the season for piña coladas and paper umbrellas—at least it will be when Sippin' Santa, a new touring holiday-themed tiki bar, takes over midtown's Jungle Bird this winter.
Miracle—the annual holiday pop-up bar hosted by dozens of venues around the world—is introducing Sippin' Santa this year, a similar concept that focuses specifically on tiki drinks. The Jungle Bird was selected to be one of the 12 inaugural Sippin' Santa locations in the country, and Sacramento is the only West Coast stop on the national tour.
"When they asked us to join, I was overwhelmed," says Jungle Bird co-owner Tyler Williams, who adds that he's "a huge Christmas fan." After receiving the invitation, Williams flew to New Orleans to meet rum expert and tiki historian Jeff "Beachbum" Berry, who co-designed Sippin' Santa's cocktail lineup, about how to deck the halls for the event. Berry's advice, Williams says, was "not to hold back. Make it crazy, and make it big. And that's what we 100 percent intend on doing."
So expect to see an explosion of tropical Christmas kitsch—think tchotchkes like Santas in Hawaiian shirts—that will match the custom glassware Miracle provides for the event (one glass, pictured at right, is emblazoned with an image of Santa surfing shirtless). The glasses will be available for purchase, with 10 percent of sales going to the charity Action Against Hunger.
Eight cocktails will fill those custom glasses, including the the Kris Kringle Colada, which keeps the rum, pineapple and coconut cream of a piña colada, but adds a Yuletide kick with allspice liqueur and bittersweet Italian Cynar; the Grinch Grog, a tequila-based take on a classic tiki libation called the Navy Grog that required the Jungle Bird team to source pine liqueur and to whip up its own green "Grinch syrup"; and retro-hip Hawaiian Milk Punch, a blend of heavy cream, chai syrup, nutmeg, bourbon, sarsaparilla and tobacco bitters.
The Sippin' Santa pop-up will start at Jungle Bird on Friday, Nov. 23, and run through Jan. 1. (The tiki restaurant's full menus of eats and cocktails will remain available during the pop-up.)
Meanwhile, Jungle Bird's midtown neighbor Red Rabbit, which last year became the first Sacramento location to participate in the Miracle pop-up, is set to reprise the holiday hoopla from Nov. 26 through Dec. 24. Folks can expect cocktails like the Bad Santa (served in a winking Santa mug), a hot punch with two types of rum, Batavia Arrack (a molasses- and rice-based spirit), almond milk and coconut water; the Snowball Old Fashioned with butterscotch rye, spiced demerara sugar, wormwood bitters and orange zest; and the Run Run Rudolph, made with prosecco, mulled wine purée and lemon.
The Sippin' Santa pop-up runs from Nov. 23 to Jan. 1 at The Jungle Bird. 2516 J St. 916-476-3280. thejunglebird.com. The Miracle pop-up runs from Nov. 26 to Dec. 24 at The Red Rabbit Kitchen & Bar. 2718 J St. 916-706-2275. theredrabbit.net. For more information visit miraclepopup.com.
You Might Also Like
A holiday-themed pop-up bar comes to Sacramento this December
The Bank food hall sets opening date
New Glory Craft Brewery opens new taproom and eatery in Granite Bay