A new yacht-rock bar from the team at The Snug sets sail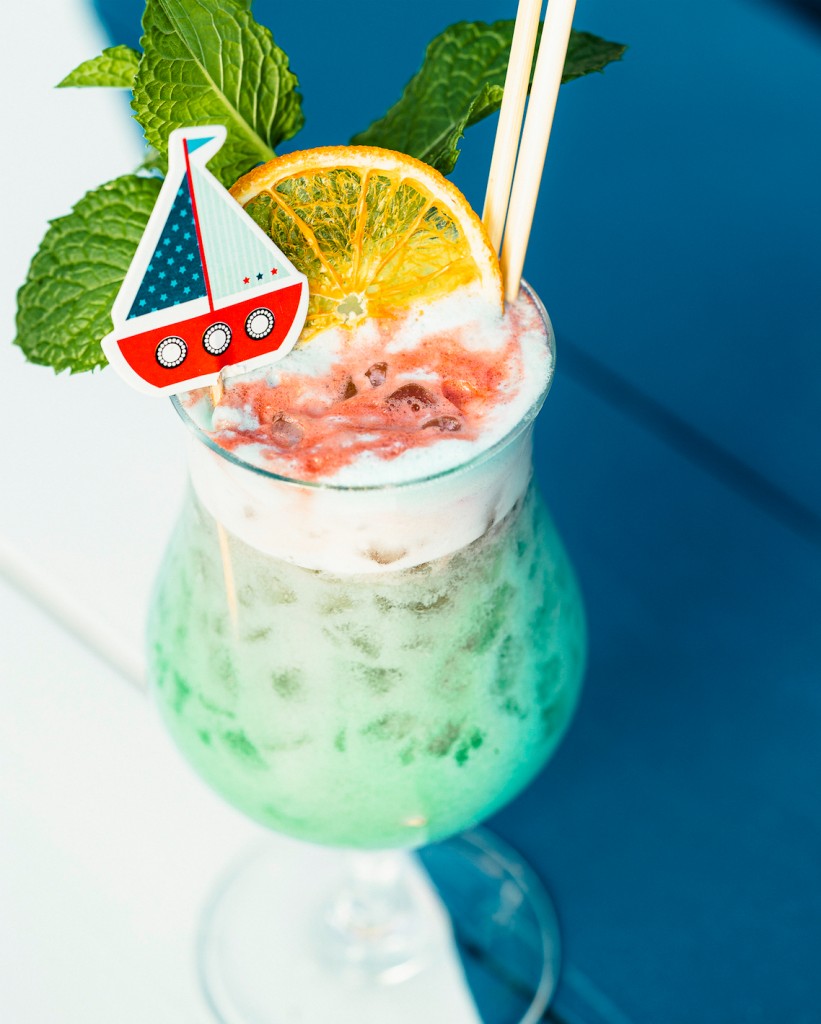 Update March 11, 2021: After docking for the colder months starting last November, The Doobie Bar reopened on March 6. The outdoor bar is currently open Thurs.-Sun. 6 p.m.-1 a.m.
Sacramento may be landlocked, but you'll be able to escape to cooler waters at The Doobie Bar, a new contactless yacht-rock-inspired patio—did someone say boat drinks and hot dogs?—that sets sail on its maiden voyage on Wednesday, July 22. Located in a once-forlorn parking lot along the R Street Corridor, this outdoor hideaway endeavors to provide physically distanced, nostalgic summer fun for you and your quarantine crew.
When the bar opens at 7 p.m. you'll find your host roosting atop a custom-made lifeguard tower, ready to direct you via megaphone to one of 11 spread-out lounge spots. Wrapped in a white picket fence, the patio will offer a mix of wooden tables and AstroTurf picnic spots outfitted with lawn chairs. Guests will simply place orders from their phones (no cash or credit cards to exchange) and then recline in the shade of over a dozen potted palm trees while the musical stylings of yacht rock royalty like Kenny Loggins, Christopher Cross and, of course, The Doobie Brothers stream over the speakers. A nautically dressed attendant will wheel a drink cart to your spot, at which point you'll be able to grab the beverages yourself.
"We want to be really cheeky and fun," says Trevor Easter, The Snug's director of operations and "captain" of The Doobie Bar, which like its sister watering hole, is owned by Henry and Simon de Vere White. Since The Snug's cozy mahogany booths and tightly packed bar didn't match the current ethos of social distancing—it's been closed during the pandemic—Easter thought it was time for a change.
In keeping with the theme, the drinks menu at The Doobie Bar, situated in front of The Snug at 15th and R, will feature cocktails like the Phil Collins, made with coconut fat-washed gin or vodka, white wine, berries and lemon, and Easter's version of the classic Miami Vice cocktail, a frozen daiquiri of strawberry-infused rum mixed with house-made coconut piña colada mix and served, of course, in a palm-tree-shaped glass.
Underscoring The Doobie Bar's retro, easygoing vibe, a no-frills backyard menu of "doobie dogs" will include the all-beef Kenny Doggins, which comes topped with grilled onions, peppers and spicy brown mustard, and a Hall & Oates-inspired I Can't Go For That (No Can Do), a vegan dog with dill relish, sauerkraut and yellow mustard.
While Easter hopes this physically distanced approach to hospitality will help put both his crew and his guests at ease during an uneasy time, it's the nostalgia of The Doobie Bar that promises to be a balm of bygone days. "We want the Doobie to be something that's approachable and recognizable," he says. "When people visit, we want them to find comfort."
7 p.m.-12 a.m. 1800 15th St. Visit The Snug's Instagram page for more info on Doobie Bar.
You Might Also Like
The owners of Milestone Restaurant to open Mom & Pop Chicken Shop
Icy treats for grown-ups arrive just in time for swelter weather
Downtown's Solomon's Delicatessen gets a global menu makeover, but keeps its heart in the Jewish deli