A popular Woodland coffee shop to open a cozy, contemporary second location in Sacramento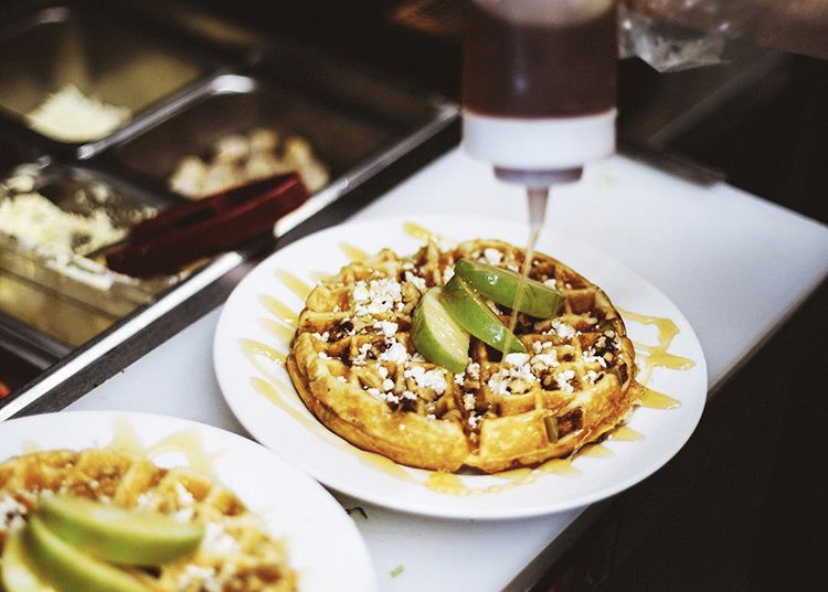 May 28 Update: The downtown Sacramento outpost of Woodland-based Morgan's Mill is set to open on Monday, June 1. The cafe will only be serving coffee and beer from June 1-3 (8 a.m.-2 p.m). After closing for one day, the shop plans to host a grand opening on Friday, June  5, which will launch regular hours (Fri.-Sat. 7 a.m.-10 p.m., and Sun.-Thurs. 7 a.m.-8 p.m.) and a full menu of drinks and decadent waffles (see below for details). On all days, items will be available for takeout and sit-down service. Seating will be limited and Morgan's Mill staff members will be masked, in accordance with Sacramento County reopening guidelines.
* * * * * *
Espresso enthusiasts looking for a good buzz will find it at a new downtown coffee spot, the second outpost of Woodland-based Morgan's Mill, which is expected to open at the end of February on K Street.
Just like at the flagship cafe, java drinks—including a three-minute pour over and nitro cold brew—at the new Sacramento location will use beans sourced from Roseville-based Entimos Coffee Roasters. The tea selection is no slouch either, featuring artisanal blends like spicy masala chai, grassy matcha and rose petal-flecked Portland Breakfast from PDX-based Steven Smith Teamaker.
Scones and muffins from Estelle Bakery & Pâtisserie will satisfy crumby cravings, but if you're in the mood for a full breakfast (whether in the morning, afternoon or night), owner James Morgan—who launched the original Morgan's Mill in 2017 and whose family owns the Woodland restaurants Morgan's on Main and Maria's Cantina—suggests committing to a plate-sized Belgian waffle. Signature combinations of the comfort food, which will be served all day, include the sweet Cinnamon Roll, which is dusted with cinnamon sugar and topped with berries, and the savory Meat Lovers, which is stuffed with ham, bacon and sausage and topped with green onion.
Happy hour eats like elaborate charcuterie boards and giant, fresh-baked soft pretzels with Dijon mustard will be ideal for pairing with beer or wine on tap from area tasting rooms like West Sacramento's Yolo Brewing Company and Woodland's Matchbook Wines. Morgan's will also rotate in local small-batch roasters—like Rocklin-based Mast Coffee Co. and Woodland's Gallery Coffee Roasters—for the shop's single-origin espresso and pour overs.
While the flagship's original exposed brick and dark metal columns evoke a vintage-industrial vibe, the 1,400-square-foot K Street cafe will have a more modern flair. Sunny floor-to-ceiling windows, live-edge redwood tables and a lush living wall hung with Morgan's locomotive logo (a nod to the Woodland cafe's location, which formerly housed a train depot and later a rice mill) connect the urban space to nature. A textural wall of Jenga-like wood pieces is inset with an 18-foot-tall photograph of redwood trees taken by Woodland shop manager Ben Canevari. But the cafe's defining moment is destined to be the wall-length sign of rolled-up Sacramento Bee newspapers spelling out "Sacramento."
Morgan hopes the new cafe will emulate the familiar feel of a lived-in family room—a space for people to slow down and relax. "We want this to be a place where people feel they don't have to rush, they can just sit and be," he says.
Mon.-Thurs. 7 a.m.-8 p.m. Fri. & Sat. 7 a.m.-10 p.m. Sun. 7 a.m.-3 p.m. 1026 K St. morgansmill.co
You Might Also Like
Devil May Care Ice Cream to open downtown in March
New plant-based eatery to offer veganified versions of comfort food classics like fried chicken and mac and cheese
Odd Cookie bakery lives up to its name with pancake cupcakes and deep-fried pizzas