A Portrait of the Artist as a Young Woman
Charles and Ray Eames were among the greatest designers of the 20th century, and their signature creation, the Eames lounge chair and ottoman, turned 50 this year. But Ray, who was born and raised here, is still a relative unknown in her hometown.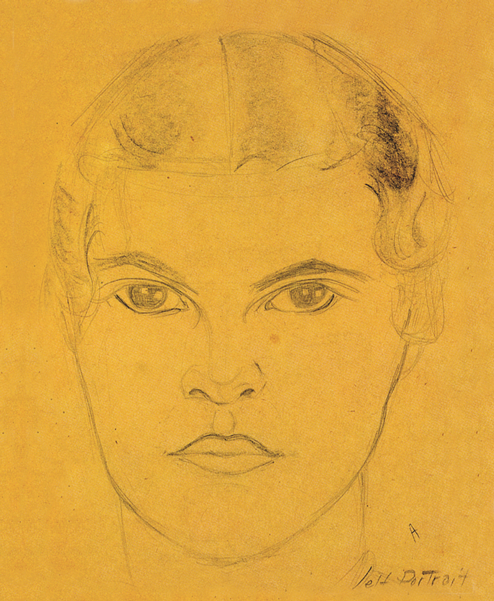 IIf you were one of the 17,000 fans who turned out to see Coldplay at Arco Arena earlier this
year, you might recall the performance of their hit song, "The Scientist." But what was that mesmerizing video that accompanied it as Chris Martin sat playing the piano?
The video opens deep in space, and begins its descent to earth, stars flying by like fireflies. The United States comes into focus, then Chicago, a lakefront park, and finally a man sleeping in a park. It continues down to his hand and ultimately his skin, molecules and atoms displayed across a panoramic screen. Science is humanized in one sweeping, simple sequence. It was the perfect complement to a 2006 modern rock ballad by the British supergroup. Which is saying a lot, since the woman who co-created the film, Powers of 10, was born in 1912. And she was born in Sacramento, only a few miles south of where her film would enthrall thousands.
Oprah would call this a full-circle moment.
But when it comes to Ray Eames and Sacramento, this moment is actually less rare than you might imagine. Even though few people here probably realize that one of America's most important designers was born at Sutter Memorial on F Street, her presence here still remains. The lounge chair she created with husband Charles is no doubt in hundreds, if not thousands of local homes. Have you ever sat in one of those black rows of chairs at the Sacramento airport? Then you've sat in an Eames chair. And since it opened earlier this year, the new Design Within Reach store on 16th Street in midtown has had two giant pictures of Charles and Ray, one in the window display and another inside. But there's virtually no talk of one of our truly great native daughters.
There may, however, be a few reasons why Ray's not better known here. The fact is, even though she lived here in Sacramento until she was 19, she never much reflected publicly on her younger years. In fact, the Eameses didn't reflect much at all. "Charles and Ray were always looking forward," says their grandson Eames Demetrios, sitting in the study of the celebrated Eames House in Pacific Palisades. "They hardly ever told those stories [of their childhoods]. They were just so interested in what was going on; what new thing was happening. I always asked everybody, Did they ever talk about the early days? No."
Another reason that she's likely not better known is that, until recent years, Ray was never publicly accorded the credit for her role in the partnership with Charles. It was in 1995 that Pat Kirkham's biography on the Eameses, Charles and Ray Eames: Designers of the Twentieth Century, came out, and helped shed light on Ray's equal contribution to their body of work. In the '50s, when the Eameses were at the height of their fame, society still found it hard to accept that a woman could be an equal partner in such a celebrated entity of what was then known as the Office of Charles Eames. To this day, many people still believe Charles and Ray were two men. In fact, in the May 2006 issue of Vanity Fair, they were erroneously referred to as "brothers."
Charles and Ray
When scholars or even family try to connect the dots between what drew Charles and Ray together in 1941, one of the first things to emerge is always their respective backgrounds. Both were born in river cities; Charles in St. Louis. And Sacramento has long been considered to be the most-Midwestern of West Coast cities, filled with tree-lined streets and a deep agricultural heritage.
They were also brought up in homes with mixed religions, which Eames biographer Pat Kirkham suggests may have taught them both tolerance and an open-mindedness (especially in a time before that was common), which would prepare them for their explorations into art, design and innovation. Ray's father, Alexander Kaiser, was Jewish, and her mother, Edna was Episcopalian, which is how Ray was raised.
And despite the fact that Ray left Sacramento in 1931 for New York, it was in the Midwest that she met Charles. The two were studying at the acclaimed Cranbrook Academy of Art in Michigan. They got married 10 years later (Charles divorced his first wife Catherine shortly before that), and moved to Southern California, where they'd live for the rest of their lives.
Their similar upbringings may have given them a shared philosophy in life, but ultimately it was their different experiences in the arts that made them such a potent partnership. Charles was trained as an architect and Ray was primarily a painter, one who'd studied under the great modernist painter Hans Hoffman. And each informed the other, whether they were designing homes, furniture, films (like Powers of 10) or had other projects that made them some of the most prolific artists of their time. (In Ray's final years, she helped arrange the donation of over one million items from their estates to the Library of Congress).
"People want to say that Charles was the architect and Ray was the painter, and that was true, of course, but they were a great team because they both had a bit of both," says Demetrios. "Charles would say Ray puts things in and I take things out. She always knew he would take out that they really didn't need, and he always knew that she'd put in things that they might not think they need. And that's what a good team is. You're not doing the same thing. You're helping each other."
Together, they pushed the envelope of modern design. At Cranbrook, Charles became a close friend and collaborator with the architect Eero Saarinen, who designed modernist icons like the St. Louis Arch and New York's TWA Terminal at John F. Kennedy Airport (Saarinen actually named his son Eames in honor of his friend). And meanwhile, Ray was studying painting, sculpture and color, her work finding its way into New York's Whitney Museum of American Art.
One of the most celebrated collaborations would result in their own home. In the late '40s, a national competition was held to design pre-fabricated houses, with the idea that they could be inexpensively mass-produced for returning soldiers and their families. The Eames entry became an almost instant architectural icon, a steel framed box with vibrant colors that looked almost like a 3D Mondrian painting. Charles and Ray moved in in 1949, and would never live elsewhere. But as celebrated as it was, it would pale in comparison to the work that made them a household name.
The Chair
If it seems extraordinary that the Powers of 10 film is still relevant in today's pop culture, 30 years after its creation, it doesn't hold a candle to the lasting relevance and outright popularity of the Eames Lounge Chair & Ottoman. The chair that was initially designed to be a mass-market piece manufactured by Herman Miller in 1956 has taken on a cultural life of its own, selling more than 100,000 units since it was released.
Charles once commented that it was intended to have the "warm, receptive look of a well-used first baseman's mitt." Charles and Ray and their staff at the Eames Office spent years perfecting the design of the chair. The very first one went to their friend, the director Billy Wilder.
After gracing magazine covers in the '50s, its popularity ebbed briefly in the '80s, but never died. Then in the '90s, as mid-century modernism rushed back into vogue in a big way, the chair led the way. Even Frasier Crane was making Eames references on Thursday nights on NBC. Early viewers will remember that Frasier reluctantly moved his beloved Eames chair to make room for his father's Barcalounger.
As it happens, the chair's resurgance didn't turn out to be a passing '90s fad. Open any copy of Dwell magazine or virtually any other design publication today and find the chair in its ads and editorial pages. And Eames-mania has shown no sign of slowing down. In fact, last year, Herman Miller sold more than 4,000 of the lounge chairs. And not only can you buy the chair in the museum shop of the Museum of Modern Art in New York (for $3,500), it's in the museum's permanent collection.
It's also a part of the permanent collection in the San Francisco Museum of Modern Art, home to about 50 other pieces by Charles and Ray, says Ruth Keffer, a curatorial associate in architecture and design. "She was a character," says Keffer. "I think Ray was sort of the right brain part of the equation. Of the two of them, I wish I could have met her. She just seemed like a crazy woman—delightfully, wonderfully crazy."
The fact is, both Charles and Ray were very much in touch with their inner child. Look no further than one of their fantastical classic films, Toccata for Toy Trains. They also appeared to delight in every artistic endeavor they undertook. In fact, it was their films that first captured the imagination of Dolph Gotelli, the founder of the design department at UC Davis. Gotelli specifically remembers the film they made about their home. "It was the first thing I saw as a design student," he says. "They were so innovative."
Where She Was From
But long before Ray Eames went on to worldwide acclaim as an artist and designer, she was aggressively feeding her brain with as much culture as she had access to in 1920s Sacramento. Whether it was music, dance, theater or drawing, the arts were a huge part of her early life here.
Her parents, Alexander Kaiser and Edna Burr Kaiser, had met and married in Stockton, but then moved to San Francisco, and eventually to Sacramento in 1911 — the year before Ray was born. Her older brother Maurice had been born in Stockton. The Kaisers moved to Sacramento when Alex, then a vaudeville theater manager, was sent here to manage the Empress Theater, which is now the Crest Theatre on K Street.
Alex was bringing in vaudeville acts from around the country. In 1917, he told The Sacramento Bee that one of his proudest achievements came during his Stockton days, where he claimed to be the first theater manager in the country to pay entertainer Al Jolson $100 a week.
In an interview conducted in 1980 by oral historian Ruth Bowman, when Ray was 68, she talked about her father. "My father loved being in nature, and we would go out in the country when we were very small," said Ray. "Sunday meant going . . . he just liked the idea of spending the time in nature. Almost every Sunday possible—it was marvelous—picnics and all that."
In fact, Alex would send postcards from his fishing trips in Lake Tahoe to Ray at their Curtis Park home. And later in life, Charles and Ray would vacation with Billy Wilder and his wife in Tahoe.
Alex eventually left the Empress to work for the Sacramento-based department store Weinstock-Lubin & Co., but returned to open Sacramento's first Loews Theater at 12th and J. Unlike the Empress, this wasn't vaudeville anymore. It was a motion picture theater, but Kaiser ran that for only a year before launching a new career in the insurance business in 1918, a decision that would later pay off when the Depression hit.
As a result of her father's theater ties, Ray was exposed to the arts at a very early age in Sacramento, and her grandson Demetrios (who is Charles' grandson and Ray's step-grandson; Ray never had any biological children) says he thinks she met many of the entertainers of that era through her father. "What I think her upbringing did was expose her to a lot of really cool experiences that were a little bit on the margins," he says. "I think what he may have given her was this idea of being right on the cusp." Her exposure to the theater also may have led to her early and profound interest in dance. When Ray was just a girl, she began taking lessons from the Leila Maple Dance Studio at 21st and K, then the city's preeminent dance school. She even appeared in a dance program from 1922 when she was only 9 years old. This was during the time she was attending what was then called the Highland Park School, and later Sierra Elementary School. The school actually still stands and is known today, fittingly, as the Sierra 2 Center for the Arts and Community, in Curtis Park. Ray would talk about Maple's influence on her even toward the end of her life.
In the Bowman interview, when asked about her interest in dance, she spoke about Maple. "My introduction was early," she said. "It was [through] a very, very good teacher. Leila Maple. Oh, this marvelous woman had been a member of the Russian Ballet, long, long, long ago, so her training was pure, and she turned it over to the children in the same pure state. A marvelous woman, who was beautiful and strong and gentle and strict — all the great things in a teacher, you know, and so I felt that was a most fortunate happening."
To Ray, one form of artistic expression was closely tied to another. She was, at a very early age, culturally omnivorous. When Ray eventually left to continue her education back East, she would go on to study with the legendary dancer and choreographer Martha Graham. She wasn't studying to become a performer, though. She told Bowman that she was trying to "gain knowledge of movement and body and space." That, in turn, she explained, related to painting, music and architecture.
But with all this early exposure to music, theater and dance, it was her years at Sacramento High School where her visual arts side appeared to unfold for the first time. Even as a teen, she showed an early aptitude for drawing and color. The portrait opening this feature was done in 1928, when Ray was only 15 or 16.
Sacramento High's 1931 yearbook shows her in a picture with the school's art club. And her early drawings are largely fashion-based, yet another creative avenue that she would go on to explore throughout her career. She also seemed to be studying color palettes, experimenting, and learning the basic building blocks that she would take with her to college. In fact, a report card from her freshman year at Sacramento Junior College, just before she left Sacramento in 1931, included courses in art history, illustration, art anatomy, poster art, and chorus. And that was just in one semester.
But two things would precipitate Ray's departure from Sacramento. The first was her father's death in July, 1929 at 56 years old, just months before the stock market crashed. He had a heart attack while visiting Lake Tahoe, and died soon after in San Francisco. But Demetrios says that Kaiser's insurance career left the family in a much better situation than they would havehad he stayed in the theatre business. "In the Depression," says Demetrios, "to have any regular income that was like an annuity, was huge."
Ray graduated from Sacramento High on January 22, 1931 in a ceremony at the Memorial Auditorium, and soon began studies at Sacramento Junior College, now Sacramento City College. But when her brother Maurice was accepted to West Point, her mother decided that she and Ray would move to New York. Ray returned to Sacramento to visit friends, however, and was even mentioned and photographed for the San Francisco Examiner during one of her trips back home to Sacramento in 1936. But once she left, the journey that would lead her to Charles had begun.
A Legacy
Charles and Ray were married for 37 years, until his death on August 21, 1978. Amazingly, Ray died of cancer exactly ten years later to the day, on August 21, 1988.
The body of work that they created together is staggering. And in almost every photograph, they appear together, working on one project or another – a film, a chair, a house, or just having fun, hamming it up for the cameras. Ray's contribution to their work was dismissed for decades, in part because of '50s and '60s-era sexism, but also because Charles was the one who enjoyed speaking to the media and was the public face of the design studio.
But Charles later renamed the studio as The Office of Charles and Ray Eames. And in recent years, it's become increasingly clear that Ray was, in every way, Charles' partner.
For his part, Eames Demetrios bristles when he hears people attempt to analyze which one of them created which work. "One woman who worked at the Office said that if the Office had been an island, [Ray and Charles] would have been equals," says Demetrios. "And that's an interesting quote to me because the Office was an island. Many people talked to me about how after they worked there for six months, they realized what Ray's contribution was, and that it was major. It wasn't just the icing on the cake; it was the cake."