A pup-focused pub to open in South Land Park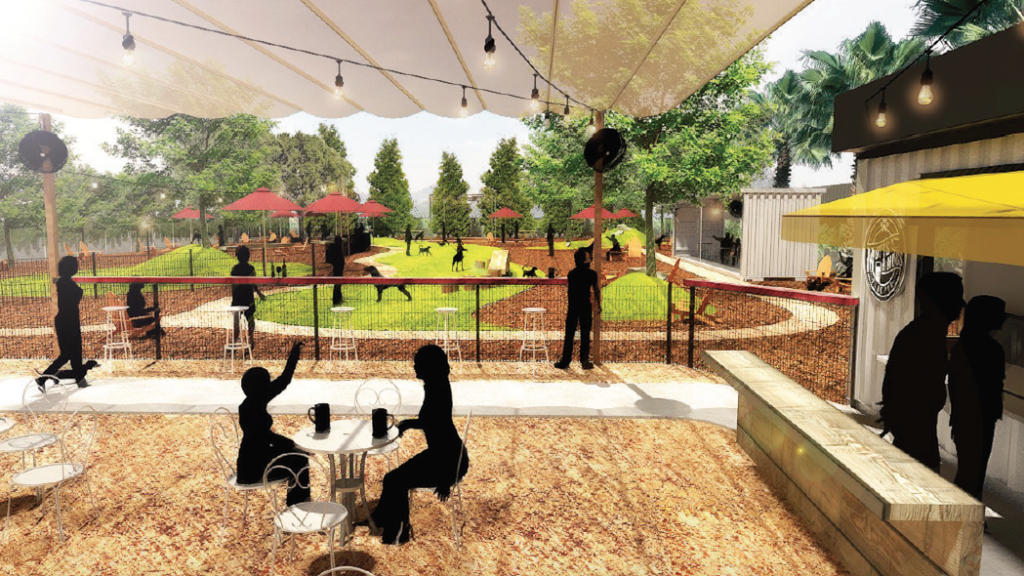 There are pet-friendly pubs, and then there is Mutts & Mugs.
The brainchild of married couple Alejandro Farias and Lauren Valenzuela, this "dog-centric restaurant" will inhabit a 28,000-square-foot South Land Park facility as early as next spring (the couple submitted plans to the city for approval earlier this month). Think neighborhood tavern meets dog park—a concept which Farias and Valenzuela, who currently live in Tracy (the two plan to move to the Pocket area, where Farias grew up) couldn't get out of their heads.
"We don't have any kids, but we have two dogs," explains Valenzuela. "We always want to take our dogs to the dog park after work, but it's [always] too late and there is no lighting. When we'd go on weekends, we'd be there and be like, 'It's a beautiful day, I wish we had a beer right now.' We couldn't stop thinking about this concept. Alex did a lot of research finding out where would be the best place to do it, and Sacramento came up."
To adapt the space into a pup-focused pub, the couple is working with Quadriga, the local landscape architecture firm behind midtown's Brooks Truitt dog park and the Mill at Broadway development, and San Leandro-based UrbanBloc, which has transformed shipping containers into public spaces like the Oakland locations of Red Bay Coffee and cult ice cream maker Humphry Slocombe.
In the Mugs section of the space, shipping containers will offer coffee from midtown's The Mill coffee house and a morning menu of pastries (plus possibly avocado toast). The afternoon and evening will bring out heartier fare, like pizza, prosciutto caprese panini, club sandwiches and meat pies. Local beers and ciders—Farias and Valenzuela have been in talks with the likes of Sactown Union and New Helvetia—will be poured from 10-12 taps.
The project will also contain the two off-leash puppy play areas (the Mutts portion of the space), both of which will have high-top tables "so you can sit in the shade and have a beer," says Valenzuela. These areas—which will be accessible for $5 per dog per day, or via monthly and annual passes—will also have dog rangers who will be on the lookout for aggressive dog behavior.
Mutts & Mugs will be open from 6 a.m.-10 p.m. daily, and will be illuminated by outdoor string lights and lamp posts in the evenings. The pet-friendly tavern will also host monthly events like pet costume contests and pictures with "Santa Paws" at Christmas time, for example.
"We're trying to create an environment that's inviting and makes you want to stay," says Valenzuela. "It's really trying to build a space—if dogs are a part of your lifestyle and a part of your family, this is a space where you'll feel at home."
Mutts & Mugs will be located at 6622 Freeport Blvd. for updates, visit muttsandmugsparkpub.com
You Might Also Like
Ruhstaller's new downtown taproom opens
Brew n 'Cue – Urban Roots Brewing & Smokehouse
​Alums of Berkeley's legendary Cheese Board Collective to open vegetarian pizzeria and bakery in Sacramento