A Rare Bird
Darling Aviary takes flight downtown, boasting smashing smash burgers and views of the Sacramento skyline.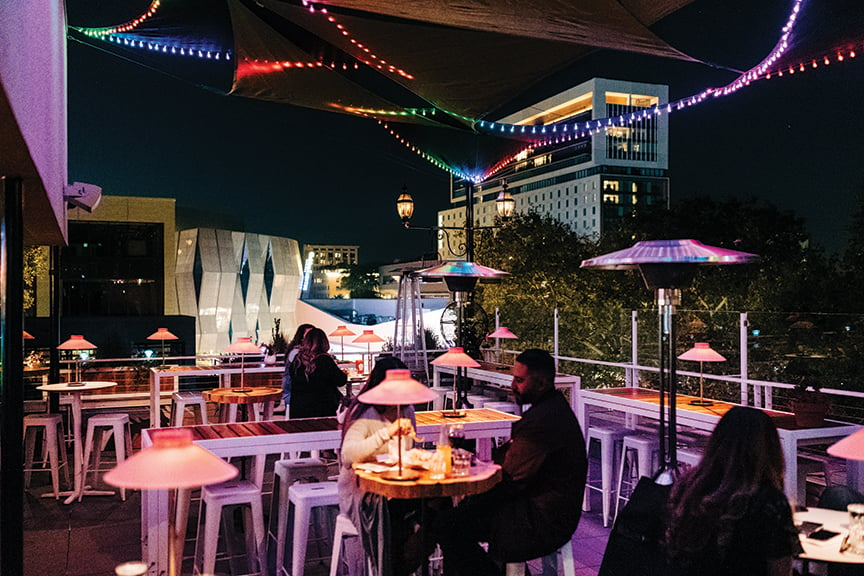 Jan. 15, 2021 Update: Following changes in the Covid guidelines for the Sacramento region earlier this week, Darling Aviary has reopened its rooftop deck for "modified outdoor dining" (no tableside service, but diners can pick up their food downstairs and eat it socially distanced on the upstairs patio). Current hours of operation are Wed.-Sat. 11 a.m.- 8 p.m.
---
Through a few twists and turns in space and time, the concept of a late 1800s "flight cage"—a large enclosure for the exotic birds collected by Victorian aristocrats—has landed on modern-day K Street in downtown Sacramento. But before Darling Aviary, the latest restaurant-bar concept from the homegrown hospitality group Drink Easy, came to roost last October at The Hardin complex alongside Kodaiko Ramen & Bar, Solomon's Delicatessen and Tiger, it took a detour into an apocalyptic future.
"It's as if one of those old-school aviaries was overtaken by the park it was situated in, and sometime in 2050 turned into a futuristic bar," explains Amadeu Goncalves, who founded Drink Easy with fellow lifers of the local bar industry Christian Tolen, Bobby Falcon and Matt Byrd, who have been bartending in each other's orbit for 15 years at places like The Park Ultra Lounge, Dive Bar and District 30. During the pandemic, the highly evocative ground-level bar has been closed for service, though its temporary function as a reception room for guests with reservations at the up-and-running rooftop lounge (dubbed "The Nest at Darling Aviary") has led to an impactful first impression.
"Even though [the indoor bar] isn't open, it's the first thing you experience when you arrive, so it's important that you feel like you're somewhere special and cool," says Byrd, whose surname, along with Falcon's, supplies the conceptual plumage for the emerging Drink Easy portfolio—in 2017, the group opened The Flamingo House, the Palm Beach-inspired bar inside an unabashedly pink midtown Victorian.
To help set the tone for the "exciting, eclectic nightlife experience" they had admired at places like the carnival-inspired Unicorn bar in Seattle and the River City's mermaid-themed watering hole Dive Bar, the group tapped local artist Dacy Kolsky to spearhead a sumptuously dark avian design: A 20-foot live-edge wooden bar top and wall-mounted tree branches underscore the idea of a landscape invasion. Meanwhile, a Gothic, faux stained-glass entryway features South Sacramento creative Eric Castro's ornate tracery, depicting a scowling raptor. And depending on the night, a life-size rainbow-hued birdcage—an art piece by Byrd—will function as a DJ booth, go-go dancer's stage or social media photo op with hashtag possibilities as limitless as flight.
Fortunately, the delays of the pandemic have not been without their silver linings. "It's given us the breathing room to get this place the way we wanted it," says Goncalves, an ex-staffer for former Mayor Kevin Johnson whose legal background (he's an alum of McGeorge School of Law in Oak Park) has helped navigate Darling Aviary's complicated mid-pandemic opening—when indoor dining is prohibited, the state requires bars to serve meal-size grub alongside their grog.
"Food was never going to be our focal point," says Tolen, a Redding native. "It took us months to be like, 'Hey, we're a restaurant now.' " With Darling Aviary's wings temporarily clipped, Drink Easy trained its binoculars upon The Nest, a rare rooftop venue in Sacramento, complete with a kitchen and bar. While a twinkling, open-air vista encompassing the Golden 1 Center, The Crest Theatre's iconic neon sign and a partial sighting of the Capitol dome is a direct conduit to the energy of the city, the rooftop still manages to feel warm and intimate with awnings and dim lamplights. (At press time, California's new regional stay-at-home order has temporarily halted both indoor and outdoor dining at eateries in the Sacramento area.)
Sacramento chef Aimal Formoli conceptualized The Nest's unexpected burger program—according to Byrd, only the creator of the locally legendary Whiskey Burger at the erstwhile Formoli's Bistro could be entrusted with the task. Capitalizing on the gourmet smash burger trend sweeping California, from L.A.'s Burgers Never Say Die to Oakland's Smish Smash, the five palm-sized mainstays on The Nest menu feature thin all-beef patties smashed with a spatula against a blistering flat-top grill to achieve a dark and flavorful sear. (Our favorite, the vegan patty—which can be subbed in on any of the burger options and is made with Impossible "meat" that's been mixed in-house with slow-roasted vegetables and a confit of garlic and onions—gets the same sizzle.) At this point, we would be remiss not to acknowledge that such short-order cookery is directly descended from fast-food forebears like In-N-Out or Willie's Burgers, a Sacramento institution. But the accoutrements—including a bronzed brioche bun—are where The Nest's "sexy little burgers," as Byrd refers to them, really fly the coop.
Executive chef Benjamin Tamayo— formerly of Pebble Beach Resorts—has tweaked The Classic Tweeter to his personal liking, which means that the sweet grilled onions have a meaty undertone because they're cooked in the fat rendered from the smash, and that the house-made pickles get their pucker from a brine flavored with both mustard seed and French's yellow mustard. The Bushtit—an actual North American bird species—is a textural masterpiece with a crispy bill of fried prosciutto that offsets the satisfying unctuousness of the onion confit and melted brie. Like the name suggests, the Phoenix is a fiery new addition to the lineup, with multiple layers of heat from habañero jack cheese, pickled Fresno chilies, serrano aioli and roasted habañero hot sauce; the latter, sous chef Jared Nelson's from-scratch creation, is mixed with melted butter and then tossed with frisée, turning what would have been a crisp and cool element into the burger's final combustible layer.
As for how the food lineup works with the menu's other half, Formoli says that "the burgers are like the yang to the yin of the craft cocktails." Here, Drink Easy's foray into the prep-intensive world of adult refreshments diverges from those at The Flamingo House, where the frosty and fruit-forward libations are designed to keep you cool while lounging on the backyard swing beds. With a focus on high-end spirits and house-made tinctures, the sophisticated swizzles at Darling Aviary also chirp of the bird theme. The mezcal-based Oaxacan Sheartail is beverage director Marcos Gutierrez's favorite concoction, named after a bird native to Mexico, where the former Azul bartender spent his early years. The drink's blush hue—a tribute to the sheartail's plumage—comes from a pomegranate liqueur and a splash of rosé. Served in a champagne coupe and garnished with flowers, it could have been a signature sip on Sex and the City. While the Bird's-Eye Chai seems avian in name only, it's the most direct route—as the crow flies, so to speak—to a winter's nog on the menu, made by spiking fresh-brewed chai from Newcastle-based North Fork Chai Co. with Bacardí Reserva Ocho, a rum with strong nutmeg notes, and finishing with a cloud of dairy-free cream.
The Maneki Neko has the simplest ingredient list of all the cocktails—Kikori rice whiskey mixed with a hibiscus syrup made in-house from dried flower petals—but its animated presentation is an auspicious symbol for the new restaurant. Arriving at the table in a hollow namesake figurine (a ceramic caricature of a Japanese calico that's also recognized as a charm of good fortune), the feline vessel's swinging paw beckons a stroke of luck for night owls who drop by The Nest.
Darling Aviary. 712 K St. 916-758-5715. darlingaviary.com