A Rockin' Jewish Deli
Solomon's Delicatessen opens downtown at the former site of a Tower Records store, dishing out classic and neoclassic food like lava salt bagels, thick-cut pastrami on rye, vegan Reubens and schmaltz fries that's music to our taste buds.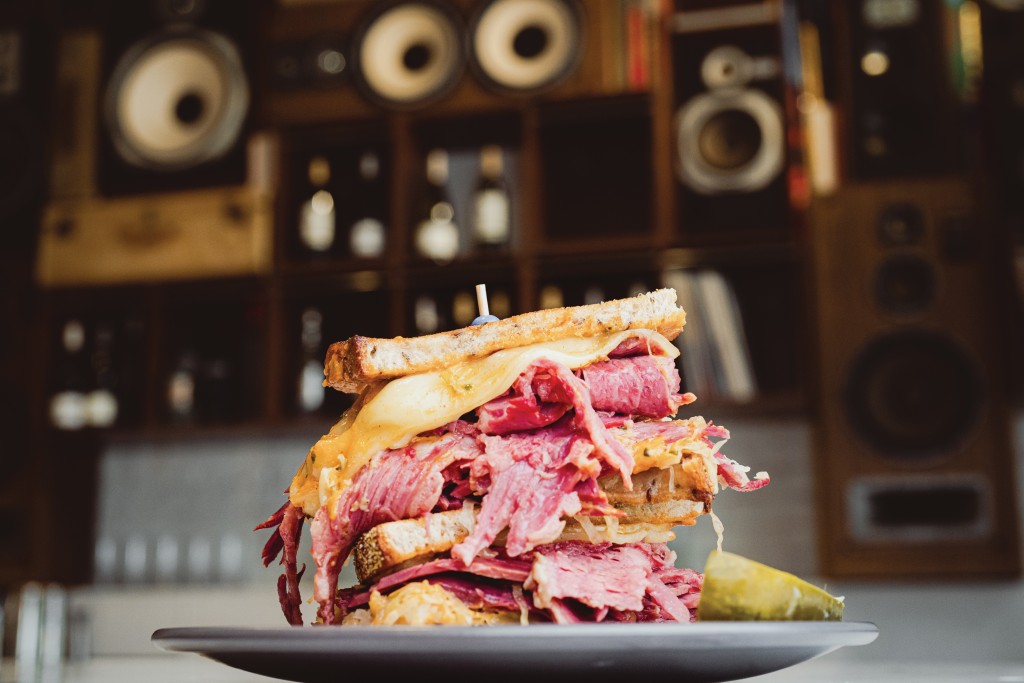 If the sign of a good Jewish deli is its great bagels, then the sign of a really good Jewish deli must be sold-out bagels. A carb shortage is what the hungry hordes encountered on July 1, the highly anticipated opening day of Solomon's Delicatessen at The Hardin, the flagship outpost of the eatery named after the late Tower Records founder and Sacramento native Russ Solomon. "He never met a lox bagel he didn't like," says Sonny Mayugba, a restaurant partner. "Or a shot of tequila."
Until now, the Sacramento Jewish deli tradition had been languishing, with Sam's Kosher Style Restaurant & Delicatessen in Fair Oaks closing in 2014, the last old deli in a line that included such long-shuttered classics as Brother's Deli and Foxy Loxy. Mayugba, who also co-owns Red Rabbit and Tiger, explains that Solomon's fateful K Street location, the site of Tower Records' sixth-ever store, would have opened in 2016, were it not for the inevitable construction delays. (A smaller Davis location opened in May 2018, next to the Middle Eastern fast-casual joint The Halal Guys—an ecumenical pairing to say the least.)
With the buzz at fever pitch, the line at Solomon's on opening day was already 20 deep at 6 a.m. and the bagels were gone by noon, casting a hard light on the restaurant's motto, "No Bagels, No Life," a play on the Tower Records slogan, "No Music, No Life." Arriving post-sellout, we still had plenty to tuck into for lunch—the thick-cut pastrami on scratch-made rye bread, for instance, and the flaky house-smoked whitefish salad, both also staples of Jewish cuisine. But it took a few days to score coveted bagels of the heavily sprinkled "everything" and mottled black "lava salt" varieties at a reasonable hour (i.e., not daybreak).
Dense, chewy and tender to the bite, the doughy orbs—made from a proprietary recipe that Dan Graf of Bay Area's Bagel Baron helped the Solomon's team develop—were worth the wait. Enjoying them, we pondered whether or not the bagel is merely a vehicle for thick swoops of luscious schmear (all of Solomon's varieties—which include plain, green onion, dill pickle, jalapeño and strawberry—are made in-house, with the exception of the vegan version). Unlikely, given the evangelistic debates that tend to arise around the holey breakfast favorite. To wit, before launching into his "Good Bagel Manifesto" for the blog Serious Eats in 2015, James Beard Award-winning food journalist J. Kenji López-Alt, warned: "This is far too important an issue for live-and-let-live to apply … so I'm not holding back any punches. I will defend myself to the bitter, untoasted end."
While the rise of the bagel has been well documented lately—earlier this year, both Sunset magazine and the San Francisco Chronicle published West Coast bagel comparisons within weeks of each other—it may just be symptomatic of the resurgence of Jewish delis. At their height of popularity in the 1920s and 1930s, there were approximately 1,500 Jewish delis in New York City alone, opened by Eastern European immigrants who had fled war-torn countries.
In 2015, there were only 15 such establishments left in the five boroughs, according to the first scholarly deep dive into the subject, Pastrami on Rye: An Overstuffed History of the Jewish Deli, by Judaic studies expert Ted Merwin. But in recent decades, "newish Jewish" or "Jew-ish" delis, with their modern sustainability ethics, vegan offerings, cross-cultural culinary influences and photos of Natalie Portman and Russ Solomon instead of Jackie Mason and Woody Allen, have expanded to places like Washington, D.C. (Call Your Mother), Seattle (Zylberschtein's), Denver (Rye Society), and now Sacramento.
"Historically, Jewish delis were cultural centers," says Jami Goldstene, who, along with fellow Solomon's owners Lydia Inghram and Sheila Wolfe, conceived the idea of bringing one to town (the three long worked together on Sacramento's annual Jewish Food Faire). "In a way, they became even more important social centers than synagogues." (Incidentally, one of the
first synagogues established west of the Mississippi River was B'nai Israel in Old Sacramento in 1849, so the Jewish faith in the River City has been well established since the Gold Rush.)
Here's where the legacy of Tower Records and the mission of Solomon's Delicatessen intersect. "We want Solomon's to be a place where you can meet someone you don't have anything in common with except that you both want some Jewish deli food for lunch, but that's still enough to spark dialogue," says Mayugba. "Solomon's should be a place where humankind can come together, the way it was at any Tower Records store."
Upstairs in The Russ Room—formerly Tower Records' art studio, where the chain's famous foam-core music posters were made—the walls feature art curated by the Toyroom Gallery (the inaugural exhibition of rock photography will remain on display through Sept. 8) and local bands will start putting on shows in October. The mod space, with its multihued striped ceiling and tulip cocktail tables, also serves as overflow seating for the eatery.
Amidst all of this communal virtue, pastrami proves to be a gathering force unto itself. Goldstene, a first-generation Jewish American who grew up in the deli culture of Los Angeles, flew in the famous pastrami from Langer's deli in Westlake (Food & Wine magazine's top pick on its "Essential 10" Jewish delis list, edging out the 131-year-old New York institution, Katz's Delicatessen) to share with Solomon at his Sierra Oaks home three years ago, in the hopes that he would agree to lend his name to the project, which the music retail legend did before he passed away last year at age 92.
As fate would have it, Langer's off-site pastrami manufacturer, RC Provisions in Burbank, also makes Solomon's pastrami, according to a recipe created over the period of a year by development chef Aimal Formoli (of East Sacramento's erstwhile Formoli's Bistro) and executive chef John Bays (also of Red Rabbit and Tiger). A whole brisket—the fat-capped navel end and the marbled point end—is cured with a house dry rub of more than 20 different spices, including coriander, clove, chili powder and salt, before it's smoked for six hours. Once in Solomon's kitchen, the pastrami is steamed and then thickly sliced; its succulent fattiness cut by a bold and tangy gourmet mustard from Brooklyn's historic Ba-Tampte Pickle Products.
Solomon's rye bread is a "corn rye," a once-long-lost, cornmeal-dusted style that's baked at Grateful Bread in Arden-Arcade, along with the restaurant's challah and bagels. Considering the sheer amount of dough required by the flagship alone, there is talk about converting Solomon's Davis location into a dedicated bagel factory, which may solve the case of the swiftly selling morning comfort food.
Speaking of high demand, Bays quickly discovered that there is not enough schmaltz (chicken fat) in Sacramento to satisfy all the orders of golden-fried latkes (potato pancakes) or French fries, not to mention the matzo balls or the chopped liver, both of which get their rich flavor and luxurious texture from the beloved Jewish pantry provision. So, shortly after opening, the chef started to render all of the poultry fat in-house, an ambitious but worthwhile feat.
Fresh salmon and sablefish are smoked in the kitchen over applewood chips. For the whitefish salad, big flakes of sable are tossed with mayonnaise, celery, onion and dill, a winning combination that translates well to the potato salad. Classic lox and cream cheese on a bagel is known on the menu as "The Russ," for reasons aforementioned. The Reuben, heaped with husky cuts of corned beef—also produced by RC Provisions with a pickling spice that includes peppercorn, bay leaf and juniper berries—is stacked with sauerkraut, another Ba-Tampte import, and Swiss cheese. These two signature sandwiches are indicative of Solomon's non-kosher ways, in which dairy and meat—fish controversially counts—lustfully commingle without regret.
While the menu mostly adheres to the deli classics ("We're not trying to reinvent the wheel," says Bays), it does take some Jew-ish tangents to help propel the tradition forward. For example, no longer should non-meat eaters miss out on the wonder that is the Reuben—they can order a vegan version with a smoked portabella mushroom on rye. And there is a full bar featuring a summery bloody Mary with house-made pickled green tomatoes
and Brooklyn Egg Cream with bourbon, Fox's U-bet chocolate syrup, milk and soda water. But what really distinguishes Solomon's among the modern class of delis also happens to be the thing that roots it in Sacramento history.
Andrea Lepore, another partner in the restaurant (she's also the co-founder of Hot Italian), oversaw the design, staying true to the legacy of its namesake. Walls are painted in Tower's signature yellow (Pantone 109-C) or covered in old Tower Records calendars. An art installation above the diner counter is a Jenga-like composition made of vintage suitcases and (non-working) speakers by Sacramento-based upcycling company BoomCase, alluding to the eatery's '60s, '70s and '80s AOR (album-oriented rock) playlist. "Everything was awesome then," says Lepore. "At least from what I can remember." The deli also sells vinyl, harking back to Tower's humble beginnings, when records were sold in the back of Solomon's father's pharmacy at the Tower Theatre complex.
But the real sentimental centerpiece of the restaurant is its original entrance mural, a three-sided, mind-bending behemoth that had faded over time. Last year, the Sacramento Metropolitan Arts Commission tapped three artists from the local M5Arts collective—Seumas Coutts, Shaun Burner and Franceska Gámez—who led efforts to restore the vintage psychedelic work in a paint-by-numbers fashion over the span of eight weeks in peak summer heat. In 1973, Solomon commissioned graphic artists Mitchell Aronson and Frank Carson to compose the piece, which features kaleidoscopic paisley, fantastical landscapes, old sailing ships, two proud medusas, and a painted portal overhead that appears to provide a glimpse to a blue sky, widely symbolic of inspiration and optimism, both of which Solomon had in spades. Who knows, maybe he's using the portal now—after all, what good is a patron saint if he can't oversee the action? "Oh, I'm sure he's doing just that," says Goldstene.