A Santa Cause
You may not be thinking about Santa in June, but the folks at New York's Macy's Thanksgiving Day Parade are busy as elves. They're also gearing up for parades in Portland and Seattle. Why not put an improved Sacramento Santa Parade on our civic wish list?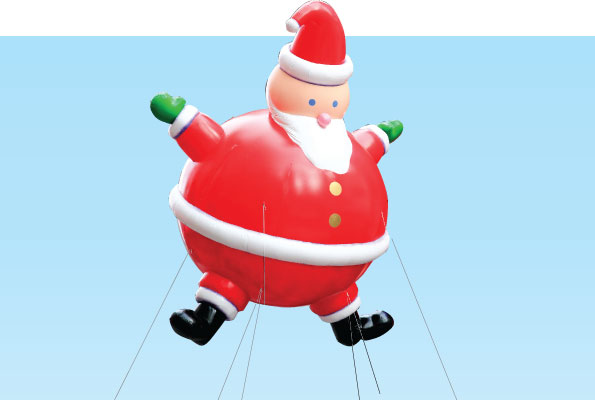 The Idea
In 2008, the folks behind December's Sacramento Santa Parade announced they were canceling the event due to lack of funds. Happily, newly elected Mayor Kevin Johnson contributed $20,000 from leftover campaign funds to keep the then-25-year-old tradition alive. And while it has continued since (drawing thousands along its downtown route), the recession has taken its toll on the family-friendly event. It has seen its quality decline for years and is now in dire need of another Christmas miracle. It's time for our community to step up before it's too late.
We all saw how corporate sponsors helped save the Kings, and there's no reason they can't help save the Santa Parade, too. The obvious first choice would be for Macy's to take a starring role. They bring loads of experience in throwing first-class parades and would add instant legitimacy to the annual event. No, their Seattle and Portland parades don't feature the 10-story Snoopy balloons like New York's, but they are major productions compared to the parade here, and they draw huge crowds to their downtowns (40,000 and 25,000 respectively) just as the holiday shopping season kicks off. Plus, there would be a nice full-circle moment because the Santa Parade was started in 1983 by the old Weinstock's department store downtown, a space now occupied by, that's right, Macy's. In fact, the parade route already ends a stone's throw from Macy's. If the New York-based company could be convinced to add Sacramento to its West Coast parade collection, perhaps our northwest civic cousins could even share some floats and costumes.
The Players
But it shouldn't all rest on Macy's shoulders. KCRA co-founded the parade with Weinstock's, and they or another local TV station should commit to it again if the quality is raised. Back in the '80s, KCRA pulled in NBC celebs like the cast of ALF, and even a very young pre-90210 Shannen Doherty, as grand marshals. Our parade needs that kind of sizzle again. And other local companies should step up with high-quality floats that boost civic pride as well as their own marketing efforts. In fact, all the cities in the region should participate—and perhaps compete—much like California counties do with exhibits during the state fair. Roseville created a massive float for the Rose Parade two years ago, so they've got the experience. Let's make this a regional effort.
The Bottom Line
The Santa Parade's organizer, Laurie Hensley, says she recently applied for a 501(c)(3) status to make the parade a nonprofit. That's an important step that will allow corporate foundations to direct dollars to the effort. Unlike with the Kings, we don't need millions to make this happen. All the parade needs is the business community to step up a little bit to elevate this event into a holiday tradition the whole region can be proud of.
Like this idea? Want to help? Contact Laurie Hensley dandhpr@aol.com