A Sleeping Green Giant
A decade ago, Joe Genshlea envisioned an urban park downtown that would rival the biggest and best in America. A lack of political courage and leadership stopped it in its tracks. Here's why we need to revive it, and why there's no time to waste.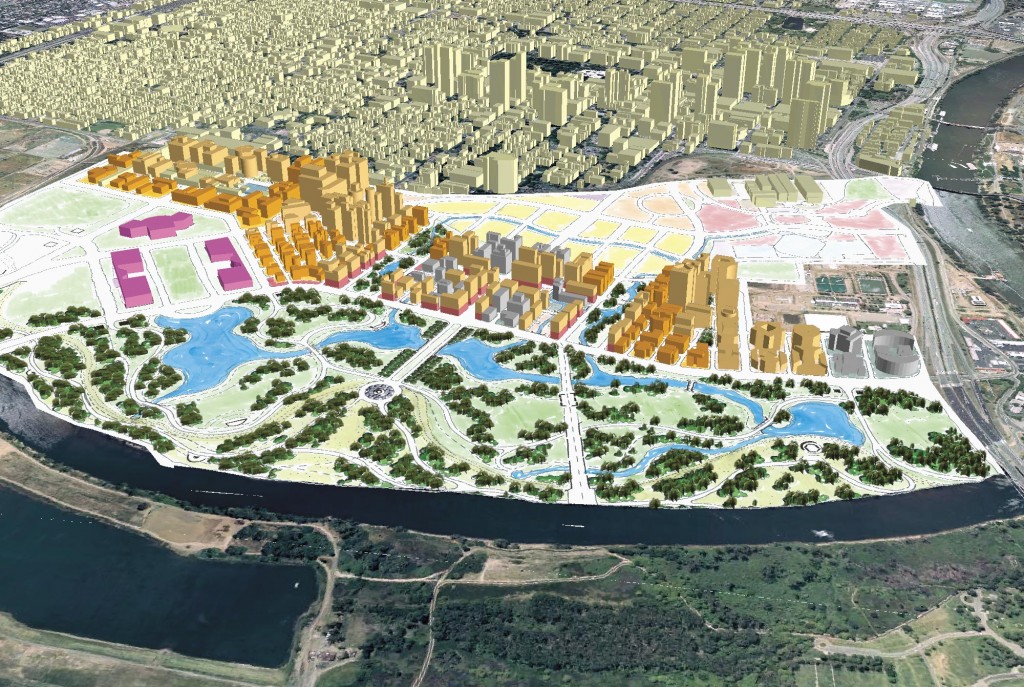 As a child growing up in Sacramento, my first exposure to a great civic park wasn't in Sacramento at all, but rather Golden Gate Park in San Francisco. I remember hundreds of cyclists, joggers and—because it was the '70s—roller skaters, forming a colorful blur of activity as they traversed its seemingly endless trails and wide expanses of green grass and trees.
I also remember the crowds at the blockbuster King Tut exhibition at the de Young Museum there (with none other than Orson Welles narrating the audio tour—on a cassette tape), and the old planetarium.
Even though all of this was in a park, it felt like the busiest city I'd ever been in.
In my 20s, I moved to New York, and for nearly a decade, lived only a block from Central Park. My wife and I watched the symphony and opera perform there while lounging on picnic blankets stocked with provisions from Zabar's. We rode the paddleboats in the summer, watched skaters on the ice rink in the winter and visited the polar bears in the Central Park Zoo. On temperate days, we walked past the Delacorte Theater where works by Shakespeare ruled the stage, and made our way to the roof garden of the Metropolitan Museum of Art to gaze out over the city.
All in a park.
Little did I know that while I was still in New York in 2003, back in Sacramento, one man was steadfastly promoting a similar vision for my hometown. It's been 10 years now since Joe Genshlea—a prominent local attorney who spent decades with what was then called Weintraub Genshlea Chediak Sproul, and one of the city's most ardent champions (he even ran for mayor)—first floated the idea of a civic park that would rival any in the country.
His idea was simple, but bold: Build a great urban park along the south banks of the American River between the river and the railyards. His project, dubbed Gold Rush Park, included all of the amenities previously mentioned in the parks of San Francisco and New York. He suggested moving the Sacramento Zoo in Land Park to this larger space, along with adding museums, performance spaces and lots of wide open land next to the crystal-clear waters of the American, an area now largely, and inexcusably, dominated by industrial warehouses and a nascent residential neighborhood called Township 9.
Genshlea and fellow Sacramento attorney Jack Diepenbrock raised money and hired one of the country's preeminent park planning firms to lay the groundwork and begin producing conceptual designs.
As simple as the concept was, Genshlea and his supporters knew that the execution of it would be one of the biggest challenges the city has ever faced. With many individual landowners, including the government, the challenge of purchasing and razing buildings there to make room for such a space was daunting to say the least. And while many of the region's most prominent civic leaders rallied around the cause, a handful of vocal private landowners who wanted to develop the land opposed it loudly, and the City Council didn't exhibit the bold leadership that it should have. It's a shame.
A decade hence, Genshlea still has many of the files, maps and detailed records of landowners, and says that hardly a week passes when someone doesn't ask him why that project never got the traction it deserved. "It just won't go away," he says.
Nor should it.
In June, the Center for City Park Excellence (a research arm of the respected Trust for Public Land) ranked Sacramento third nationally (behind only New York and Minneapolis) for park excellence. That sounds impressive, and it is. But it doesn't tell the whole story. For all our great little community parks nestled amid tree-lined residential neighborhoods, our city lacks the one large-scale park in an urban setting—a destination park—that could be as transformative for downtown as the new arena promises to be.
Capitol Park, downtown's largest urban park, is charming and a wonderful civic asset, but it's also relatively small, and because of the density of its trees and gardens, and the fact that it is slowly being filled with memorials, there's no open space wide enough for communal events, let alone for large-scale civic amenities like museums, performance spaces and a big zoo.
Discovery Park is nice, too, but it's also flood prone. Land Park is lovely as well, but each of its amenities—the zoo, Fairytale Town and Funderland—are squeezed into spaces that limit their growth to charming neighborhood sizes.
And every year that we wait to tackle this important and massive project, the harder and more expensive it will get. That's why it's important to resurrect this idea now. With the development of the new arena and Downtown Plaza on a fast track, downtown real estate prices are climbing. More developers are looking for opportunities as the area's future suddenly looks brighter. And that's mostly a good thing, as long as it doesn't derail Genshlea's extraordinary idea.
Also, while he'll be the first to extol the virtues of open space in an urban environment, Genshlea's also quick to point out the massive economic impact that great city parks have on their surrounding communities. In other words, if you think this is just a project for tree huggers, you simply don't understand civic economics. Think about it. Why is the most valuable property in New York City the real estate facing Central Park? Why are the street names Central Park South, North and West the ones with many of the oldest and most expensive homes?
And if you've seen New York's High Line park lately—a new urban park built atop an old elevated train platform—you'll see that it's surrounded with rising residential towers touting their proximity to the incredible park space. People want to live and work near parks.
And they're not just attractive to well-heeled condo-dwellers. Younger generations flock to them, too.
During the Sacramento Metro Chamber's recent study mission to Philadelphia, a panel session on retaining talent featured several students from Philly-based Drexel University. One student was asked what kind of amenities could draw young people like himself to Sacramento. His answer: a massive urban park. He actually cited Philadelphia's beloved Fairmount Park. So not only can great parks be tremendous economic drivers, they also attract soon-to-be young professionals, a critical component to any city's success.
But how can we pull this off with so many landowners? It will take time, to be sure. Other major parks around the country took decades, even generations, to complete. This one will, too. But if the city can educate the developers and landowners on the economic benefits, the smartest of them will line up to help make this happen.
For his part, Genshlea believes that relocating Cal Expo to Gold Rush Park—and making Cal Expo a true year-round enterprise, as its founders envisioned—would be a driving factor in financing the park. The land that Cal Expo sits on now is so valuable that Genshlea believes it would cover much of the cost of purchasing park property and building infrastructure.
And, if necessary, the mayor and City Council should strongly consider wielding its powers of eminent domain, as it is considering doing now in order to clear space for the new arena. In fact, that's exactly what New York City did when it acquired over 700 acres in 1853 to make way for Central Park.
More recently, Chicago did the same thing to clear space along the Chicago River for its park and cultural amenities. In a statement to Time Out Chicago magazine last year, Mayor Rahm Emanuel wrote, "Lake Michigan is part of our front yard, and the Chicago River is part of our backyard. Improving our waterways will further the economic development of our city, as well as maintain the quality of an important asset to our city."
If we're smart about it, we can do the same thing here—reconnect our city to the riverfront. Perhaps we can even include a canal feature similar to San Antonio's wildly popular River Walk. But before we can dream, we need to act.
When it was announced in June that Sacramento ranked third for parks in the country, Peter Harnik, director of the Center for City Park Excellence, noted that "Sacramento is doing many things right from a parks perspective, and it could score even higher with an increase in total park acreage and park size."
There's been a lot of talk in recent years about becoming the greenest city in America, of revitalizing the waterfront and of creating civic amenities downtown that will attract people from across the region and beyond. Not only do we have the opportunity to supplant New York as the top city for parks in America, but we can accomplish so many of the region's goals with this one, inspired, majestic and transformative undertaking.
Unlike with the arena, there will be no anti-park petition drives in this effort, but rather a handful of private landowners and government agencies with industrial buildings standing in the way. But with 2.2 million citizens in the region who could benefit from a great civic park with free concerts, wide open spaces, cultural amenities and access to the river, I sure like our odds.