A sneak peek at Shangri-la, the retro Palm Springs resort-inspired restaurant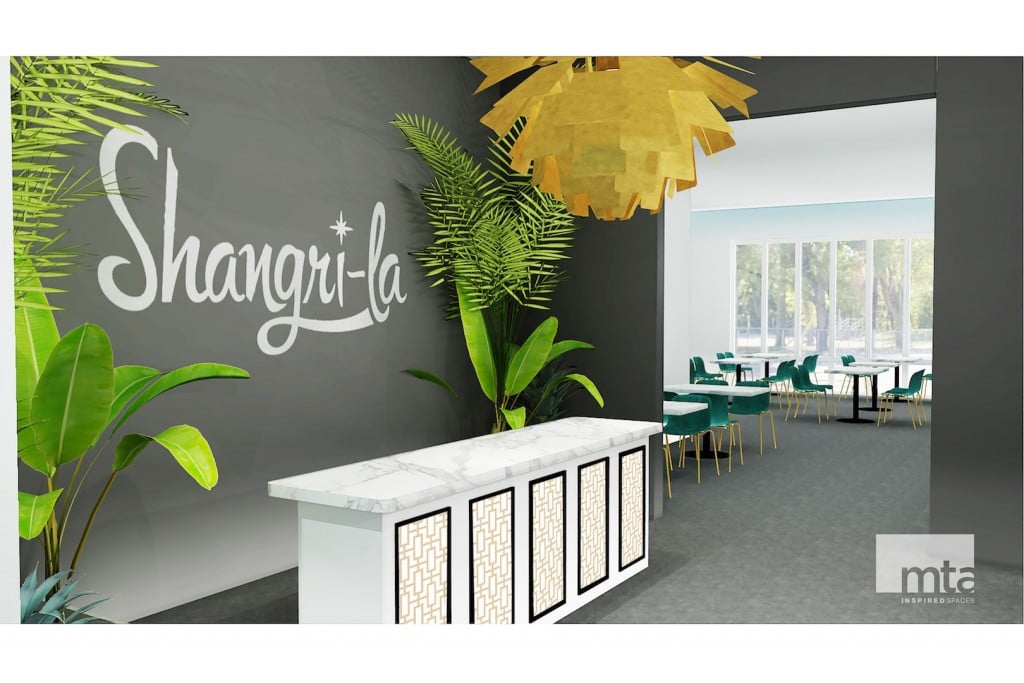 UPDATE: Shangri-la, the new Palm Springs resort-inspired bistro in Fair Oaks will soft-open Tuesday, June 18, for dinner. Hours of operation wlll be Tuesday through Sunday from 5:30-9 p.m., with the bar staying open until 10 p.m. (The restaurant will be closed Mondays.) Owner Sommer Peterson aims to add happy hour and brunch over the coming weeks, and hopes to host a grand opening in mid-July. Reservations are available through yelp.com.
**********
A Fair Oaks native is devising an oasis of creative shared plates, craft cocktails and bocce ball in the Sacramento suburb with the new restaurant Shangri-la, which is set to open later this month.
Sommer Peterson, who grew up in Fair Oaks, moved to San Francisco after high school, but over 20 years later, she felt the call of a spacious home and family ties returning her to her roots. As she was moving back in 2016, she saw a "Restaurant/Bar Space for Lease" sign on a shuttered mortuary in her neighborhood.
"I kept passing it and it was just making me crazy," says Peterson, 44, who co-owns San Francisco's Mission Bowling Club, which has drawn accolades from The New York Times and Food & Wine. "I finally called and the broker said the owner really believes in Fair Oaks and wants something awesome to happen here. I was like, 'Well, sh-t, I'm probably the only one crazy enough to do it.' "
Inspired by the building's '60s-era structure—a long flat roof, columns, rectangular shape and vertical glass windows—and her own newly purchased mid-century Fair Oaks house, Peterson, whose background is in visual merchandising and has worked with Williams Sonoma and West Elm, imagined a mid-century modern Palm Springs resort. To help turn her dream into a reality, Peterson brought on MTA Hospitality designers Whitney Johnson and Leslie Hoffeditz.
Building on what Peterson describes as "pool party on the outside, sexy and dramatic on the inside," the team tore the interior of the mortuary down to its studs, pulling up mint green carpet to expose the concrete floors and knocking down walls to create a 360-degree bar that opens onto the patio via a garage door. And that patio? A 6,000-square-foot chunk of the expansive parking lot will soon house two giant bocce ball courts, three fire pits, queen palm trees and an area with play structures for little ones.
Inside, the 4,000-square-foot space is being outfitted with décor that fits into the mid-century modern oasis aesthetic, including a walnut banquette with peacock teal faux leather upholstery, saucer-shaped Nelson bubble pendant lamps and gold metal chairs. The entryway is affixed with a giant brass light fixture that resembles an upside-down artichoke and illuminates an 8-foot by 3-foot oval floor mural painted to look like tile by local artist Jeremy Stanger using the aforementioned peacock teal and gold geometric accents ("It's more beautiful than any tile we could have found," says Johnson). Sommer's mother Judi Peterson, who owned a sign-painting company in Sacramento for three decades, contributed a gray wall mural with huge white palm fronds.
"When Sommer brought the idea of doing this Palm Springs-inspired retreat, we were like, 'Okay, yes please,'" says Johnson, who says she felt like the project was one MTA couldn't pass up. "Everybody wants to be somewhere else. And the fact that it used to be a mortuary—people are going to be totally shocked when they are in there."
As a female business owner, Peterson felt strongly about bringing on a female chef to helm the kitchen, and tapped Jodie Chavious on multiple recommendations, including Johnson's (Johnson and Chavious are neighbors). It didn't hurt matters that Peterson had an early date with her now fiancée, Nate French, at Canon, where Jodie was chef de cuisine (she's also held stints at Grange and Mulvaney's) and Peterson fell in love with the shared-plates concept and the food.
Chavious says she was drawn to the project partly because Peterson is giving her carte blanche over the kitchen. "Her expectation is that we're putting bad-ass food out. That's it. And I was like, 'Wow, I get to be as creative as I want and put my signature down,' which I have never done before."
Chavious and her chef de cuisine Russell Middleton (also formerly of Grange) are crafting a menu of inventive plates that are meant to be shared and eaten family style. "It's like Thanksgiving," she says. Think house-made pasta with farmers' cheese that's been smoked in-house, zucchini strips, basil purée, preserved lemon and a 63-degree egg, or flat-iron steak with horseradish and parsley mojo (a Puerto Rican-style herb sauce), fried shallots and pearl onion petals. The menu will change often and seasonally, but happy hour dishes might include a duck liver tostada with pickled green and fresh strawberries or marinated tofu baos. The bar program, lead by Brett Walker, formerly of Woodlake Tavern and Shady Lady, will feature beer, wine and craft cocktails, including the Corpse Reviver No. 2, a gin-based drink that winks at the building's former life.
"My vision is, 'What would you eat if you came over to my house and sat in my backyard?' " says the chef. "Sometimes I just have my neighbors over and we don't get crazy, but other times we throw down and have these elaborate meals, but it's still sitting in my backyard."
Chavious' vision directly aligns with Peterson's. Ultimately, they want to create a place where anyone and everyone can come, have a drink and a bite and live a little.
"The Webster's dictionary definition [of Shangri-la] is this utopian mythical paradise where you go to escape your troubles," says Peterson. "It's super important to me that we create this inviting space where everybody is welcome. No pretension. You can show up with your dog and have a beer or you can get dressed up with your girlfriends and have a whole fabulous night."
Tues.-Sun. 5:30-10 p.m. 7960 Winding Way. Fair Oaks. 916-241-9473. shangrilafairoaks.com
You Might Also Like
Here's when downtown hot spots like Solomon's Delicatessen, Kodaiko, KoJa Kitchen and more will open
If Wallpapers Could Talk
The Boy With the Dragon Tattoo