A Star Attraction
A bold plan to build a dramatic new planetarium has cratered. But if we act fast, we have a shot at the greatest dome in town since the Capitol.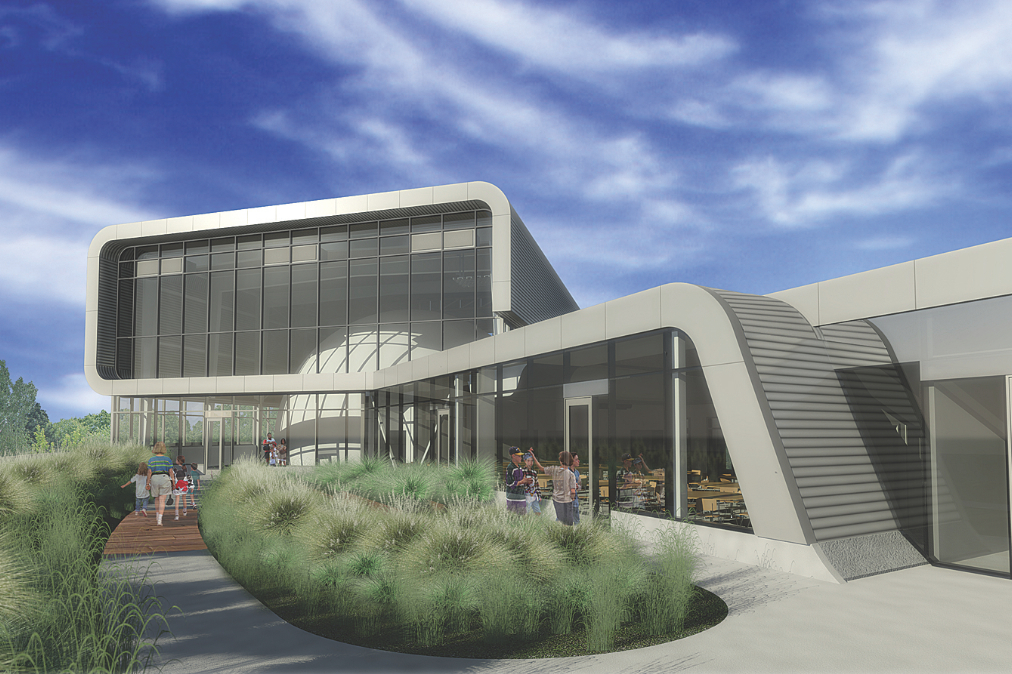 SSacramento, we have a problem.
For about a decade, the team behind the Powerhouse Science Center has been fundraising for a new, out-of-this-world facility on the Sacramento riverfront. Its goal has long been to raise $81 million to fill the historic PG&E power station building with dazzling exhibits and to build a dramatic glass-encased planetarium next door (yep, that's a rendering of it above), where thousands of schoolchildren, locals and tourists could channel their inner Buzz Aldrin—or Buzz Lightyear—for a few hours or so.
But while we were busy digging ourselves out of the Great Recession, saving the Kings and building an arena, the fundraising effort for Powerhouse—formerly called the Discovery Museum Space and Science Center with a modest home currently located on Auburn Boulevard—slowed to a crawl, and last year, the goal was reluctantly trimmed from $81 million to $41 million. The new plan involves building the center in phases over what could be decades.
In the process, the single most visible and iconic symbol of the project—the 60-foot-tall structure adjacent to the PG&E building containing a 150-seat, state-of-the-art planetarium—vanished as if swallowed by a black hole. Now, new plans are being fashioned for a much smaller dome inside the historic building that might seat 90 (the center's existing planetarium seats about 40 adults), rendering the signature element of our city's sole science center invisible to the naked eye.
This bold architectural statement on science, education, and the power of urban design—conjured by Sacramento architect Jason Silva of Dreyfuss & Blackford—has been unceremoniously reduced to a wish list item for the future.
Unless we make it happen now.
In the midst of an expanding economy and in the wake of the great civic victory that was the arena and surrounding developments, this is not the time to retreat. Now is not the time for thinking—or building—small.
The good news is that the game is changing as we speak. Our incoming mayor, Darrell Steinberg, has repeatedly stated that his priorities include, among other things, reinvigorating the waterfront, investing in education, attracting tech companies, and thinking bold.
There is, quite simply, no other single project in Sacramento that covers all of those bases the way that this large-scale planetarium does.
When it comes to the riverfront, no other opportunity is more shovel-ready than this one, with a goal to break ground by May, and a likely opening of the first phase in 2019. If our new mayor wants to have an immediate impact, this is his chance right here, right now.
When I was a kid in Sacramento, one of my closest options for space exploration was the Morrison Planetarium in San Francisco. And while I didn't become a scientist, it did make an impression on me. Imagine the influence a planetarium like this could have on children with proclivities toward science, space and math.
Actually, you don't even need to imagine it at all. Just listen to one of the most storied explorers ever: Captain James Lovell Jr., the celebrated astronaut of Apollo 13 fame once said, "Growing up near Chicago, the Adler [Planetarium] inspired me to think about becoming a space explorer one day."
And when it comes to attracting tech companies, building an eye-catching planetarium would be a highly visible way to spotlight our city's commitment to nurturing the next generation of coders, engineers and all manner of tech professionals. But it won't be a fraction as visible without the glowing sphere beckoning the nearly 180,000 cars a day that would drive by it on I-5.
Finally, when it comes to thinking bold, this will be one of Steinberg's most important tests. Not only would championing Powerhouse's original plans be an ambitious step for the reasons already outlined, but also for the powerful, less tangible reason of maintaining Sacramento's newfound can-do attitude. When it seemed as if the Kings were gone, Mayor Kevin Johnson rallied the city to respond, and we did. Our citizens stepped up, and so did our companies and local government. We found money where none was thought to have existed. Mayor Johnson called on individuals to give, and 20 of them donated $1 million each in just one week. Corporate Sacramento came through, too. The city found money in underused parking garages. We got creative. We pushed. There was a sense of urgency. And our efforts paid off.
Similarly, this is one of those key moments in Sacramento's history when we can choose to act like the big city we're becoming, or we can sit back and let other cities shoot for the stars—places like Evansville, Ind., which opened a brand-new, glass-encased planetarium on the bank of the Ohio River in 2014. Or Costa Mesa, Calif., whose community college is currently constructing an arresting planetarium that will open in 2018 with 125 seats.
And then there's New York, whose spectacular 429-seat planetarium sits in a glass box and has become a bona fide civic star, as well as a major catalyst for increasing nearby property values. Everybody on the Upper West Side wants a view of the blue sphere.
Here, the railyards couldn't ask for a better neighbor than a landmark planetarium. And it's not too late for Steinberg to save the day, both with public funds and the help of private and corporate philanthropy.
That's where companies like Aerojet Rocketdyne come in. Yes, Aerojet has already stepped up with $1.5 million for the new science center (second only to SMUD's $2.25 million). And that's fantastic. But since that gift was committed over five years ago, the company has signed contracts with NASA and Boeing worth a combined $1.4 billion, and its stock hit a 52-week high in mid-November. Of all companies in the region, Aerojet—with over 1,000 employees at its Rancho Cordova campus, and local roots stretching to 1951—stands to benefit the most from inspiring young minds to play a role in the aerospace industry. As such, it needs to dig deeper.
In 1999, Raley's committed $15 million over 20 years to secure naming rights for Raley Field, home of the Sacramento River Cats, and a key component in our waterfront revitalization.
The Powerhouse Science Center is asking for $10 million for naming rights for the whole project. That's the number Aerojet needs to hit. Anything less wouldn't get the job done. The Aerojet Rocketdyne Powerhouse Science Center sounds just right.
Speaking of Raley Field, Sacramento and Yolo counties guaranteed a $40 million bond sale for that project in 1999. Surely, Sacramento County can contribute more than the $6.88 million it's currently committing to Powerhouse. In 2003, a new state-of-the-art 190-seat planetarium (pictured below) opened in downtown Salt Lake City funded with $18 million from Salt Lake County.
The city of Sacramento, led by Steinberg, should be coming in stronger as well. If the city squeezed $255 million for the arena from, among other things, parking spots, it can find more than its $7.85 million contribution to educate its citizens. Now is the time to show that we value education as much as sports. It may not be easy, but we've faced down impossible odds before.
When Gene Kranz, chief of flight operations for NASA, was managing the terrifying Apollo 13 odyssey in the face of all odds, he kept calm and famously implored his team, "Let's work the problem, people." And they did.
But corporations and local government can't act alone. Local philanthropists need to play their part too.
In March, a retired high school teacher named Jennifer Chalsty donated $5 million to the Liberty Science Center in Jersey City, N.J., specifically to enhance the center's 400-seat planetarium. "As a former teacher, I know that education is life's great equalizer," she said, noting the benefits of providing opportunities to underserved communities. "I also know that if we hope to fill the tremendous need for more top quality STEM [science, technology, engineering and math] professionals, we have to start inspiring children and imbuing in them a lifelong love for these subjects."
Wow. Where's our Jennifer Chalsty?
The educational opportunities are also why UC Davis should get involved here in a big way. Multiple former NASA astronauts are UCD grads, and one of them, Sacramento's Stephen Robinson, has returned to campus as a professor in the mechanical and aerospace engineering department. In exchange for a major contribution, the university's aerospace program should get special access to the new Powerhouse for their students and staff. Imagine a real astronaut taking students from all over our region on rides through the cosmos.
Speaking of which, make no mistake—a planetarium in Sacramento is a regional amenity. Students and families from Davis and Vacaville will use it as much as those from Roseville and Folsom. Steinberg has pledged to work more closely with the county and other leaders outside the city than past mayors have. This would be a noble place to start.
Planetariums are also attractions that draw visitors from other regions, especially in high-profile spots like this one.
Regardless of how we get there, it's critical that we act now. The Powerhouse team is breaking ground soon and will need to plan accordingly. Sacramento has unprecedented momentum. Let's not waste it.
In the powerful words of Britain's Winston Churchill, "The era of procrastination, of half-measures, of soothing and baffling expedients, of delays, is coming to its close."
God, I hope that's true here, too.
Again, there is no other project in the Sacramento region today that is better positioned—in both the short- and long-term—to succeed and make a real difference for our kids, our riverfront, our economic prospects and our civic pride.
We are, quite simply, at a tipping point. We can pool our resources and aim for the moon, or we can keep sending our kids to other cities to dream big.
To paraphrase another astronaut who knows a bit about aiming for the moon, investing in this planetarium today would be one giant leap for Sacramento.
Let's take it.