A State of Disrepair
The state of California is trying to decide if it's going to spend $155 million to repair an office building that cost $15 million to construct. Isn't there a better solution? We're glad you asked.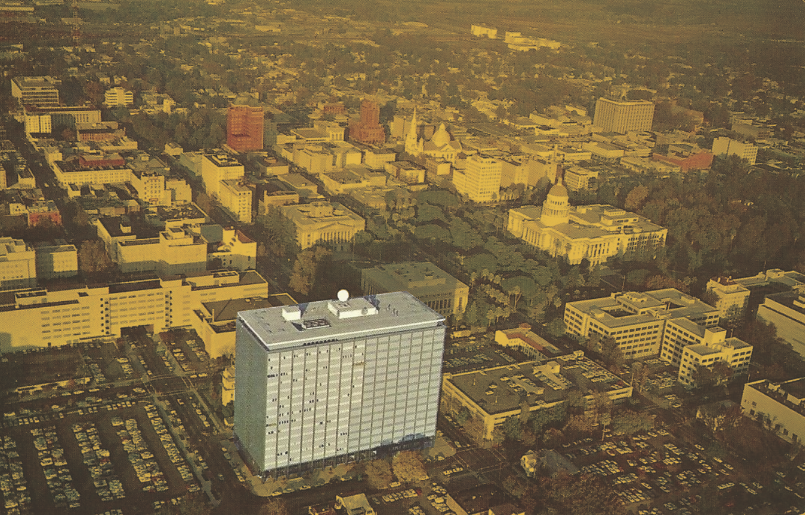 CClose your eyes and imagine for a moment Gov. Brown standing in front of a crowd on a brisk January afternoon in downtown Sacramento declaring a new symbol of progress for "the nation's leading state"—a hyper-ambitious project boasting the tallest tower in Sacramento (replete with an observation deck!) and the country's fourth largest building west of Chicago.
Not only would Brown tout the forward-thinking design and construction of the massive new tower, but he would also espouse the "prudent use" of taxpayer money spent on the project.
It's the kind of speech and the kind of ambition that would exemplify California's role as a national leader.
It's also a speech that already happened—in 1965.
That was when Gov. Edmund G. Brown dedicated the newly opened "Retirement Building"—an unfortunate moniker for such a "statement" structure. It was so named because the public employee retirement system loaned the state $15 million to construct the building at 9th and O streets and moved its staff into the then-new 17-story tower.
But this past summer, the once-lauded building—now known as the Resources Building—made news of a different sort. It was singled out, by the state itself, as having devolved into the worst condition of any state-owned building in California, requiring an astonishing $155 million in repairs—ten times the structure's original cost, and tens of millions more than the building's cost adjusted for inflation—and needing $148 million of work done fast, in the next 12 months.
And soon, this generation's Gov. Brown will need to decide if spending $155 million to repair a crumbling building of modest architectural import is a "prudent use" of taxpayer dollars.
In January (of 2016), we may get the answer when a proposal from the Department of General Services (DGS)—which handles the state's real estate holdings—may be released along with the governor's 2016-17 budget proposal.
Let's hope, for both our city's and our state's sakes, that we don't waste more resources on the Resources Building.
Spending $155 million to repair a building that hasn't been well maintained for decades would be throwing good money after bad. It's the equivalent of some proposals in the city to spend up to $50 million to refurbish the Community Center Theater—a beige, concrete bunker of a structure that defies every principle of modern theater design. Not only do these proposals ignore the mistakes of our past, but worse yet, they dilute the promise of our future.
In the case of the Resources Building—which houses the departments of Fish and Wildlife, Water Resources, Parks and Recreation, and Forestry and Fire Protection—the state has an extraordinary opportunity to stimulate the local and state economies alike, all while making a bold statement about our natural resources. It can do this by partnering with a private developer to construct a state-of-the-art, LEED-certified building that reflects the environmental ideals of one of America's greenest states.
Ostensibly, the way it would work is that private developers would secure financing based on the guarantee of a long-term lease—or perhaps a lease-to-buy option—from the state government. Not only are private developers more experienced in executing projects like these, they're also far more experienced in negotiating better prices, building more efficiently, and maintaining structures so that they never find themselves in the position of needing a $155 million infusion to merely refurbish an aging edifice.
In the end, it's better for the state—and its taxpayers—to rent. DGS itself made that call in 2001 when it signed a long-term lease for the entire 10-story Ziggurat building, the pyramid-shaped former Money Store headquarters now owned by Wells Fargo on the West Sacramento riverfront.
Commissioning private office space for state employees will also likely bode far better for Sacramento because, sadly, the state has a decidedly mixed record when it comes to its buildings in the central city.
In addition to the much-beleaguered Resources Building, the state has also fumbled on the widely disparaged urban design nightmare that is the 1.7-million-square-foot East End Complex downtown (and the million-dollar art installation there that has decayed beyond repair), and the seemingly cursed and aggressively bland 24-story Board of Equalization Building at 4th and N streets (you know, the one where the windows keep popping out and crashing onto the sidewalk, and is now estimated to need $35 million in repairs itself, on top of the $60 million that has already been spent in repairs).
Part of the problem is that the state, astonishingly, is exempt from local design review regulations. It can build whatever it wants in any California city where it owns land, turning a blind eye to the city's goals, hopes or concerns. However, if built by the private sector—even with the state as the sole tenant—the structure would be subject to the city's design review process, virtually assuring a far better fit.
For inspiration, we only need to look back to 2007 when the state called for proposals by private developers to design and construct a complex as large as 1.4 million square feet that would house the agencies that currently inhabit the Resources Building, as well as others.
Instead of developing the massive project itself, the state planned to lease the space for 10, 15 or 25 years, perhaps eventually purchasing the structure. The rationale was that the state could spend far less up front, and the costs of maintaining the building would fall on the private sector owner.
Some of Sacramento's biggest builders competed for the project. But as the real estate market began to crumble that year, the state retreated, angering some of the developers who spent considerable time and money crafting proposals without any compensation.
At least one such proposal—by developer Mark Friedman of Fulcrum Property in partnership with one of the country's largest skyscraper builders, Hines—had reached the stage of creating renderings and a physical model. Friedman's plan was to construct a 28-story tower and complex on the West Sacramento riverfront, not only directly (and appropriately) linking the agencies overseeing water, fish and parks to the mighty Sacramento River, but also creating a sustainable environment with a stormwater garden, a demonstration garden and a riparian park—all accessible to the public.
Regardless of who builds a new home for these departments, this is exactly the kind of thoughtful narrative design that's needed for agencies like these in a state like this one and—last but not least—in a city built at the confluence of two critical California rivers.
Of course, much of the decision won't come down to aesthetics or storytelling, but rather cold, hard cash.
DGS, which hired international architecture firm HOK in 2014 to analyze the condition of the state's real estate holdings, estimates the replacement value of the current 658,000-square-foot Resources Building at $392 million.
Is that an accurate figure? Perhaps. But consider this: This past June, Hines broke ground on a Denver skyscraper—which, at 40 stories and 662,000 square feet, is a spot-on match with the Resources Building—that carries a total price tag of $141 million. Construction in California during an economic upswing may very well be more expensive than in Denver, but it strains credulity to imagine that a building of identical size would cost an additional $251 million just because it's in Sacramento.
A 40-story tower here would be our city's tallest and, in the right architect's hands, could become our skyline-defining structure, as well as a monument to the environment right in the heart of California.
Regardless of its height, will the state sink a staggering $155 million into a building that neither reflects the state's environmental ambitions nor contributes to the capital city's urban fabric? Or will the current Gov. Brown, like his father before him, create his own symbol of progress and make "prudent use" of taxpayer dollars? That doesn't mean spending the smallest amount possible; it means spending it in the smartest way possible.
Oh, and if and when we build it, can we please come up with a better name? That part won't cost us a penny.