A Tale of Two Towers
In recent months, proposals emerged for two of the last opportunity sites on Capitol Mall. Each tells a very different story about civic ambition, smart planning and political prudence, or the lack thereof.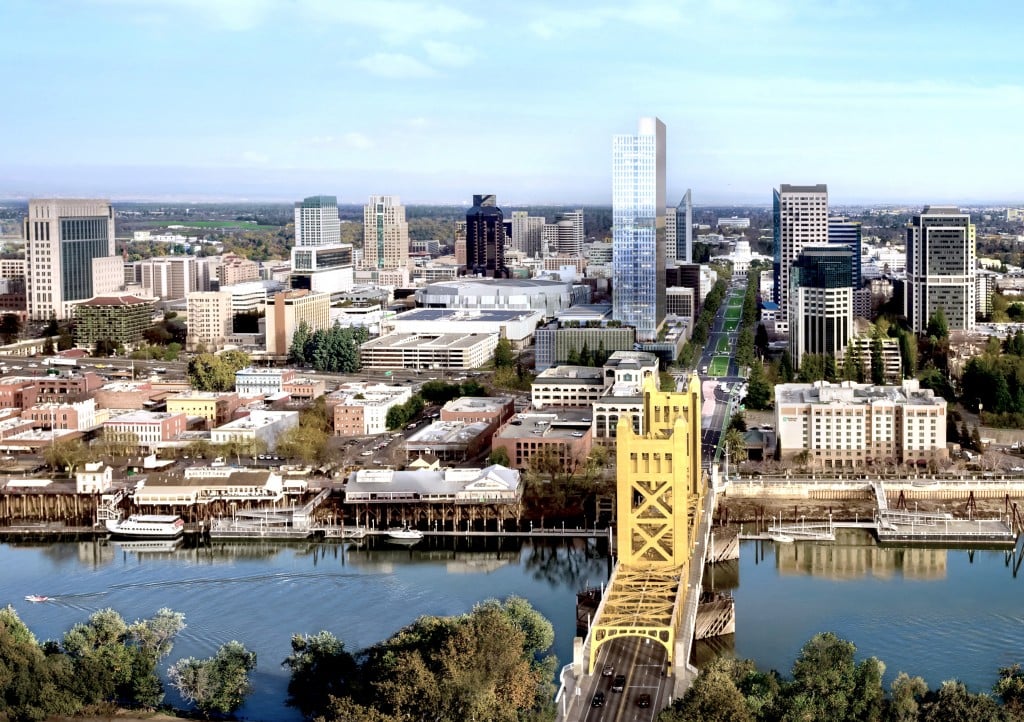 In Korean culture, there's a concept known as han (pronounced like Han in Han Solo). In 2011, the Los Angeles Times published a story about han, describing it as a sense of "ineffable sadness." The article went on to quote Martin Sheen's character in The West Wing, President Josiah Bartlet, talking about it. "There is no literal English translation," he says. "It's a state of mind. Of soul, really. A sadness. A sadness so deep no tears will come. And yet still there's hope."
I was introduced to the notion of han by my wife and co-editor Elyssa who was born in Seoul, and we use the term more often than either of us would probably like—it comes up frequently, as it happens, when describing certain aspects of life in Sacramento. In fact, it has become our private go-to lament. For example, we use the word anytime the 2002 NBA Western Conference Finals (when the Kings were robbed—robbed!—of the title they deserved) are mentioned in conversation, and we invoked it when a few rotten eggs torpedoed Lady Bird's perfect Rotten Tomatoes score.
"So much han," one of us will inevitably say to the other.
Despite the city's extraordinary progress on many fronts, it still seems at times that we just can't catch a break.
And when it comes to Sacramento's built environment, nowhere exemplifies a sense of han like Capitol Mall.
The corridor is, as I've opined before, our city's boulevard of broken dreams. Despite its extraordinary potential—sitting in the heart of downtown and bookended by the majestic State Capitol and the iconic Tower Bridge—it has, for generations, remained an uninspired stretch of private and government structures that empties out every weekday around 5 p.m., creating a ghost-town vibe. This important street lives in a perpetual state of possibility, but also disappointment.
In 1989, for instance, a handful of all-star architects and developers competed to build a signature tower at 6th and Capitol, with proposals including everything from a Ritz-Carlton to a 57-story tower with an observation deck. The 1990 recession scuttled all plans.
In 2004, local developer John Saca proposed building two 53-story skyscrapers—the tallest residential towers on the West Coast—at 3rd and Capitol. And in 2005, celebrated architect Daniel Libeskind designed a 39-story residential tower for 601 Capitol (pictured below). But the 2007 housing crisis and ensuing recession toppled both of those ambitious plans.
Post-recession, a 2011 design competition for a grand vision of Capitol Mall generated some brief excitement, but with a lack of political and business leadership, the momentum quickly faded.
Today, there are only three parcels of any consequence remaining on this stretch; only three chances left to get things right. And two of those—301 Capitol Mall (the site of the proposed Saca towers), and 601 Capitol Mall—are currently in play again. Barring an imminent recession, these are two projects with the potential to right some historical wrongs and get Capitol Mall back on track.
But of those two projects, one is headed in the right direction, and one is not.
Let's get the bad news out of the way first, and consider 601 Capitol, currently a parking lot that shares its block with the U.S. Bank Tower.
This is the block for which those top architects competed 30 years ago to envision a landmark tower for the city. One of the proposals included a gold beacon to light up the night sky. And it's the same block where Libeskind's strikingly sculptural tower was set to rise in 2005.
Now, sadly, this parcel is on track to stand as a beacon to squandered dreams and political ineptitude. Let me explain.
The property sits directly across L Street from the new $557 million Golden 1 Center and the surrounding Downtown Commons, arguably the most coveted neighbors that a developer could ask for.
Until recently, it was owned by Sacramento developer David Taylor, but San Francisco's Shorenstein Properties sought to purchase the parcel from Taylor after acquiring his adjacent U.S. Bank Tower in January.
When Taylor bought the site from the city in 2002, he did so with the stipulation that any project built there would be at least 400 feet tall with a minimum of 300 residential units or 500 hotel rooms. The city, after all, recognized this parcel as a critical building block for downtown. Something great needed to rise there, and the 2002 council took concrete steps to ensure that would happen.
Fast-forward to 2018.
Shorenstein wanted to build a far smaller structure—say, five or so stories. So the company asked the Sacramento City Council to lower its height restrictions (and, in turn, its standards), suggesting that the "current market" does not justify a larger project, citing recent steel tariffs as a major factor.
Now, of course, there's much debate in the country about how long steel tariffs might last. So yes, perhaps if a project needed to be built immediately, steel prices might be an issue. But it begs the question: Where exactly was the five-alarm fire here? Why would the city even consider throwing in the towel on one of its most prized parcels?
A council vote on Shorenstein's request was scheduled for March 20 as part of the agenda's "consent calendar." In council parlance, that indicates a vote on a bundle of issues that won't require much, if any, individual debate. In other words, someone either didn't want to draw any attention to this proposal, or the council didn't think it merited a public discussion. In fact, the item was buried in a list of 20 small topics that included adding two-hour parking "on a section of 28th Street."
So, on the night of the vote, Councilman Steve Hansen, who represents downtown and helmed this issue for the city, said from the dais, "Given the current market around high-rise construction, the costs and the challenges, the requirement from the redevelopment agency that the building be over 400 feet tall is clearly commercially unviable."
He then cited the "steel tariffs," the "market" and "all these other things."
Hansen continued: "For me this was a tough call to some extent. … Many of us have wanted to see the revitalization, renovation, transformation of Capitol Mall and we envisioned high rises there."
Then, he appeared to begin justifying the possibility of a short, unambitious project on this property by citing the short, unambitious projects that already exist on Capitol Mall. "It's not out of character to say that six or eight stories [there] is unreasonable, given the other buildings' context," he said.
At this point, he asked the developer to "commit to studying the feasibility" of a larger, 14-story tower, and explained that the council's decision this night—to dismantle the requirements their predecessors put in place—didn't mean Shorenstein "can't exceed" the lower height limits. In other words, maybe Shorenstein will build tall and surprise us all.
Then an awkward moment occurred. Perhaps having not been fully briefed on the weight and finality of the decision before them, Mayor Darrell Steinberg smartly asked Hansen, "We'd have a vote eventually on the actual project, correct?"
"Yeah," Hansen replied, at which point one imagines the council's concerns about abandoning the city's decades-old aspirations for this site subsiding. But then he clarified. "Well," he said, "the project would go to the staff and then the planning commission under our current entitlement rules." An interjection from a staffer regarding a procedural issue quickly changed the subject.
A clearer answer to the mayor's question would have been, "No, Mr. Mayor, this is it. We're giving up. Next item."
Moments later, Councilman Jeff Harris offered that this was difficult for him as well, because, he explained, "We are looking at a perhaps less energetic use than we might like on a true opportunity site on Capitol Mall." He hit the nail on the proverbial head. A true opportunity site.
A member of the public, James Diel, also shared his concern. "If we allow something as small as a five-story building to be built on that site—basically our gateway into Sacramento—it's likely to be two generations before such a mistake can be corrected," he said. "I urge you to be patient and wait for something that is befitting of our Capitol Mall and of the iconic gateway from Tower Bridge and not settle for something mediocre."
But it was too late. The council members had made up their minds, without a substantive public debate, and voted to eliminate the height requirement for this site, briefly expressing their dismay but then collectively shrugging their shoulders. The moment reminded me of a line from poet T.S. Eliot: "This is the way the world ends, not with a bang but a whimper."
With the approval it wanted in hand, Shorenstein finalized its purchase of the property in May. And in August, to absolutely no one's surprise, the developer announced an eight-story building on the very plot where the city's grandest ambitions once rested. For perspective, an eight-story tower is shorter than a bevy of residential midtown projects currently being undertaken by far smaller local developers on far less critical sites.
Not to mention, this decision is just bad urban planning, plain and simple. Sites for high-density skyscrapers are very hard to find. They don't work in suburbs, or even heavily populated neighborhoods like midtown. Where they do work is in the middle of central business districts, especially on properties adjacent to desirable, high-traffic venues like sports arenas and shopping districts (and did I mention the light rail stop on the corner?). Allowing a parcel earmarked for a skyscraper to be used for a project this size is wildly irresponsible. This council would have flunked Urban Planning 101.
In a 2016 roundup of properties likely to be impacted by the arena, The Sacramento Bee wrote of 601 Capitol Mall, "The site's location is as good as it gets downtown." It also quoted assistant city manager John Dangberg as saying, "Patience is a good thing for a site like that. You need to wait for the right market and the right project. The city would like to see something pretty spectacular go in there."
Do I blame the developers at Shorenstein? Of course not. This is not their hometown. They are not charged as guardians of our city's potential. They wanted a low-risk project on a hot piece of property and they found a willing accomplice in a council that clearly didn't think it could do any better.
In the council members' comments that night, there was a sense of rueful resignation, as if they were being compelled by some unseen force to abandon hope.
To recap: At the precise moment that Sacramento's upward trajectory is, by all accounts, peaking, the city readily capitulated to a developer's request to think profoundly small on one of the last remaining lots on Capitol Mall, directly across the street from the arena in which the city invested hundreds of millions of dollars with the express purpose of generating a catalytic effect.
So. Much. Han.
All that said, there is still a sliver of a chance that something can be done to rectify the debacle regarding the 601 Capitol Mall decision. Now that a formal project has been submitted to the city by Shorenstein, the city will spend months analyzing the application, and the planning commission will likely render its decision on whether or not to approve the project sometime in late 2018 or early 2019.
And it turns out that anyone can challenge the commission's findings by filing an appeal (the form is on the city's website) within 10 days of the decision and paying a $298 fee. If there is an appeal, regardless of the reasons for it, the project automatically returns to the City Council. And while the council may not be able to force Shorenstein to build a big, beautiful skyscraper, it does have the authority to deny the proposal, perhaps opening the door for the developer to sell the property or think bigger than eight stories. (To track the progress of the project and sign up for email updates, click here).
In the meantime, if Shorenstein's proposal speaks to the council's lack of vision and ambition, the 301 Capitol Mall proposal speaks to our city's potential.
Consider this: Less than two weeks after Shorenstein proposed its 88-foot-tall structure, and mere months after Councilman Hansen stated that a project over 400 feet on Capitol Mall was "clearly commercially unviable," the Los Angeles-based developer CIM Group, along with CalPERS, released a proposal for a soaring 557-foot, 36-story mixed-use tower only two blocks away, at 301 Capitol Mall.
It would appear that the 301 group didn't get the memo about the market and the tariffs.
CIM had originally submitted a design for a strikingly modern 420-foot glass tower in 2016, but quickly scrapped its plans, and has now returned with a significantly taller version that has the ability to remake the city's skyline and, to some degree, the city's image (more on that in a moment).
If you've ever wondered why Sacramento's skyline has little in the way of visual appeal (especially from a distance), part of the reason is that there has, for decades, existed a "ceiling" of sorts for our skyscrapers—approximately 400 feet, or roughly 25 to 30 stories.
That's no coincidence. Our towers peak at that height because building higher requires additional elevator shafts and other structural accommodations that dramatically increase the cost. Our nine tallest buildings rise between 350 and 423 feet. The effect is a homogenous skyline with no structures acting as a visual anchor for the city.
That all changes with a 557-foot tower.
At 134 feet taller than the city's current tallest building—the 423-foot Wells Fargo Tower—CIM's entry has enough of a height differential to vastly improve the Sacramento skyline. For a sense of scale, it would rise higher than any tower in San Diego or Portland. It would even top the Washington Monument by two feet. Quite simply, it has the potential to make a profound visual impact.
But in this case, the design is every bit as important as scale.
To be candid, when it comes to our existing skyscrapers, the majority leave much to be desired from an aesthetic perspective. Yes, there's a gem or two. But let's just say there's a lot of beige out there, with more stocky, inelegant proportions than one would hope for. As such, this new tower bears a greater burden. If built at the proposed height, it will become an instant symbol for the city, whether we like the looks of it or not.
The first renderings of the building reveal a structure that strikes a decidedly handsome profile. Designed by one of the world's top architecture firms—Skidmore, Owings & Merrill, aka SOM—the tower boasts an aggressively vertical glass wall that will soak up the reflection of the sky during the day and the twinkling lights of the city at night. Its appeal lies in its simplicity. And its height is just right—tall enough to help create a dynamic skyline, but not so tall as to appear wildly out of proportion with the other towers.
That said, in its current form, I fear the structure might also represent something of a missed opportunity. For its many attributes, its rectangular form denies our skyline the kind of city-defining silhouette that a structure this size offers. Tall, lithe, glass, rectangular buildings can certainly be beautiful, but they are also ubiquitous.
That wasn't always the case.
In fact, it was SOM that helped pioneer the glass skyscraper with its exquisite Lever House tower in New York City, completed in 1952. At the time, skyscrapers were typically clad in stone or brick. What is commonplace today was groundbreaking then.
But what is considered groundbreaking today? And does this design achieve that? I'd argue that it should.
The top of the 301 tower is split into two levels. From the south or north, its roofline will likely appear flat and rectangular, i.e., clean and attractive, but not terribly distinctive. And viewed from the side (like in the renderings), the crown looks, at least to my eye, like an allusion (intentional or not) to the pointy crowns rising from the flat tops of two nearby Capitol Mall towers—the U.S. Bank Tower and the Bank of the West building.
And while it's fairly common practice for architects to design new structures with stylistic nods to neighboring buildings as a way of speaking the visual "language" of a place, I would urge the team behind this tower to jettison locational context and find other sources of inspiration. The skyscraper that Sacramento needs, in my opinion, has no historical precedent. In other words, we need to set a new standard.
To be clear, I'm not saying the current design isn't powerful and elegant—as proposed, I personally think it would be the best-designed skyscraper in the city. I am simply hoping they will consider a less restrained, bolder version of the structure, more in line with SOM's recent proposed skyscrapers for London, Paris and Hangzhou, China, which range from an angular glass shard to an eye-catching tower with an undulating façade. Whether that means a more distinctive crown for 301 Capitol, or a more dynamic form altogether, the opportunity to shape one key aspect of the public perception of this city—our skyline—lies in the hands of this extremely capable team.
Notably, when SOM designed a 36-story tower for Capitol Mall in 1989 amid a group of ambitious submissions, it was one of the most intriguing structures ever proposed for Sacramento, featuring a retro-modern aesthetic that included a distinctive set of brightly lit coils on its crown, and a spire that reached about 750 feet. Had this tower been built, I believe the strength of its design would have held up beautifully today, 30 years later.
Oh, and one more thing.
SOM's 1989 proposal for Capitol Mall also included a stunning observation deck on top. It's impossible to fully appreciate our well-deserved "City of Trees" moniker without an elevated perch. If the developers really want to capture the hearts and minds of Sacramentans, give us our first true room with a view.
With the City Council's shortsighted and consequential decision to think small on one of our most valuable sites, it's all the more critical that we think big when it comes to 301 Capitol Mall. The project's partners—SOM, CIM and CalPERS—are a development dream team. They have the talent, the resources, the experience and the moxie to create the kind of landmark building that will make us all proud. Let's help them get there.
No more han.