A Welcome Home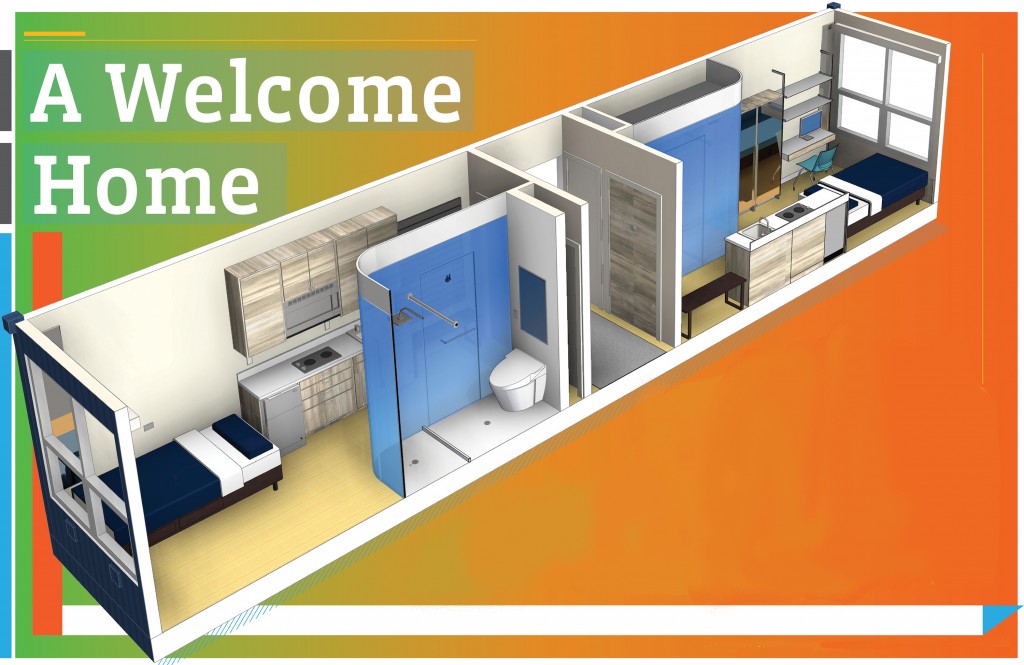 From Los Angeles to London, civic leaders are searching for creative ways to combine technology and high design to shelter their cities' growing homeless populations. In Sacramento, where tent villages have brought unwelcome national headlines, a home-builder-turned-councilman and an ambitious MIT-trained developer believe they may have the answer to solving the housing predicament. Meet the MicroPAD, a modular, stackable, prefab apartment unit that was originally developed for millennial tech workers. Could this tiny dwelling be the big idea that finally contains our city's most pressing crisis?
You may have noticed a sleek gray pod parked in front of Sacramento City Hall this past January, a futuristic dwelling George and Jane Jetson would feel right at home in. If you Ystepped inside the MicroPAD, you'd have found a bright, cheerful space with a full-size bath and kitchen cleverly engineered into 160 square feet where track lighting spotlights a gleaming countertop against one wall and a floating set of shelves and a desk along the other, and an ingenious closet that collapses 4 feet of hanging space into 13 inches when the door closes. The curved opaque glass and stainless-steel-trimmed wall of the bathroom, inspired in part by the shiny 2007 Airstream Bambi travel trailer and infused with a subtle blue glow by ambient LEDs, lend the tiny space architectural panache.
This could easily be a high-end hotel room in Paris or Manhattan. In fact, it's manufactured to the same standards as the murderously handsome CitizenM hotel in Times Square, where a nearly identical 160-square-foot prefab room costs up to $400 a night and rates higher on TripAdvisor than a room at the Ritz-Carlton overlooking Central Park. It could be a first class cabin on an intergalactic cruise ship, or a college dorm room at the first university to open on the surface of Mars.
But it's none of the above. The MicroPAD is Councilman Jeff Harris' bold remedy to Sacramento's chronic homelessness, a problem thrown into sharp relief by the wet winter the city just endured.
"Our goal in this city ought to be to help 2,000 people off the street over the next three years," says Mayor Darrell Steinberg, who cites homelessness as one of his top three issues in office. "I give Jeff Harris a lot of credit for championing this. I think it's very promising. The MicroPAD concept is a much better option than tents or other temporary fixtures."
The capital's homeless population might not have exploded overnight, but it sure seemed like it did as rising water levels displaced people from their riverside campgrounds and left them feeling exposed and even criminalized (Sacramento maintains a hotly debated anti-camping ordinance on the books, which can get you fined or even jailed if you pitch a tent in public). It has proven a crisis, too, for householders who now might find a fellow citizen living under a bush in their yard, or helping themselves to a quick bath with their garden hose. On a somber note, two homeless men died of exposure this past winter while camped out in front of City Hall, prompting a rush to establish warming centers and other emergency measures.
At last official count, which was January 2015, Sacramento County's homeless population was 2,650, although many experts believe it to be far higher. While homelessness has been decreasing slightly for the past few years on a national scale, locally the population of unsheltered single adults—those for whom the MicroPAD is intended—has risen over 20 percent since 2013.
All of this is why Harris hopes the council will be voting on moving forward with a MicroPAD project as early as this summer—which means future tenants could well be snug as bugs inside them by fall of next year.
* * * * *
The MicroPAD (the name stands for Micro Prefab Affordable Dwelling) is the brainchild of Patrick Kennedy. The real estate developer has an inventor's mind and a crusader-like commitment to problem solving. He earned a law degree from Harvard and a master's in real estate development at MIT, and after a stint working for Bay Area Rapid Transit, found his niche in building housing, constructing more than 500 infill units in Berkeley in the late '90s before turning his attention to a particularly enticing new brainteaser in 2007: how to shoehorn more housing into high-density areas like San Francisco, even then one of the tightest markets in the country.
Kennedy came up with various plans for building market-rate housing using both conventional and prefab construction ("In Scandinavia, 30 percent of all housing is prefab," he says. "We're still in the horse-and-buggy phase."), and along the way he dreamed up the MicroPAD as a fast, easy-to-implement way to accommodate San Francisco's 6,000-plus-strong homeless population. A flurry of positive press greeted the notion, but Kennedy's hopes of building hundreds of units to house the homeless there were unceremoniously dashed last year, crushed beneath rounds of vocal dissent.
Even though the city of San Francisco has warmed to the idea of micro-housing in general, there were other concerns, ranging from "not in my backyard" neighborhood reactions to construction union objections to the fact that the units were manufactured overseas. Since no U.S. company possesses the technology to produce the sturdy steel units at the massive scale Kennedy hopes to achieve, he uses the same companies in China and Poland that supply those Scandinavian units he mentions. Some took exception to the notion that a private company might profit from a civic problem like homelessness, to which Kennedy shakes his head. "Affordable housing in San Francisco costs $400,000 a [unit]," he says. "Somebody is making money there [for example, builders, vendors and construction workers]. It may not be the developer, but it's everybody else." Kennedy's MicroPAD, on the other hand, could cost as little as $200,000 per dwelling.
The diminutive home is so efficient it could be heated with the energy output of a hair dryer, with a powerful HVAC system that cycles the air 24 times a day. Bamboo floors, tall ceilings, quartz countertops and a wall of windows give no clue that this prefabricated, stackable yet altogether groovy 21st-century living module is intended for anyone other than wealthy denizens of some near-future urban paradise.
Kennedy says that most people, when stepping inside the model unit for the first time, let out a contented sigh, the way one does when stepping into a treatment room in a New Age spa retreat; the clean materials and freshly circulated air elicit involuntary "aaahs." That's because the MicroPAD uses the identical prefab technology and quality of design Kennedy uses to build housing for hip, idealistic millennial tech workers. Nothing has been designed down. All interior surfaces are pet-friendly and pest-proof (they're ultra durable and a blue UV light under the bed's steel frame kills bedbugs). There's even a "mudroom" entry with a bench and a storage wall for the stowing of any kind of gear an individual might arrive toting, from bicycles to bundles to backpacks.
Kennedy's team designed the steel-shelled MicroPADs to come in pairs, separated by a hallway—they have a combined footprint of 8 by 45 feet, which conforms to base dimensions of a typical shipping container—for ease of transportation by ship from their point of manufacture overseas to the Bay Area. Once there, their narrow width makes them legal to truck by road without special permits, and there's yet another advantage to borrowing from container technology: the units can be attached to one another, snapping together a bit like Legos. Their form factor and attachment technology also allow Kennedy to ship the apartments worldwide en masse—a large vessel could carry up to 19,000 MicroPADs in a single trip.
The developer is quick to point out, however, that these are not repurposed containers—they are sturdier and taller. They're meant to be stacked into multistory apartment blocks of up to 12 stories, typically above a ground floor dedicated to parking, retail or common areas like workspaces, dining rooms, communal kitchens, counseling centers and clinics. The finished product is indistinguishable from high-end architectural projects. While his company, Panoramic Interests, hasn't built a MicroPAD building yet, it has built market-rate prefab buildings of larger units using the same methods, and they blend right into the modern cityscape.
Harris met Kennedy at a Local Government Commission conference on smart growth in Yosemite in March 2016. Kennedy was midway through a presentation on his use of prefab components for his market-rate urban infill projects when he casually mentioned that he was thinking about making a prototype for homeless housing.
"Man, I just jumped on that," Harris says. "I got his card and started calling him every month." By the end of the year, Kennedy had good news: a prototype was on its way from the manufacturer in Shanghai. Harris took city planning director Kate Gillespie and real estate developer Scott Syphax to see the MicroPAD in person. "I knew right off the bat this was something I wanted to pursue," he says. At his behest, Kennedy brought the demonstration model to Sacramento and parked it in front of City Hall this past winter, where local citizens—including the homeless—could take a tour.
"My daughter asked me to buy her one immediately," laughs Harris. He reports that locals' reactions to seeing the MicroPAD in person were similar to those of San Franciscans stepping into one for the first time, which Kennedy captured on video. In one segment, a low-income SRO resident named David marveled that he felt like Dorothy stepping into Oz, then choked up as he summarized what this kind of housing would mean in his life. "Maybe I can pass from this world the way I came in," David says, his voice cracking with emotion, "with dignity and respect."
On the demonstration unit's bookshelf sits a framed portrait of German industrial designer Dieter Rams, 85, one of Kennedy's idols, who is quoted on Panoramic Interest's website saying, "Indifference towards people and the reality in which they live is actually the one and only cardinal sin in design." Like Rams, Kennedy believes that a homeless person is just as deserving of beautiful surroundings as a millennial tech worker earning $200,000 a year.
* * * * *
If you think the MicroPAD looks suspiciously chic, and that providing unqualified housing on the taxpayer's dime is an extravagant entitlement, then your thinking is about 20 years out of date.
The MicroPAD project is an example of Housing First, a model that has upended the way cities approach homelessness. Until recently, the trend in residential programs for homeless individuals was to require successful and ongoing adherence to addiction and mental health treatment programs, and even then the assistance offered was usually temporary. An addict needed to achieve sobriety to be deemed "ready" for housing, and had to maintain sobriety in order to keep it.
That was the case until 1992, when Sam Tsemberis, a professor of psychiatry at New York University Medical Center, launched the initial Housing First program in Manhattan. Tsemberis wanted to learn what would happen when permanent housing was offered with no such preconditions (rent was free or capped at 30 percent of income, and housing would not be taken away from a resident because of substance abuse, relapse or brushes with the law). The experiment worked, and continues to work around the country. The Colorado Coalition for the Homeless reported that its Housing First program has saved an average of $31,545 in emergency services (fire, police, paramedics and emergency room visits) per resident per year.
Harris' office has drawn a detailed picture of the actual costs that homelessness imposes on city agencies, and what his team found and published in an October 2015 report was astonishing.
"There are roughly 100 people who use our emergency services to such a great extent that those 100 people cost us millions of dollars," Harris says. Around half of the $14 million the city spent on homelessness in 2015 paid for fire department and police responses and transportation to emergency rooms, usually for the kinds of issues that could be dealt with via on-site services, had the individuals been housed.
The MicroPAD isn't Harris' first stab at addressing the needs of the city's dispossessed. A general contractor by trade, he has devoted what he estimates as 40 percent of his council time to homeless issues since he was elected into office in 2014, and last June, he launched the Pit Stop program, which established an attended, mobile restroom in the River District, where the lack of bathroom facilities and a high concentration of the homeless population meant that the smell of human effluent marred the Delta breeze of a typical evening.
But Harris nixed the Pit Stop after six months, despite its seemingly stellar performance (it was used 25,000 times), convinced that such stopgap solutions, with often escalating costs, were nothing but bureaucratic black holes, sucking time and money away while failing to solve the problem. "I don't want to spend $100,000 on toilets right now when we're on the cusp of creating a pretty robust program to house people," he says.
"Our goal in this city ought to be to help 2,000 people off the street over the next three years," says Mayor Darrell Steinberg. "I give [Councilman] Jeff Harris a lot of credit for championing this. I think it's very promising. The MicroPAD concept is a much better option than tents or other temporary fixtures."
Harris likes to point to a new development called "7th and H" as an ideal model of Housing First in action locally. It consists of 150 ultra-low-income units with on-site support services developed and managed by Mercy Housing, a national nonprofit organization. Half of the building's apartments are designated for the homeless (the other half are income-qualified affordable units), and Mercy maintains a slew of services, from a walk-in clinic to yoga classes and cooking lessons. The studio units, with full kitchens and baths, are a far cry from the run-down SRO (Single Room Occupancy) hotel rooms of yore. The modern complex features an airy lobby and a second-floor patio dominated by a stylish stepped fountain and barbecue areas for entertaining, and lounges with big-screen TVs on every other floor for socializing—the eight-story building was designed by Mogavero Architects, the local firm responsible for the high-toned Capitol Yards at the foot of the Tower Bridge in West
Sacramento, where a studio rents for $1,300-$1,700. If a resident invited you over to 7th and H for a barbecue on the terrace, you wouldn't know you were in supportive housing unless your host chose to tell you. It's no wonder the retention rate is over 90 percent, typical for Housing First programs.
The result has been better than the city could have expected, according to La Shelle Dozier, executive director of the Sacramento Housing and Redevelopment Agency (SHRA), which obtained the funding and the site for the building. "It's hard for people to stabilize until you've met their basic need for shelter," she says. "It's been a proven success across the country, so we understood that was necessary to move forward."
But 7th and H was constructed in 2012, one of the last projects to use redevelopment funds before that program was terminated statewide. With construction funds scarce, proposals have surfaced like fellow Councilman Allen Warren's current bid to seek an exception to the city's anti-camping ordinance to permit an "Enhanced Living and Triage Community"—a tent city—to rise in his North Sacramento district, a well-intentioned and even thoughtful plan that's received the mayor's reluctant support. "While I'm willing to try Allen Warren's project," Steinberg says, "I just don't think it's the answer." Harris, too, respectfully disagrees with the idea of a tent city.
"I think it would be injurious to our work of creating real housing solutions," Harris says. His objection is partly based on his experience touring one such encampment in Seattle. "There was a big homeless camp up there called The Jungle," he says. "It got to be about 400 strong, but it was under the I-5 [freeway, under state control], so the local PD had no jurisdiction to bust it up. There were murders in the camp, numerous rapes, an unbelievable amount of larceny. The state troopers finally disbanded the whole thing, but it was a nightmare. When we did a study mission up there to look at their tent city approach, the deputy chief of the Seattle PD took me aside and said, 'Don't ever let go of your camping ordinance. If you do, it's at your peril.' "
While Warren's detailed plan specifies security measures and on-site services like a food bank, dining hall and medical center that make the project sound like a far cry from Seattle's Jungle, to Harris, it's still a temporary solution to a long-term problem. He wasn't much more impressed by tiny house colonies in Portland and Eugene, Oregon, where a collection of Seussian wooden sheds in pastel colors dot a verdant field. Harris dismisses the tiny home as "basically a plywood shack" for the homeless. "Housing them in substandard housing is not my idea of success," he says.
Although not as quick a fix as a tent city, the financial model for the MicroPAD does not require an up-front capital investment, as the dwellings are leased from the developer. (Sacramento has not yet negotiated a rate, but Kennedy's San Francisco proposal put each unit at $1,000 a month.) Also, in contrast to traditional build-outs, construction would take place in months, not years. Kennedy would erect the structure, including common areas and room for support services, most likely on city-owned property (site-selection is ongoing but currently under wraps). He can supply as many units as the city can commit to, and Steinberg isn't interested in pussyfooting around: he wants to build 2,000 apartments, one way or another.
Earlier this year, Berkeley's city council voted to explore micro-housing options for the homeless, including Kennedy's. If a deal can be struck in Sacramento, we might be the first city in the country to deploy prefab housing for the homeless on a massive scale.
* * * * *
Other cities have taken creative approaches to housing the homeless, with exciting results.
In Los Angeles, the Skid Row Housing Trust erected 102 prefab permanent supportive housing units in 2014, with amenities like an on-site health clinic, running track and art gallery. The concrete and wood units, designed by prominent L.A.-based architect Michael Maltzan, are at home sharing the downtown cityscape with Frank Gehry's Walt Disney Concert Hall (a project a young Maltzan worked on under Gehry). The building has received excellent reviews in the architectural press and from residents, one of whom described it as "mind boggling" to the Los Angeles Times.
Close in spirit, too, is the 36-unit Y:Cube project put up last year for a YMCA in London by the renowned architecture firm Rogers Stirk Harbour & Partners (Richard Rogers designed the iconic Lloyd's of London building). The studio apartments, which the Y deems "aspirational housing," are designated for young people who would otherwise be at high risk for falling into homelessness. The firm also designed an innovative complex of temporary, portable prefab buildings, Place/Ladywell, which houses 24 formerly homeless families while the city builds more permanent structures. The project won two 2016 New London Architecture awards, including the prestigious Mayor's Prize.
Perhaps the most promising undertaking in the supportive housing arena is a new 16-unit development called Potter's Lane that opened in Orange County to house homeless veterans in 480-square-foot units built from recycled shipping containers.
Donna Gallup, the president and CEO of the nonprofit development agency American Family Housing, which serves Southern California, said the choice to invest in a high-design project was deliberate. "We knew this was going to be the first project of its kind in the country, and we wanted to set the bar high so that in the future, when people are replicating modular housing [they will] take into account that these are supposed to be assets to our communities and not detract from the value of our neighborhoods," she says. "When you are developing housing for the homeless, you want it to be viewed as an asset, so people don't view it as having a negative effect on their home values or their businesses."
Equally important, Gallup wanted the homes to honor the veterans who would occupy them, like 62-year-old Dale Dollar, who served in Vietnam and had been homeless for 12 years, most recently living on the Santa Ana riverbed, when he got into Potter's Lane.
The MicroPAD is so efficient it could be heated with the energy output of a hair dryer. Bamboo floors, tall ceilings, quartz countertops and a wall of windows give no clue that this prefabricated yet altogether groovy living module is intended for anyone other than wealthy denizens of some near-future urban paradise.
"I was thinking about taking my life," Dollar says. "I had lost all self-respect and dignity." Weeks after moving in, he was on his way to interview for a job as a machinist making parts for Harley Davidson motorcycles. "My whole life has changed," he says. "I've got a passion for life now."
To work this soul-redeeming magic, Gallup's organization enlisted a volunteer interior designer to make each space both beautiful and functional. "I've found that when you give homeless people a beautiful place to live, and you treat them with the respect and care that they deserve," she says, "they'll then treat the housing and the other people in the community with that same respect and care."
Low-income housing as a net asset to a community? Gallup is so bullish on the concept that she's hoping to lead a movement. Ever since the project—which took six months to complete—opened in March, she has been welcoming a steady stream of civic leaders and developers from other cities who want to replicate it. The first such clone, utilizing the same prefab manufacturer, broke ground in April in Vacaville on 39 units of supportive housing for veterans. The Community Development Partners project has a six-month timeline. At $21 million, the cost per unit is similar to that of conventional construction, but Gallup says she expects it to be lower for future projects as the production process becomes more efficient. She also points out that the installation of the units, once they're trucked in, takes all of about 45 minutes.
"The big question is how we get the manufacturing to scale," Gallup says. "I'm working on it." The more cities she can recruit to participate, the lower the per-unit cost will become, to a point.
* * * * *
The main obstacle to achieving this design-forward and aspirational vision may not be funding, however, but people. Sacramento has a lot of good hearts and minds working to solve the homelessness dilemma, but for the most part they disagree with one another on how to go about it. Sometimes wildly.
Thirty-two people signed up to comment publicly on Councilman Warren's proposal for a tent city at a city council meeting on April 25. The vast majority of them, ranging from homeless advocates to homeless individuals, supported Warren's idea, their voices trembling with frustration as they scolded Mayor Steinberg for refusing to consider lifting the city's anti-camping ordinance, which many claim criminalizes homelessness. This litany of disapproval came despite Steinberg having already agreed to support Warren's project in the absence of other short-term alternatives.
But dissent isn't limited to the general public. One of the oldest organizations in the area, Volunteers of America (VOA), runs the Mather Community Campus on the former Air Force base, which offers transitional housing and supportive services to around 400 formerly homeless individuals and families per year, with an average stay of nine months. Mather's director, Sherman Haggerty, explains that the organization doesn't subscribe to the Housing First philosophy. From the front lines, he sees the rampant drug and alcohol abuse in the population, which he pegs at closer to 80 percent, not the official 24 percent figure put forward by the U.S. Department of Housing and Urban Development (HUD), and he doesn't think a model like Housing First, which he believes fails to address that issue aggressively enough, should be our go-to.
To its critics, Mather's program would be deemed old-fashioned, because it requires participation in substance abuse treatment services. Only those who are willing to commit to this rule are accepted. For the ones who are, however, it can be life-changing.
"We're literally taking people off the street, getting them settled, getting them vocational training, placed in work, in nine and a half months," Haggerty says. "We remove barriers so they have a fighting chance for long-term recovery."
He contends that while a Housing First concept like the MicroPAD is appropriate for some clients who might not be candidates for mainstreaming—someone disabled by schizophrenia, for example—many more of Mather's clients end up as self-supporting members of society than one might think once they're put through a rigorous program.
A low-income SRO resident named David marveled that he felt like Dorothy stepping into Oz, then choked up as he summarized what this kind of housing would mean in his life. "Maybe I can pass from this world the way I came in," David says, his voice cracking with emotion, "with dignity and respect."
Barbara Gaines, a Mather client and former FedEx package sorter who fell through the cracks due to health complications and ended up on the streets in her 60s in 2015, was in the process of filing for Social Security disability benefits when she enrolled at Mather. "I was just a 'woe is me' kind of gal," she says. "But Mather enlightened me as to what I can do. I can be active in my life; I don't have to lay down and wait for assistance." In her ninth month of residency in May, she was preparing to interview at a senior living facilty for a nursing assistant position, which would enable her to move into market-rate housing and support herself without government assistance. "I'm coming out furious," she says with a grin.
As unassailably virtuous as VOA's program is, Housing First advocates would argue that the model has its failings, too. A study published by Tsemberis in the American Journal of Public Health in 2004 demonstrated that Housing First clients stayed in housing longer than those in conventional programs where sobriety and participation in treatment was a requirement. And while enrollment in treatment was lower among Housing First clients, actual substance use was the same for both groups—in other words, you can lead the horse to AA, but you can't make him stop drinking.
Setting aside uplifting but anecdotal success stories, the metrics don't lie. Loaves & Fishes' director of advocacy, Joan Burke, who has been working with the homeless locally for 35 years, cautions against getting too attached to specific outcomes like Barbara's. "The goal is for people to be housed," she says unsentimentally. "So that's your benchmark. There are a lot of studies that have convinced me, and more importantly have convinced the federal government and the state of California, that Housing First is the model that works most effectively."
Mayor Steinberg would agree. "I'm very big on numeric goals," he says. "For a long time, we just sort of managed it. But by managing it, it's getting worse. We haven't had a numeric goal. We haven't had a drive to get to functional zero."
Functional zero—the point at which every homeless person who could be helped, had been helped—is not absolute zero, of course. Functional zero means that there is never a reason for anyone to live without housing for any period of time before receiving services that allay that homelessness. Mather, Loaves & Fishes and permanent, supportive housing like 7th and H and the MicroPAD each serve a different purpose, and each is a necessary part of the equation.
The budget is workable. The city, according to Steinberg and Harris, has access to the financial resources to bring MicroPADs online to help meet Steinberg's goal of housing 2,000 homeless individuals over the next three years. It will take a symphony of bold action, bureaucratic agility and overwhelming civic goodwill, but it's possible for Sacramento to become the first city to truly achieve something resembling an equitable society made of whole cloth where there's always a safe, dry place for the unfortunate to land.
"California cities are struggling with this," says Steinberg of the homeless issue. "It's a hard problem, but just because it's hard doesn't mean we should wish it away. We can do this."