A Whole New (Old) Ball Game
Bocce is one of few sports you can play while holding your drink. No wonder it's the local bar scene's hottest trend. Here's how—and where—to let the good times roll.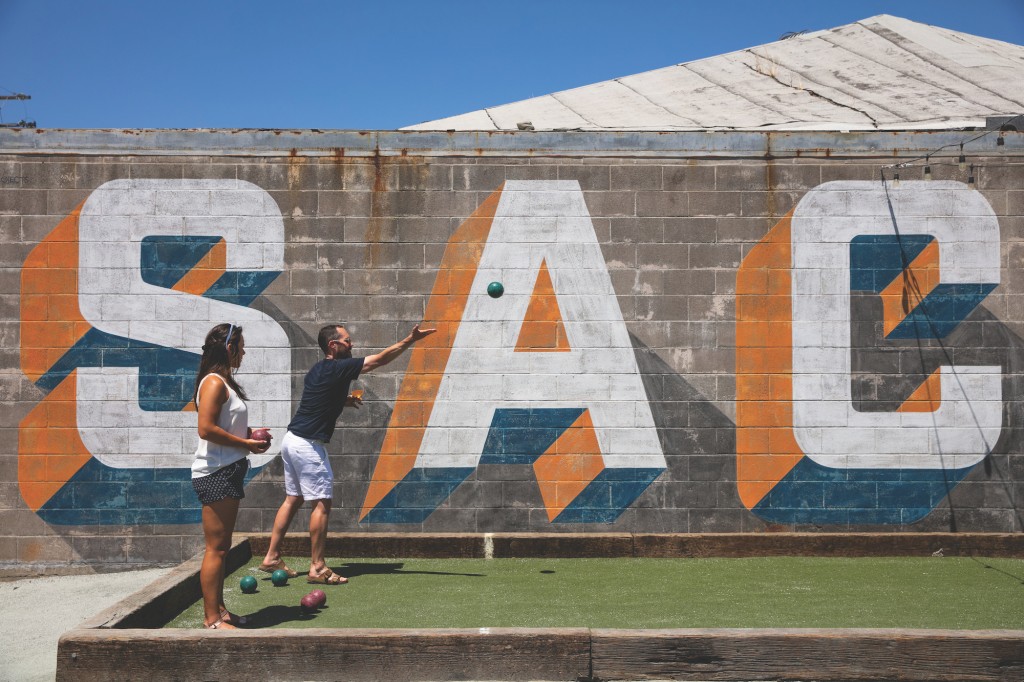 If you backpacked around Europe in your 20s, perhaps you picnicked in the park on bread and wine, watching elderly local gentlemen in felt fedoras play a rousing round of bocce. What exactly is the deal, you wondered, with this thing that looks a bit like bowling but seems to unfold more like a chess match? Is it a sport? A game? An art? And do I have to be 90 to join the fun?
The activity dates all the way back to Ancient Egypt and survives across Europe under various names—pétanque in France, lawn bowling in England—but the form sweeping the U.S. is largely an Italian export. Over the past year, bocce courts have begun cropping up on the patios of taprooms, bars, restaurants and even office complexes around the region, signaling that the art, game and sport of bocce ball (we'll give it all three) is no longer the sole purview of natty nonagenarians.
The appeal? Bocce is easier to learn than pool, safer than darts, less humiliating than karaoke, and is adaptable to any level of fitness or expertise.
"There's a mystique around bocce," says Michael Hargis, proprietor of Beast & Bounty, the buzzy restaurant and bar that opened last summer at midtown's Ice Blocks and features an elegant, architecturally integrated court surfaced in crushed oyster shells on its side patio. "It seems more mature and sophisticated than cornhole. On summer nights we're packed with people playing, drinking cocktails and having a good time."
The fact that you can easily participate with a drink in your hand or a BabyBjörn on your back—or both—is huge. Just drop into SacYard Community Tap House in East Sacramento, where seemingly every full-sleeve tattooed pair of arms is pushing a stroller, and you'll see that the court is in constant use.
The two courts at the resort-themed Shangri-la in Fair Oaks, which opened in June, serve as a visual focal point as well as a fun center. "I wanted the outside to feel playful with the [open-air] bar and the bocce ball," says the restaurant's owner, Sommer Peterson. "Like you're at a resort."
She and her fiancé Nate French, Shangri-la's landscape architect, chose an artificial putting green turf for ease of maintenance, a smooth roll, and that all-important pop of color.
Bocce is also gaining a foothold in the work world. Just last year, Fulcrum Property added a court to The Cannery, its tech hub in East Sacramento that will soon be home to VSP Global's innovation center, as an amenity for creatives and entrepreneurs who spend long hours on-site. (Fulcrum is also adding bocce to The Foundry, its forthcoming apartment complex that's opening in West Sacramento's burgeoning Bridge District later this year.)
But how do you play? For a lesson, I sought out the appropriately named Laura Ball, a former "brunch league" bocce champion, who suggested meeting up at Beast & Bounty to show me the ropes. By day, Laura is the administrator for Xoso Sport & Social League, which runs amateur sports leagues throughout Sacramento, including one with 12 bocce teams that gathers every Wednesday in Ulysses S. Grant Park near midtown. (Separately, other parks­—such as East Sacramento's East Portal, which has its own bocce club—also host weekly matchups.)
The equipment is simple: eight grapefruit-size plastic balls (similar to weighty bowling balls, but smaller)—four red, four green, and a littler white ball called the pallino. Laura starts the game by tossing the pallino so that it rolls down the court and settles somewhere past the halfway mark.
"Now I throw my first ball and try to get it as close to the pallino as possible," Laura says, throwing out a red ball. Next it's my turn, so I throw out a green ball—underhanded, like in bowling (you can toss the orbs in the air or roll them)—which lands right next to the pallino—beginner's luck. "Now you're closest to the pallino, which means I throw," Laura says. Instead of alternating turns, each player throws balls until they are closest—or run out of balls (and yep, knocking your opponent's ball out of the position is fair game). At the end of the round, you score a point for every ball that's closer to the pallino than your competitor's—you can decide in advance what to play up to, but 12-, 15- or 21-point games are the most common. You can also plays in teams (each team shares their allotment of four balls).
The basic rules of bocce—there are more for increasing levels of expertise—would fit on a cocktail napkin. At Federalist Public House, the first restaurant in the central city to install a court back in 2014, they're writ large on the side of a shipping container, in a block of text cleverly shaped like the state of California. At Folsom's Out of Bounds Craft Kitchen & Biergarten, which opened last year with two courts, No. 1 on the rules sign is, helpfully, "Refill drink and hold in non-throwing hand."
But the rules do little to explain why this game is so instantaneously enjoyable. That's down to the simple poetry of its gestures. Remember the first time you picked up a bowling ball—how klutzy you felt fumbling that awkward mass (and how your date winced when it went bang and rolled into the gutter)? Bocce is totally different. The palm-sized ball has a pleasing heft and rolls so eagerly and smoothly that you'd swear it wants to gently kiss the pallino ("kiss" being the term of art for a perfect throw that just makes contact). And what's not to love about a sport where instead of trying to get a ball into a net, down a hole or through a hoop, all you have to do is get close?
This is one game where you won't be simply throwing a ball. You'll be having one too.