All About Ray
Charles and Ray Eames were two of the 20th century's greatest creative minds, but only recently has Ray received the public recognition she deserves.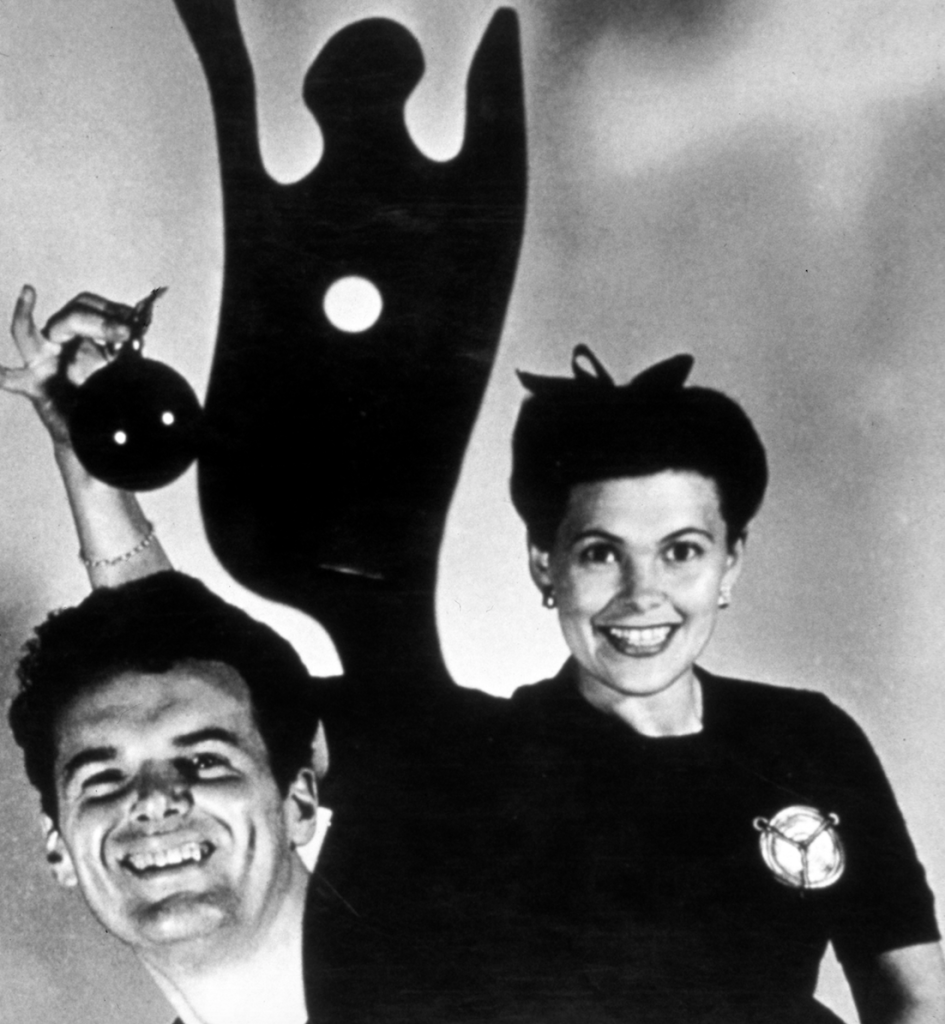 TThis is not the story of the woman behind the man.
It's true that Bernice Alexandra "Ray" Eames spent most of her life without the accolades lavished on her husband Charles, an icon who was lionized for creating a futuristic vision in mediums like chairs, architecture and film that came to epitomize America's post-World War II rush to modernization. It's also true that throughout the almost 40 years of their marriage and working life, Charles—cool, smart, charming and overflowing with charisma—was the public face of the business they ran together. Charles was the one who received awards, was pursued by the press and met with the corporate titans who queued up to become clients.
But Ray, a Sacramento native with sparkling eyes, a deep laugh and a passing resemblance to Katharine Hepburn, was a 50-50 partner in effort, imagination and ability. A woman sequestered in the fog of her man's importance, maybe—sometimes by choice, sometimes by neglect, sometimes by the nature of the era—but always at Charles' side. In a famous 1948 photo of the couple posing on a Velocette motorcycle, it's Ray who is gripping the handlebars, Charles loosely holding her waist from behind. In a time when Rosie the Riveter was expected to turn in her tools and head back into the kitchen, this is the image that captures Ray and Charles best—a meeting of spirits that transformed not just the way Americans sat, but what they stood for as well.
"Yes, Charles, he was the man, but I never really felt that she deferred," says Petaluma-based sculptor Llisa Demetrios, Ray's step-granddaughter. "They had equal say on everything. She was her own separate person and yet was in a partnership with my grandfather, and they made amazing things together."
With the passing of what would have been Ray's centennial birthday on Dec. 15 of last year, any brume of obscurity is about to burn off of her legacy. In February, The California Museum will debut its new 2,000-square-foot California Design Gallery with a yearlong exhibit featuring Ray Eames' solo endeavors (the first-ever museum show anywhere in the world to focus entirely on Ray), as well as attempting to examine her role in her complex collaboration with Charles. Then on March 20, Charles and Ray will be inducted into the California Hall of Fame, a distinction extended to Golden State greats, including Steve Jobs, Ronald Reagan, Jane Fonda, Magic Johnson, Cesar Chavez and Barbra Streisand.
It's an overdue honor because when it came to channeling the country's post-war psyche, the Eameses were unparalleled. "They would have to be right up there among the most influential designers of the 20th century," says Amanda Meeker, exhibits and programs director for The California Museum.
Their work remains hugely popular and significant today, both for pop culture and collectors, due in part to Hollywood's enduring devotion on and off screen (as recently as 2011, PBS produced a documentary, Eames: The Architect and the Painter, on the couple's life and career narrated by James Franco; Ray was even a voting member of the Oscar-bestowing Academy of Motion Picture Arts and Sciences). Any fan of Mad Men is somewhat of an Eames expert, since the sleek Madison Avenue ethos of the show is heavy on their designs. Don Draper has been seen ruling his world from the comfort of an Eames Executive Chair, and he isn't as alone as he feels. Their pieces have been featured as shorthand for cool in films including Tron: Legacy, Iron Man and The Big Lebowski. Brad Pitt, Clint Eastwood and
Julianne Moore are fans, John Leguizamo was said to have owned 16 Eames chairs at one point, and director Christopher Nolan paid homage by naming a character Eames in 2010's Inception. Prada featured models in their aluminum group chairs last summer, and super siren Beyoncé even rested her booty on a pale yellow Eames DSS plastic molded seat in her 2011 "Countdown" video.
The Eames influence extended well beyond bringing youthful, cost-effective and well-constructed furnishings to the masses (their original goal, most exemplified by their signature leather and curved-wood Eames Lounge Chair and Ottoman). But whether it was furnishings (with pieces now housed in institutions like the San Francisco Museum of Modern Art and the MoMA in New York), short films like the study on scale, Powers of Ten (which was bankrolled by IBM, used in 2006 by Coldplay on tour and mimicked in films like Men in Black), or a groundbreaking prefab building like their Case Study House #8 in Pacific Palisades, the Eames name was and is synonymous with hipster innovation.
At Charles and Ray's Venice, Calif. firm, the demiurgic duo created a crucible of ideas where the process was as important as the product. Months could go by with the staff intent on measuring volunteers' posteriors to determine the perfect proportions for a seat, or conceptualizing how to cleverly show the planet from space before Neil Armstrong had taken his one small step. Ray in particular was noted for her attention to detail and "gift for color," according to Eames Demetrios, another of Charles' grandkids and head of The Eames Office. It was a place and a method that was mad to some, brilliant to others and befuddling to most.
But Ray was an esoteric artist long before she met Charles. An abstract expressionist lithograph by Ray is in the permanent collection of the Whitney Museum of American Art, and the Library of Congress houses nearly a million papers, photographs, slides and other items that belonged to Charles and Ray—including hundreds of notes and sketches she scrawled on paper linings pulled out of her Benson & Hedges cigarette boxes (Ray was known as both an avid note writer and pack rat).
"It's very hard to disconnect their contributions, especially when you consider how long they worked together and how much they influenced each other," says Eames Demetrios, speaking on the challenge of creating a show on Ray alone. In fact, Ray herself was notoriously quick to say that "we did everything together" and that her input could not be pulled out of the finished product.
But, adds Eames Demetrios, "I think there is a way to do the exhibit and the celebrations in such a way that respects her genuine belief that there was no separation. One way to get at it is to take a look at those early years."
Ray's first home was in downtown's Thayer Apartments on N Street across from Capitol Park, where her parents, Alexander and Edna Kaiser, and older siblings Elizabeth and Maurice (who gave her the nickname "Ray-Ray" because her given moniker—Bernice Alexandra—was too tough for a toddler) lived when they first moved to Sacramento from San Francisco before Ray was born. Her father, who had spent time traveling the country as a "mesmerist" when he was younger, was by then a vaudeville theater manager. The company he worked for managed a string of traveling acts as well as owned its own West Coast theater chain, all of which were named The Empress. He took over the Grand Theater on 7th between K and L in 1911, and helped oversee the building of Sacramento's own Empress nearby on K (now the Crest Theatre). Ray was born in 1912, the same year her 2-year-old sister unexpectedly died.
By the time Ray was 3, her artistic inclinations were apparent in the delicate paper dolls she created, which are still in existence and will be part of the exhibit. Carla Hartman, Ray's step-granddaughter and educational director for The Eames Office, describes the earliest ones as "beautifully formulated" with "gorgeous, sweet faces" and "detailed little outfits" that developed into "more elegant evening dress" as Ray grew older. Even in pictures, the minutiae and craftsmanship of these first artistic endeavors are clearly evident—the intricate lines of pleats on a multi-tiered flapper-esque gown, the smart bow on the neckline of a short-sleeve, black-and-white A-line dress. Ray continued to make the dolls throughout her teenage years at Sacramento High School (by then, the family had moved to Curtis Park), where she also found artistic outlets by chairing the decorating committees for dances and joining the school's art club.
Described as popular with other girls but largely unnoticed by boys, possibly because of her stout figure, Ray graduated high school in a ceremony at Memorial Auditorium in 1931. Her father had passed away two years earlier from a heart attack and Maurice had recently been accepted to West Point. After Ray spent a short time taking classes at Sacramento City College (then called Sacramento Junior College), she and her mother moved to New York to be closer to Maurice, her mother taking up residence on East 63rd Street and Ray attending school upstate.
But by 1933, Ray's artistic passion had drawn her to New York City and into the studio of German Expressionist painter Hans Hofmann, who would be key in the introduction of what would later become Abstract Expressionism into the American art scene and whom art historian Clement Greenberg called "the most important art teacher of our time" in 1960. Hofmann was known for his intense use of color (which was a fascination of Ray's as well), cubist forms and spacial perception. Ray studied with him for six years, turning out chromatic, graphic pieces and earning the nickname "Buddha" from Hofmann and other students like Lee Krasner and Josef Albers. One of her works from that time, called to Hofmann Love from Buddha, shows her almost clinical yet flowing understanding of form, color and structure and highlights the same discipline and attachment to process that would later inform her work with Charles.
"She was bold and she was strong and bright, and I think what people will see in her work is how fresh it still is and how colorful it is. It really is her work on these early pieces," says Llisa Demetrios, remarking on Ray's paintings, many of which will be included in the exhibit. "From the Hans Hofmann era, you see these great vibrant colors and the way things are arranged on the canvas. It's very carefully thought out and yet it feels light and free."
Ray's time in New York City came to an abrupt end when her mother moved to Florida for health reasons. Ray followed in 1939 and took care of Edna until she died of cancer in the spring of 1940. Left adrift, Ray took the advice of a friend and decided to apply to the Cranbrook Academy of Art in Michigan at age 28 where an older Charles was just beginning his second year of teaching and struggling with a disintegrating marriage.
Cranbrook was as much a mindset as a place, and offered Ray the chance to study across fields—weaving, ceramics, photography. It's hard to say where she first met Charles, who was himself indulging in pursuits outside his field of architecture, but she may have gotten to know him when she did drawings for a contest Charles was working on with colleague and friend Eero Saarinen (who later designed the St. Louis arch) called the Organic Furniture competition. By the end of the year, Charles and Ray were deeply but secretively involved. By 1941, Charles was divorced from his first wife Catherine and had proposed to Ray (who was visiting New York) via a letter scrawled in slanting cursive on Cranbrook stationary. "Dear Miss Kaiser," it read, "I am 34 (almost) years old, singel [sic] (again) and broke. I love you very much and would like to marry you very very soon." In the bottom corner is a drawing of a left hand with a band on its ring finger and an arrow pointing to that digit with the question "what is the size of this finger??"
By July of that year, the newlyweds were living in a Los Angeles apartment (designed by the celebrated architect Richard Neutra). Charles found a job in the art department at MGM studios and Ray did a series of abstract covers for the influential Arts & Architecture magazine. In their spare time, they began experimenting with new methods of mass production of furniture. The first successful commercial use of their pioneering process to pressure-mold plywood was a military one: the Navy commissioned Charles to create splints for the war effort. Charles left MGM, and he and Ray went into production with their own venture, the Plyformed Wood Company.
But true success came a few years later when they used what they had learned on splints to create a molded chair, which drew critical acclaim and led to a show of Eames furniture (crediting only Charles) at the Museum of Modern Art in New York. The triumph of that event led to a relationship with furniture company Herman Miller, which still produces Eames products today, though not quite as affordably (a new Lounge Chair and Ottoman retails for $4,500 today). It also launched the Eames' reputation and fueled the professional union that lasted until Charles' death in 1978. Ray died exactly 10 years to the day later, on Aug. 21, 1988.
When The California Museum exhibition opens on Feb. 23, Ray's grandchildren are hopeful that she will finally get some of the recognition and understanding that she so clearly deserves as an artist and designer who worked as an equal to Charles.
"It would be great if [patrons] came away with a way to understand both Ray's individual identity and her identity within the partnership," says Eames Demetrios. "That journey was one that had made her life quite rich and happy."