Almond Joy
With Sacramento's new emphasis on its farm-to-fork merits, there's never been a better reason to bring back the Blue Diamond almond factory tours that helped put our local food on the world map. It's time to polish this diamond in the rough.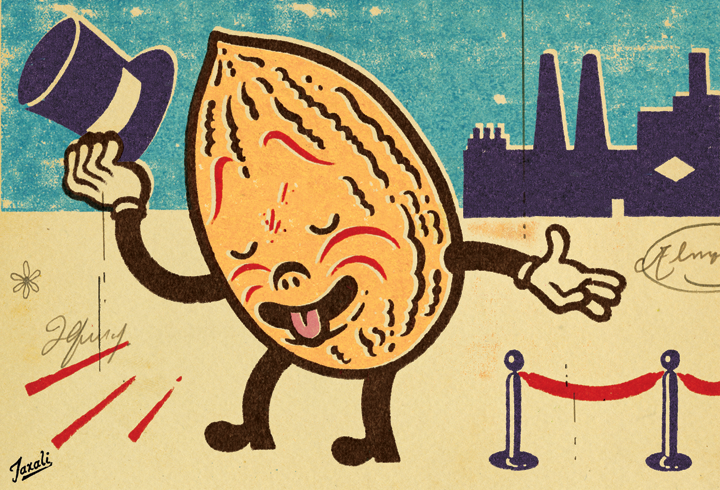 IIt's finally happening.
There's been a lot of talk in recent years about Sacramento capitalizing on its natural geographic advantage in the heart of one of the most fertile agricultural regions in the world, but it hasn't gained much traction beyond local foodie circles. That could change, however, with the city's recent self-branding as "America's Farm-to-Fork Capital," and Mayor Kevin Johnson's Feb. 28 declaration of 2013 as the "Year of Food" in Sacramento. Now, civic groups are hard at work organizing high-profile events and celebrations to reinforce the message. It's a tremendous opportunity for the region to align itself with one of the hottest food trends in the country today—culinary tourism—and the best part is that it is built on an authentically local strength. It's part of our historical DNA, and it will help give the city the strong national identity that it's been seeking.
And while many great ideas are percolating in support of the effort, there's one thing that could drive home the message of the region as a world leader in agriculture in a truly unparalleled way—the return of the Blue Diamond almond factory tours in downtown Sacramento.
Blue Diamond, of course, is the world's largest producer of almonds and has built a truly global brand over its 102-year history, in part due to its wildly successful 1986 marketing campaign featuring real-life farmers wading waist-deep in almonds imploring, "A can a week, that's all we ask."
The daily public tours were introduced in December 1966 at the massive, historic factory located at 16th and C streets downtown. In a 1967 article in the company magazine Almond Facts, the tours were described as "surprisingly popular, exceeding all expectations."
The mile-long factory tours ran until the '90s when, according to Blue Diamond, the tours ended "for liability reasons due to strenuous state regulations requiring additional investment in plant facilities." All that remains of the tour today is a modest gift shop and, in the lobby outside the shop, a short video tour of how its almonds are processed. However, on a recent Saturday in March, the video wasn't running and there were just a handful of customers shopping in the store.
On the very same day, 50 miles west, in Fairfield, the Jelly Belly factory was overflowing with visitors of all ages. The parking lot was full and the line stretched 75 people deep to get into the next tour—and this was on a Saturday when candy isn't even being made (visitors can still visit the factory floor on an overhead walkway with a guide and video monitors along the way). The company, which has been offering daily tours of the factory since 1986, draws about 400,000 visitors per year, each of which ends the tour in the company's oversized gift shop. It's a financial and marketing boon, both for the company and for the city of Fairfield.
And just minutes away from the Jelly Belly plant, the Anheuser-Busch factory was pouring beer samples for visitors before leading them on one of the hourly tours of the facilities there.
Both are subject to the same California liability laws as Blue Diamond. And some of the items made at the Jelly Belly factory are chocolate and candied almonds, just like in Sacramento.
And while it may be true that the laws would have required "additional investment" at the time, Blue Diamond recently announced that it achieved record revenues of more than $1 billion in fiscal 2011-2012, and is nearing completion on a huge new factory in Turlock and making improvements in its Sacramento plant as well.
One of those improvements should be a brand-new public tour and gift shop.
Food factory tours are extremely popular all over the U.S. In addition to the Fairfield tours, there's a Mrs. Fields cookies bakery tour in Salt Lake City; a Tillamook cheese factory tour in Oregon; a tour of Boudin's sourdough bread facility at Fisherman's Wharf in San Francisco; a Celestial Seasonings tea factory tour in Boulder, Colo.; a "World of Coca-Cola" tour in Atlanta; and of course, Hershey's "Chocolate World" tour in Hershey, Pa. And the Ben & Jerry's factory tour in Vermont is the number one tourist destination for the entire state, drawing nearly 500,000 visitors from all over the world every year.
Just imagine what a top-notch almond tour could do for both Blue Diamond's bottom line and Sacramento's reputation as a culinary destination. A factory tour here has the potential to become one of the city's top tourist attractions overnight.
---
READ MORE: Why Not Here? – Our pitch for a local Almond Blossom Festival
---
If you're skeptical, you may not appreciate the reach of the Sacramento-based cooperative's reputation. Almonds are the top agricultural export in California, and the Blue Diamond brand is sold in over 90 countries. Last year, it launched a massive marketing effort during the Olympic Games in London. And the nut giant has become so closely associated with our city that a 2004 episode of Jeopardy cited Sacramento as the "Almond Capital of the World." The only other local company that has rivaled Blue Diamond's international stature was Tower Records.
Even Stephen Colbert gave an on-air shout-out in March to "Black Diamond smoked almonds," slightly mangling the name before quipping, "That's my brand."
Local business and political leaders should reach out to Blue Diamond's CEO Mark Jansen to figure out a way to make a factory tour a win-win for both the company and the city. Blue Diamond has built an extraordinary global reputation; now it has a civic responsibility to burnish its reputation in its hometown, too, and this is the perfect way to do it.
And this is the perfect time. Between the company's extraordinary growth and the city's newfound focus on celebrating our local bounty, this "Year of Food" should include the return of a Sacramento tourist attraction that is deeply rooted in our region's agricultural history.
A tour seven days a week, that's all we ask.