An exclusive Parisian-inspired pop-up event is about to paint our town white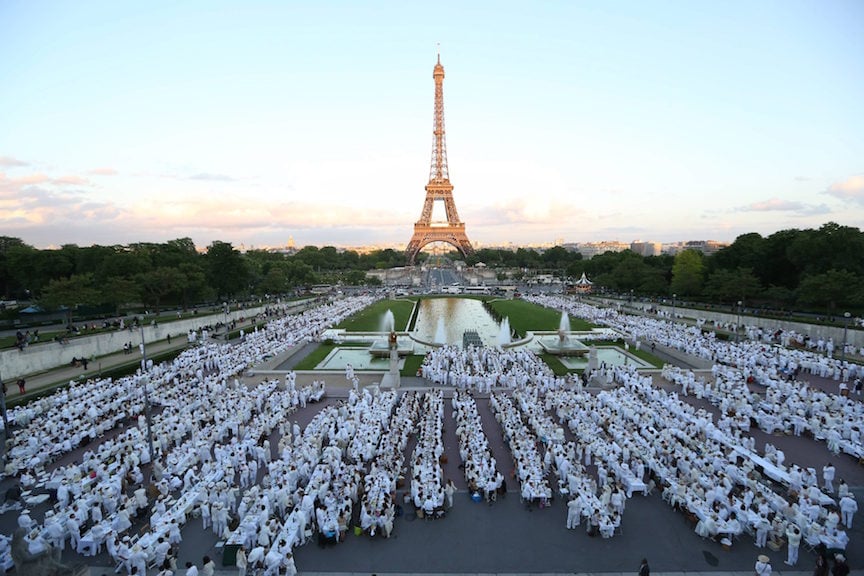 Every year since 1988, throngs of Parisians have descended upon an iconic public space (think Eiffel Tower, the Louvre, Versailles), where they quickly erect thousands of dining tables. Clad all in white (no ecru, mon dieu!) revelers dine and dance before melting back into the city at the stroke of midnight, leaving nary a trace of their passing.
If you know someone who knows someone, you might just score an invite to the first ever Sacramento iteration of Le Dîner en Blanc, as this exclusive Parisian pop-up event is known.
The hosts of the Sacramento version (a first in Northern California), restaurateur Bobbin Mulvaney, communications consultant Christine Ault, placemaker Tre Borden and Maritza Davis of event marketing firm Unseen Heroes, expect up to 1,000 guests for the inaugural repast. A ticket (currently expected to go for around $37 each) will be precious, as the event—which is set to take place in October—is invitation only. (You can add your name to a waiting list on sacramento.dinerenblanc.info and cross your fingers that you'll score an invite.) As for where the dinner will be held, that'll be a surprise.
"The location is kept top secret," says Davis. "All the attendees will receive notification the day of the event letting them know where to go."
The first Dîner en Blanc was an impromptu feast thrown in Paris, at Bois de Boulogne park, by one François Pasquier, who asked all his invited guests to wear white so they could find each other, and a tradition was born. Today, over 70 cities in 25 countries host events, and over 100,000 people worldwide attend one each year. Diners have converged on the Sydney Opera House in Australia, Rockefeller Park in New York, Pioneer Square in Portland and the historic Meiji Memorial Picture Gallery in Tokyo, to name but a few of the diverse locales.
Participants must bring their own tables, chairs, linens and food (you will be able to order from a slate of partner restaurants on-site, including Mulvaney's B&L), and everyone sits down in unison to break bread. When done feasting, diners twirl napkins over their heads to signal that it's time to dance and mingle. Champagne and wine will flow (with advance purchase online) at the 21-and-over event, but don't bring your own alcohol—it's not allowed.
You might want to dust off grandma's silver gravy boat, though. "People bring floral arrangements, candelabras and fine linens," says Davis. "That's not a requirement, it's just part of the fun of the event.
For more information as it unfolds, bookmark Sacramento's Le Dîner en Blanc website.
You Might Also Like
Wine and dine at 15 of the region's best restaurant patios
Bastille Day Waiters' Race returns for its seventh year July 10
Our profile of Paragary's​