An Instant Classic
Sacramento's most prolific new husband-and-wife restaurateurs open a downtown boîte that takes you back to a time of mid-century manners, meals and mixology. Get ready to drink in the nostalgia at the Ten Ten Room.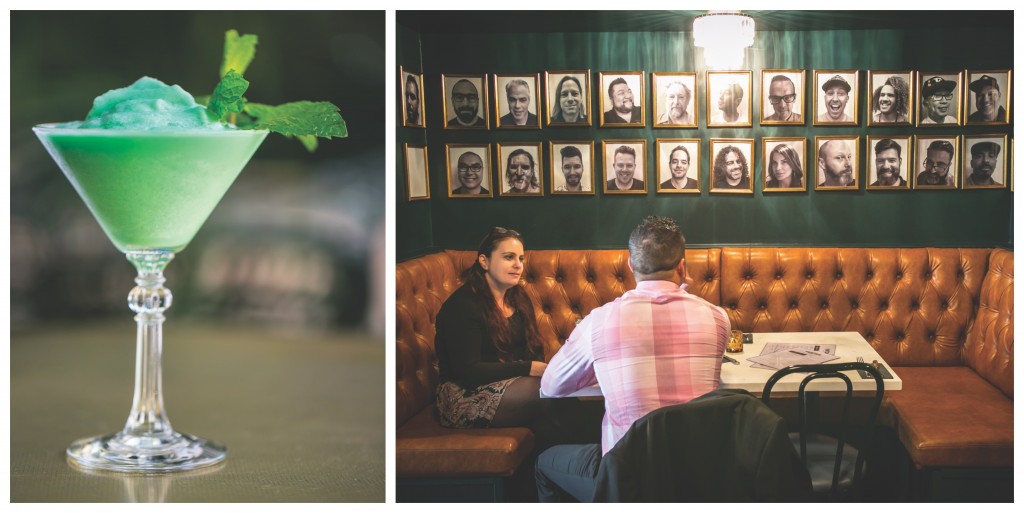 Ten Ten Room
1010 10th St.
916-272-2888
tentenroom.com
R
I"I told my staff as they were getting hired on, 'I need you all to be Sam Malone,' " Tyler Williams says with the same earnestness of a coach pepping up his team at halftime. " 'I want a bunch of Cheers bartenders in here. I want you to lean up and chat with people and make them feel comfortable.' That's the kind of vibe I personally want to create."
You may not find Sam or Diane or Norm at the Ten Ten Room, which opened in September, but you will find that warm, laid-back vibe that Tyler is striving for. After all, he's had some practice. This is the third restaurant and bar that Tyler and his wife Melissa have launched since 2013. The couple also owns Tank House BBQ and Bar, as well as the tiki-themed Jungle Bird in midtown.
Nestled in a cozy (read: tiny) downtown cranny adjacent to the Citizen Hotel and Grange Restaurant & Bar, the space long housed Megami Bento-Ya and, coincidentally, a bar called the Tan Tan Cafe (Tyler asserts that Ten Ten takes its name from its address, 1010 10th Street, and isn't a reference to the former political hangout). The lounge is a hat tip to the small neighborhood haunts of the 1950s and '60s, where folks might have sidled up to the bar to order a Harvey Wallbanger or a Grasshopper.
"There wasn't anywhere we could think of that had that style of cocktails—Grandma's and Granddad's cocktails," says Melissa, whose first order of business was adding the Grasshopper to the bar menu; it's the drink of choice for her own mother and grandmother. She and Tyler both attest they were aiming for that mid-century sweet spot that has yet to hit the Sacramento scene.
"The Prohibition-era cocktails have been done wonderfully [here]," says Tyler, citing Shady Lady Saloon on R Street as one of his personal faves. "We wanted to do the next generation, and bring back what our grandparents would have held near and dear."
The long, narrow room is inspired by the Williamses' frequent visits to out-of-the-way cubbyholes in New York and San Francisco, and features two throwback crystal chandeliers and dim lighting—so dim that you might mistake the modern dark teal of the walls for blue-tinted black—from sparsely placed sconces and low table candles. The soundtrack is an eclectic mix of funk, blues, pop and oldies music, with everything from Sinatra to Thriller-era Michael Jackson. The rich, custom-built mahogany bar—boasting a wonderfully retro wooden ladder to reach the higher shelves—lies in the center of the room surrounded by camel-toned leather booths and marble tables, with a floor-to-ceiling tapestry hanging on the back wall adding an old-world accent.
"I wanted something different," says Melissa, who settled on the tapestry after attempts at wallpaper and mirrors. "I like when there are a lot of textures."
Ask the two what their favorite part of the place is, though, and they'll both smile and direct you to the row of black-and-white "yearbook photos" in the booth near the entrance, displaying headshots of restaurant and bar owners who have helped shape the Williamses' journey.
"There are only two prerequisites for making it on the wall: You have to own a restaurant or bar in Sacramento, and you have to be my homie," says Tyler with a laugh. While more photos will be added, currently the wall bears the likenesses of local notables like Clay Nutting and Brad Cecchi of Canon, Jason Boggs and Garrett Van Vleck of Shady Lady, Billy Ngo of Kru, Ian Kavookjian of South, and Patrick Mulvaney, or "The Godfather," as Tyler refers to him.
The inspiration for the portraits came from a long-ago visit to Sacramento's Sutter Club. Tyler recalls a wall that featured pictures of all of the club's members "kind of staring at nothing, looking all elegant." So when he and Melissa were discussing the theme for their newest venture, the visual reference to the venerable private club fit well with the post-Prohibition cocktails and American comfort food that would inhabit their place.
For the food, Tyler's first call was to chef Greg Pilapil, who previously worked at Hook & Ladder and the erstwhile L Wine Lounge. Pilapil's mission: to whip up a menu of mid-century bar favorites for 21st-century palates.
Mission accomplished. While some of the small plates skew to the familiar, like shrimp cocktail served in a martini glass (sensitive tongues beware: the sauce is intentionally heavy on the horseradish) or a fried spinach and cheese ravioli dish, others are more overtly retro, like the Scotch deviled egg, with gently spiced sausage cupping the petite half-egg bite dusted with just the right amount of paprika, resulting in a hearty pre-dinner snack. There's also his grape jelly meatball appetizer, with the classic '60s-era party combo elevated by sauce created from house-made grape jelly.
"We're not leaning heavy on farm-to-fork or any of the new-wave modern stuff," says Melissa. "Just really well-done, old-school dishes."
For the entrées, Pilapil has updated some endangered Americana staples. For instance, his roasted chicken breast dish, which was inspired by vintage frozen TV dinners, is served with a deconstructed green bean casserole. Pilapil makes the cream of mushroom soup base from scratch—"reduced cream and sautéed mushrooms, and that's pretty much it," he says. He then adds the green beans, which are cooked to a crunchy al dente, and drapes it all as a thick blanket atop the chicken. The peppery mushroom gravy is velvety and soul-warming, and provides a sharp contrast to the accompanying small pile of salty, flaky fried onions, which have been shaved paper-thin on a mandoline before being dredged in tangy buttermilk and bready semolina-flour goodness.
His interpretation of shrimp and grits (a dish he revived from his L Wine Lounge days) is also stellar, pairing silky sautéed prawns and chunks of smoky chorizo with airy polenta and earthy romesco sauce. And the same cheese ravioli used in the appetizer plate does double duty—the pasta is boiled this time—as a decadent vegetarian entrée, served with sautéed vegetables and fiery roasted red pepper sauce.
The cocktail list, helmed by bar manager Jason Withrow, formerly of downtown's Empress Tavern and Napa's Redd, completes the tasty trip down memory lane, spotlighting an array of mid-century go-tos like the aforementioned Grasshopper (a sweet, creamy and ice-cold concoction made with crème de menthe, crème de cacao and mint) and the Grand-Dad's Old Fashioned (Ten Ten's version has soda, the Prohibition-style does not). Tyler and Melissa both tout the shaker program: Order a Manhattan, Gibson or vodka martini and a server comes to you with a shaker and a glass to pour your drink tableside. The kicker? The shaker, with the remainder of the cocktail, stays at the table, à la diner milkshakes.
Another highlight is the selection of frozen cocktails, aka slushies for grown-ups. Most folks might lean toward the ubiquitous frosé, but Melissa recommends the White Linen Slush. Made with gin, elderflower liqueur and cucumber, it's a refreshingly herbaceous blend. "We run out of it constantly because it's such a hit," she says.
With their restaurant's location about three blocks from both the State Capitol and Golden 1 Center, the Williamses are betting that the friendly service, creative yet accessible menu and homey interior will draw everyone from Kings fans to political staffers. "We wanted that nicer place," says Tyler, "where a guy in a suit can come in after work and pop his collar and sit down and have a beer next to a guy in a baseball cap and they can have a conversation."
In other words, sometimes you just want to go where everybody knows your name.