Spreading His Wings
Inspired by Lady Bird, psych-pop artist Anton Barbeau is back home (at least for the time being) after a long spell in Europe. He chronicles his own coming-of-age, leaving-the-nest story in a new double album and music video filled with classic Sacramento iconography.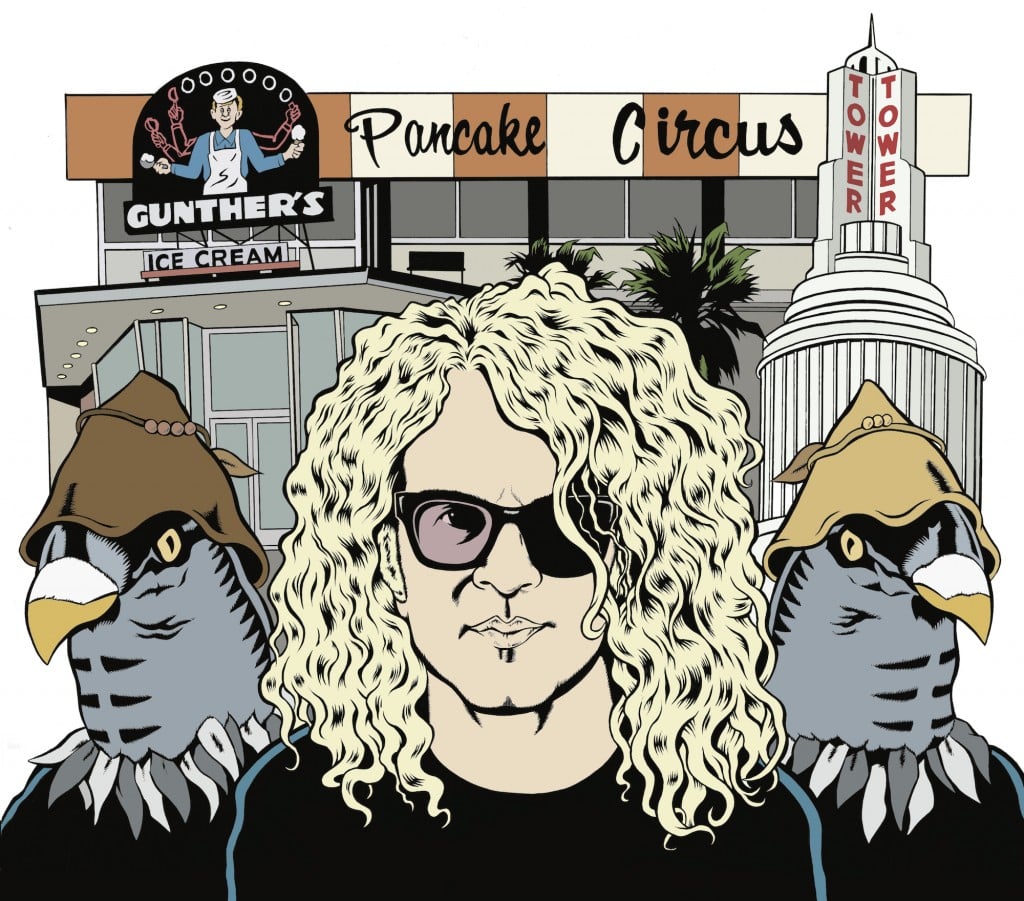 Every time cult musician Anton Barbeau returns to his native Sacramento from the various European cities he's lived in during the last 14 years, it's always the quality of the sunlight that makes the place feel like home. "There's a certain touch of gold to it that's pretty tangible," says Barbeau, who left the River City in 2006 to find an audience for his psychedelic pop across the pond—Oxford briefly, then Cambridge for five years, and Berlin for the past nine. Nostalgia for this specific luminescence is something Barbeau has in common with fellow Sacramentan Greta Gerwig, who was purposeful in her use of this at times gauzy, at times glinty glow in her semiautobiographical film Lady Bird, which was the inspiration for Barbeau's September 2020 release, a semiautobiographical double album called—you guessed it—Manbird.
In early 2018, Barbeau had a day off from his Spanish tour and ducked into a movie theater in Madrid to watch Gerwig's Oscar-nominated "love letter to Sacramento" with his partner, Julia Boorinakis Harper. "After we saw Lady Bird, we joked about doing a film called Manbird. But then I realized that the idea [of an autobiographical project] had real resonance," says Barbeau, 53, over the phone from the Boorinakis Harper family farm in Auburn, where he's been waiting out the pandemic since March. "I don't have a very grounded sense of home, and I knew that would be the heart of this record."
But while both artistic achievements tackle the classic coming-of-age dilemma that is fleeing the nest—a metaphor that Barbeau interprets for the album cover, which shows him inside a man-sized roost of pruned grape vines, floating down a canal—the singer-songwriter notes that this is also the point of departure from his cinematic inspiration.
"Lady Bird was determined to get out of Sacramento as soon as she could, whereas I based this album on the idea that I was quite afraid to leave," says Barbeau, who was indoctrinated into the local music scene in 1987 with a performance at Sacramento City College arranged by his voice teacher. From there, he played open mics around town and was the front man for bands called The Psychedelic Love Cowboys and The JoyBoys, which drew many comparisons to The Beatles, Barbeau's biggest influence—he quips that his earliest memories are of listening to the Fab Four in utero.
Local folk singer Allyson Seconds fondly recalls the early 1990s coffeehouse music scene in Sacramento, singing harmonies to Barbeau's "Beatles-esque melodies, which were always stamped with that unique and recognizable Anton 'thing' for sure." In 1994, Barbeau ventured solo in earnest, making a dozen albums in a dozen years—those bore deeper shades of his other musical inspirations, British alt-pop artists Julian Cope and Robyn Hitchcock—before finally departing for the UK. "I wanted to stay in the safety of my hometown," he says.
With more than 30 titles now in his discography, Barbeau has an impressive archive of his musical experimentation, from what he calls the "riddles and sonic Escherisms" of The Village of the Apple Sun (2006) to the odd 17/5 time signature that can be found on Natural Causes (2018) to Manbird's short palate cleansers of Turkish instrumentals and sarcastic chanting. "I make weird music for normal people," he says.
David Watts Barton, a former pop music critic for The Sacramento Bee, has been following Barbeau's music for over three decades. "Something I love about Anton is that his motivations are purely artistic," says Barton, who currently also lives in Berlin, where he runs into his fellow expat from time to time. "He is absolutely committed to making music, it's who he is."
The elaborate and diverse tracks on The Beatles' White Album served as inspiration for Manbird's wide stylistic range, a harmonic feat made possible by his motley crew of longtime collaborators, which include singer Allyson Seconds and other local musicians like Larry Tagg of the 1980s rock band Bourgeois Tagg, percussionist Michael Urbano, Cake trumpeter Vince DiFiore and punk vocalist Jonah Matranga, former lead singer of Far. Most of the music-making for the double LP—save for occasional tracks recorded in Barbeau's ad hoc studios on the Boorinakis Harper farm and at his dad's East Sacramento house—was accomplished by trading MP3s via Dropbox from 2018 to 2019. "The musical guests really give the album an extra sense of place," says Boorinakis Harper who is also the founder of Barbeau's record label, Beehive Sound.
Manbird's sonic complexities—from the industrial urgency of "Even the Swans are Dirty" to the ABBA-inspired "Memory Tone" to the punk anthem-in-the-making "Featherweight"—are interwoven with Barbeau's life story, told in self-described "cryptic" lyrics speckled with Easter eggs that only Sacramentans would appreciate. Still, some local references have been pulled from so deep in his memory that they couldn't possibly click for anyone but him. "He looks both backward into his influences and sideways into totally different territory," says Boorinakis Harper. "It's a very intentional album."
For example, in the electronic lullaby "Dreamscape 4," Barbeau transports the listener back to 1970 and his family's first home near Sacramento City College, where he spent his toddlerhood "bouncing on a waterbed" and trying to make sense of the "poncho-wearing hippie kids" milling about the neighborhood. Some River City remarks are both obscure and quirky, like "the world-class parking meter[s]" of Sacramento in the catchy refrain of "And So Flies the Crow," while others are instantly recognizable: The song "Manbird," for example, contains a reference to one of Barbeau's "fountains of youth," the McKinley Park pond.
In a tidy lyric from "Across the Drama Pond," a title that refers to Barbeau's "petty bickerings with various people" that date back to his teenage days, the songwriter quickly descends from haughty heights ("Captain Midtown was my name," he sings) and into a modest confession ("I never left the grid for fear I'd lose my innocence abroad"). For all of the value that birds lend to this album, staying within the comfort of a well-roosted nest is as much a metaphorical consideration as flying the coop.
After nearly 15 years, Barbeau is still trying to catch on in Europe. Not surprisingly, he has a devoted audience in the UK, probably because his musical influences are easily recognized and beloved. While he fronts a French rock band called Salt, he's not known by name in France. Apparently he does well in Spain. And in Germany, where he's been living for almost nine years, Barbeau admits, "I don't have much of a fan base there." But Barton believes that this sort of "failure to launch"—or in this case, take wing—may be deliberate, at least subconsciously. "I'm not sure Anton wants anything mainstream," says the music writer. "He is a born cult figure. God help him if he ever became rich or famous."
Back home, as a lyric in the title track suggests, he is a "hall of famer," having been inducted into the Sacramento Area Music Awards Hall of Fame, along with other local acts like Cake, Deftones and Jackie Greene. For the glam-tinged "Manbird," Barbeau and Boorinakis Harper took a cue from Gerwig's closing montage of iconic Sacramento sights in Lady Bird, creating a multimedia video with a poignant tour of the city playing across a green screen. Filmed this past spring, the reel features places like Club Raven, Gunther's, Pancake Circus and Tower Theatre from the perspective of a moving car. And sometimes, between palm tree tops and neon signs, the lens catches the sun, turning the picture to gold. antonbarbeau.com