Arch de Triumph
The final design for our newest bridge will be selected soon, but the choice is already clear. The Solar Arch eclipses all other contenders.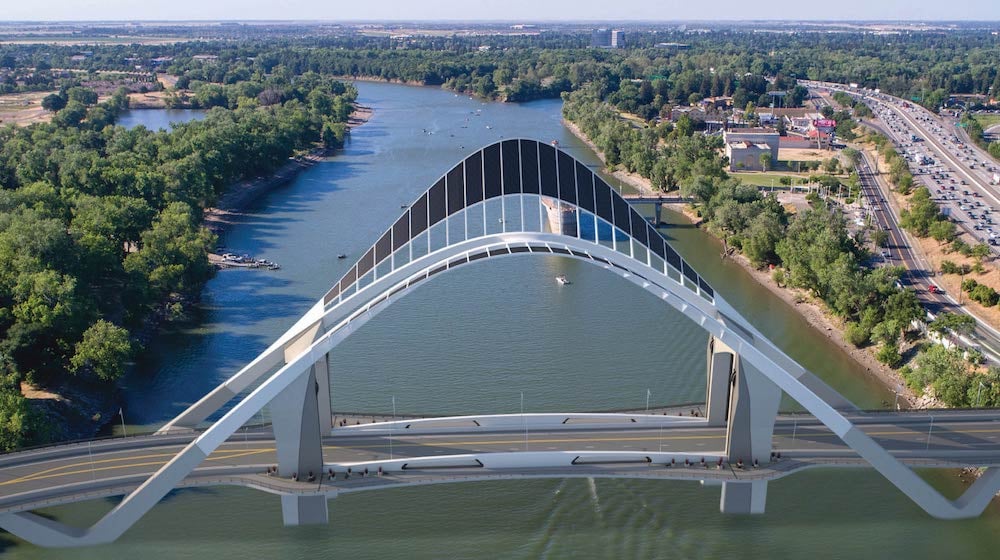 And then there were three.
A year after an international competition yielded the architecture team for the first new multimodal bridge on the Sacramento waterfront in nearly a century, we're racing toward a final design for what could become an iconic new structure for the region—one that would make a powerful visual statement; one that would become a magnet for tourists and locals; one that generations of Sacramentans would look upon with pride.
Or… it could be a complete dud. Such are the options before us. Let me explain.
After the San Francisco-based firm T.Y. Lin International was selected to design the new span that will connect West Sacramento to the railyards, the talented lead architect for this project, Noel Shamble, presented nine wildly different concepts for the bridge this past March. The public and various committees weighed in, and those nine were whittled down to four designs, the refined versions of which were unveiled in July. And, if all goes according to plan, those will be narrowed down to three finalists by Oct. 17, the date of the third and last public engagement presentation. The city of Sacramento, which is largely overseeing this process for the replacement of the old I Street Bridge, has stated that it hopes to select a winning design before the end of the year.
My biggest hope: The selection committee will choose the concept known as the "Solar Arch" (pictured above)—a soaring sculptural structure that would employ solar panels and provide power not only for the bridge itself, but perhaps some of its waterfront neighbors as well. The design strikes a bold architectural profile and sends an equally strong environmental message at a time when we arguably need it the most. A win-win, as they say.
My biggest fear: The committee will deem it too expensive and settle for option B or C.
While the final candidates haven't yet been selected, the likely contenders are the aforementioned Solar Arch, along with designs named the "Thru" and the "Spring." The other concept that was presented in July was the very popular "Garden Skyline." It had by far the best pedestrian experience of the four designs, with lushly landscaped and wood-planked walkways that invited the public not just to traverse them, but to hang out and soak in the river and city views. It also had four towering pillars lined with beautiful green vegetation that climbed all the way up. Alas, upon closer inspection, the projected costs and challenges for maintaining such an ambitious green design appear to be too big an obstacle to overcome.
So how do the remaining three designs stack up?
When it comes to the Thru (pictured above), all I can say is that I hope we will be through seeing this concept as soon as possible. Its shape hews to the city's earlier guidelines that mandated that the form of the new span should intentionally echo the look of the 108-year-old I Street Bridge that it's replacing. As a result, instead of looking forward, the Thru looks back, and not in a good way. In Shamble's defense, he needed to provide a cheap, bare-bones option, and so here we are.
As for the Spring (shown below), its design comprises four muscular pillars that dwarf a diminutive arch at the center of the span. At first glance, it reminded me of Kylo Ren's ship from Star Wars—an intimidating vessel with massive vertical wings and an itty-bitty cockpit (which is actually a pretty cool industrial design, though not necessarily right for a public bridge).
But my biggest issue with it isn't its passing resemblance to a menacing command shuttle for the First Order. My main concern is that there are other bridges that are anchored by four massive pillars, and plenty of small, similarly shaped arches out there too. In other words, it's not a design that breaks a lot of new ground. Is it interesting? Sure. Is it iconic? It is not.
So here's where things get tricky.
Virtually all of the key political players in this process—the Sacramento and West Sacramento mayors, the councilmembers and Congresswoman Doris Matsui—have called for an "iconic" design for this new span. And you don't need to be an architecture critic to see that the Solar Arch is clearly the only one of this bunch with enough wow factor to answer that call.
Sure, there are a lot of arched bridges around the world, but none that I've seen that look like this one. Hats off to Shamble for conjuring a striking new span that I believe will stand the test of time and inspire generations of admirers. If our civic leaders want an iconic new bridge, this is it.
It's not hard to imagine the Solar Arch quickly becoming a defining element—perhaps the defining element—of a Sacramento skyline in need of some serious architectural panache.
And it's all the more remarkable given the fact that this was required to be a "lift" bridge, like the Tower Bridge, where the center literally lifts straight up to allow boats to pass underneath. Designing a lift bridge comes with a host of technical challenges that makes it hard to do well. But Shamble somehow pulled it off.
Now for the bad news: We can't afford it—at least not yet. The estimates for the three spans, all still being refined, peg the Thru at $188 million and the Spring at $210 million. And the Solar Arch? Roughly $260 million.
Talk about a heavy lift.
This is where we need to get creative. Fortunately, the majority of the funding—mostly federal dollars—is already in place (over $150 million). And the city is working on securing other possible sources of public monies that have the potential to add tens of millions to the pot. Additional public dollars will help, but they almost certainly won't be enough.
Luckily, other cities have provided road maps for ways to tap private dollars for public bridges. If we want an iconic bridge, finding private funding is key.
In Los Angeles, $13.5 million in private funding has been raised for a planned $87 million bridge designed exclusively for wildlife (to allow mountain lions, coyotes and other animals now landlocked in the Santa Monica Mountains to pass over Highway 101). A new $16 million pedestrian bridge over the L.A. River started with a $4.75 million gift from a local philanthropist. Over in Dallas, a $182 million bridge designed by Spanish starchitect Santiago Calatrava received a $12 million donation from a prominent family in that city. Back east in Charlotte, North Carolina, U.S. Bank recently donated $1 million for a new pedestrian bridge.
And in Washington, D.C., a project called the 11th Street Bridge Park—a green public space to be built atop the bones of a retired freeway crossing that spans the Anacostia River and includes environmental and arts education programming (see video below)—has raised over $14 million in private donations for its $139 million project, including $5 million each from JP Morgan Chase and the massive utility Exelon (neither in exchange for naming rights, fortunately). When the gift was made, an Exelon exec stated, "We hope this community investment inspires other companies, individuals and foundations to recognize the enormous potential that this new public space will have to literally and metaphorically bridge D.C."
On the northern end of the Sacramento River, the Redding-based McConnell Foundation donated $13 million toward the $23 million pedestrian Sundial Bridge, also designed by Calatrava. That particular structure has almost single-handedly turned Redding into a global tourist destination for architecture buffs.
While it's true that Sacramento is short on large philanthropic foundations, we do have some very civic-minded families and companies who are heavily invested in the waterfront (on both sides) and would benefit from the addition of a new regional icon (look no further than the skyrocketing real estate prices adjacent to New York City's wildly popular High Line).
And in the past, we've found creative ways to make big ideas a reality. When the Sacramento Kings were on the verge of leaving town, then-Mayor Kevin Johnson rallied 20 individuals to commit to a $1 million investment each.
For a more grassroots example, back in 1989, then-County Supervisor and all-around Sacramento superwoman Sandy Smoley wanted to light up the Tower Bridge, so she crowdfunded $250,000 (more than $500,000 in 2019 dollars) in four months by "selling" $150 light bulbs to the public. We could do something similar with the Solar Arch, perhaps by selling signatures etched into the span's steel.
And don't forget that bridge dining in Sacramento—an idea first floated on Sactown's "Why Not Here?" page a year before the first Tower Bridge Dinner—is a hot new trend. (Tables for that now annual event command upwards of $5,000 each, and this new span will be 121 feet longer than the Tower Bridge.) Over time, millions could be raised in the form of this and other events on the bridge. For instance, why not follow the example of Australia's Sydney Harbour Bridge and create a bridge-climbing opportunity? Amazingly, that adventurous activity alone generates more than $30 million a year in revenue.
But, as stunning as the Solar Arch is, if we're going to attempt to raise millions in private dollars, we need more than just a bridge with an iconic solar crown. We need a pedestrian experience on the span that rivals—on a much smaller scale—the inspired 1.45-mile High Line, an old, elevated rail line that's been brilliantly reimagined as an idyllic urban wonderland, or something similar to what D.C.'s 11th Street Bridge Park team is planning.
Unfortunately, the Solar Arch, as it stands now, doesn't do nearly enough to create a sense of place for its visitors. That's why Shamble must incorporate elements like lush landscaping, shaded areas, vista points and ample seating into the concept's design. Alternatively, the city may need to retain a landscape design firm that specializes in extraordinary public places.
It's not enough that people will want to see the Solar Arch; we need to create an environment so compelling that people will want to experience it. Yes, plans are afoot for the upper level of the old I Street Bridge (the structure will remain in place as a train crossing on its lower level) to be converted into a High Line-esque space, but the two can be completely different.
And because the Solar Arch will be the closest bridge to the forthcoming Powerhouse Science Center on the riverfront, why not extend the environmental theming of the clean-energy design on the arch to the pedestrian experience below, with solar-paneled shade "trees" and other green elements (cooling misters from recycled river water, perhaps?) that lend educational and artistic components that will appeal to both visitors and potential donors?
In 2014, Dutch artist Daan Roosegaarde created gorgeous bike paths in the Netherlands (pictured above) embedded with solar-powered LEDs that mimicked Vincent Van Gogh's Starry Night painting. The Solar Arch should adopt similar technology, perhaps as a visual nod to the planetarium that will soon open just upriver. Also, how about adding a glass-bottom walkway attraction somewhere on the span, much like the one installed on London's Tower Bridge in 2014?
The point is, if we're going to crowdfund and seek the generosity of individual and corporate donors, the Solar Arch must be so spectacular that people and companies will want to join the cause.
And if we can't raise all the money immediately? Then pause and take a breath. Extend the deadline by a year and mount an all-out fundraising campaign.
The last non-highway bridge built over our portion of the Sacramento River was the Tower Bridge in 1935. For most of us, this will likely be, quite literally, a once-in-a-lifetime opportunity. Now is the time to ask ourselves not merely what is practical, but what is possible. Yes, great design comes at a great price. But we shouldn't be afraid to try. As Nelson Mandela once said, "May your choices reflect your hopes, not your fears."
When the Tower Bridge was built, it was designed to be "inextricably linked with symbolism of the future." Today, the Solar Arch, designed with an emphasis on environmental sustainability—one of the most pressing issues of the 21st century—is the right symbol for our city's future.
It's time for us to reach for the sun, Sacramento.