Artist David Garibaldi featured on NFL Network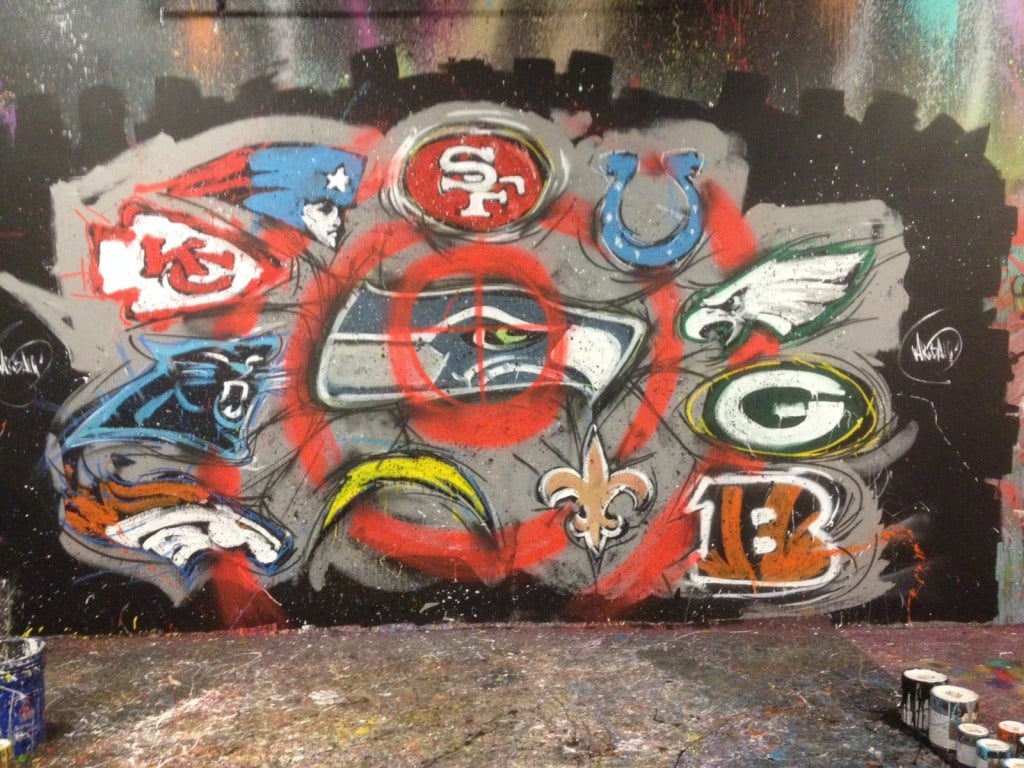 Sacramento performance artist David Garibaldi, known for his fast-paced, performance-style painting that led him to the final four of America's Got Talent in 2012, is taking his painting skills to the big leagues—literally.
In his first collaboration with the NFL Network—owned by the National Football League—Garibaldi is featured in a new three-and-a-half minute video clip entitled "Hunting for a Championship" on the network's website that was shot last Tuesday over the course of four hours at his studio in Elk Grove.
The video features star NFL players and coaches, both past and present—including 49ers legend Jerry Rice, Pittsburgh Steelers head coach Mike Tomlin and Seattle Seahawks quarterback Russell Wilson—discussing what it will take to finish a journey to the Superbowl championship this year. Between clips of the players and on-field plays, Garibaldi is featured in mostly slow-motion clips of him spraying, brushing and splattering paint on a massive black canvas, rendering a colorful mural of team logos surrounding the logo of the reigning champs, the Seattle Seahawks, in the center, with a spray-painted target on it.
Garibaldi, who is known locally and nationally for painting large-scale portraits of historical and pop culture icons from Michael Jackson to Alfred Einstein and Audrey Hepburn in under 10 minutes each, says the NFL painting was a new challenge for him. "Creating logos is actually harder than creating a portrait, because they're very precise and have a lot of clean lines, which is the opposite of portraits, which are more organic," he says. "It took some reworking of techniques to do it and we had to retake some shots for cutaways, but I still wanted it to feel like it was done quickly and created in my style."
The NFL Network will also be airing clips from the video on television throughout the season.
"I didn't really know how it was going to come together, so I was just so excited to see the final product—I'm really happy with it," says Garibaldi, a 49ers fan. "I'm an artist but I'm also really competitive, so I love all sports."
This is not Garibaldi's first rodeo with pro football. Last season, he performed at halftime at a Carolina Panthers game and opened a game for the Oakland Raiders in January. You can check out his work locally at a pop-up gallery at the TBD music festival from Oct. 3-5 in West Sacramento.
To see more of Garibaldi's work, go to garibaldiarts.com, and click here to see Garibaldi paint the cover of Sactown magazine's 2010 arts issue.
Related Links