Artists debut huge new mural planned for farmers' market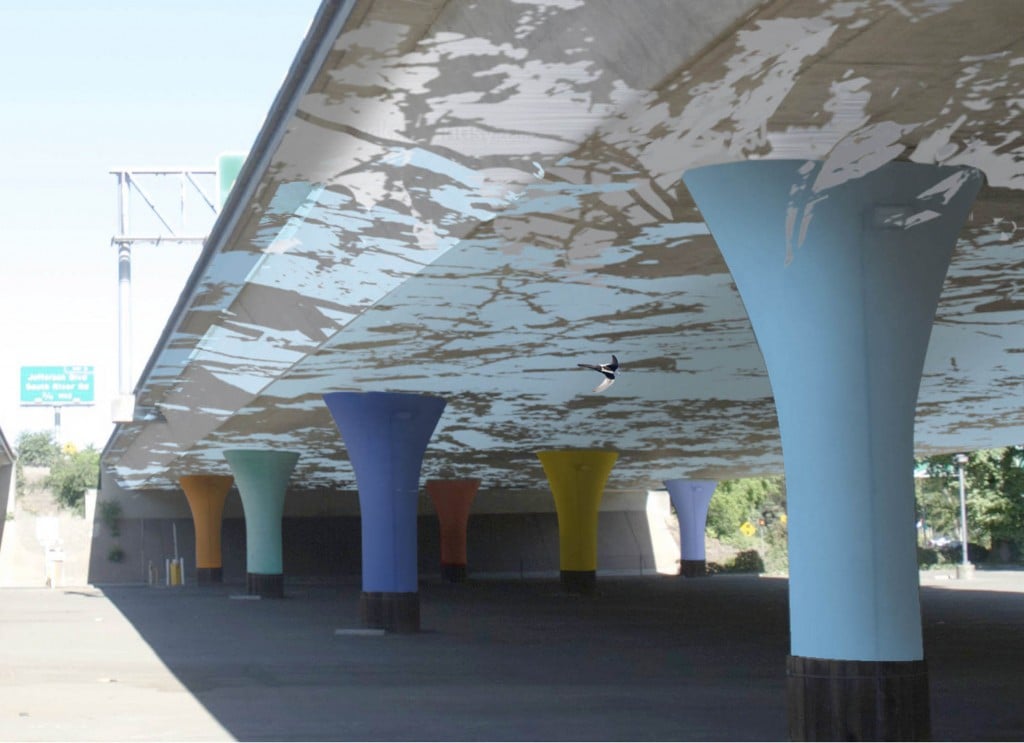 This fall, things could be looking bright for one of the busiest freeways in the city.
A planned mural project called Bright Underbelly would transform the underside of the W/X freeway with a sprawling sky-blue canopy, bringing new life to the blank concrete surface that looms above where thousands gather every Sunday for the Sacramento Central Farmers' Market. Renderings of the ambitious 70,000-square-foot piece were released this morning.
Conceived by local arts impresario Tre Borden (who operated the former Exhibit S pop-up shop in Downtown Plaza with artist Danny Scheible), the mural is to be painted this fall by Sacramento-based muralists Sofia Lacin and Hennessy Christophel—the pair responsible for other massive public art projects like the eye-catching 14,000-square-foot water tank in east Davis.
In an ode to the Sacramento area's many sycamore trees, the underside of the freeway will be dappled with light blue paint to mimic the sensation of peering up at the sky through a leafy canopy, creating a ceiling to the community gathering place that feels "light and airy," says Lacin.
Other elements to the design include homages to nature and agriculture like shimmering bumblebees rendered in gold leaf and groupings of columns that will be painted shades that reflect changing seasons.
"The overall look that we are creating is sort of a forest of color," Chrisophel says of the project, which the team expects will commence in September, be completed by the end of October and will require complex logistics like suspending the artists by a scissor lift. "It really is about creating an overall experience with details all around it so that wherever you are, you can look up and see something that connects to more of a story."
Bright Underbelly is en route to gathering the approximately $150,000 in financial pledges necessary to bring the mural to fruition. Groups supporting the initiative include the Sacramento-based advocacy firm Townsend Raimundo Besler & Usher and The California Endowment—the latter of which has committed to matching up to $50,000 of incoming pledges and has contributed to the "Health Happens Here" mural project recently completed at 15th and K streets.
Information about the Bright Underbelly project and available donor levels can be found at brightunderbelly.com, and you can keep tabs on the project's progress at its new Facebook page.