Artists debut new renderings of Bright Underbelly mural planned for farmers' market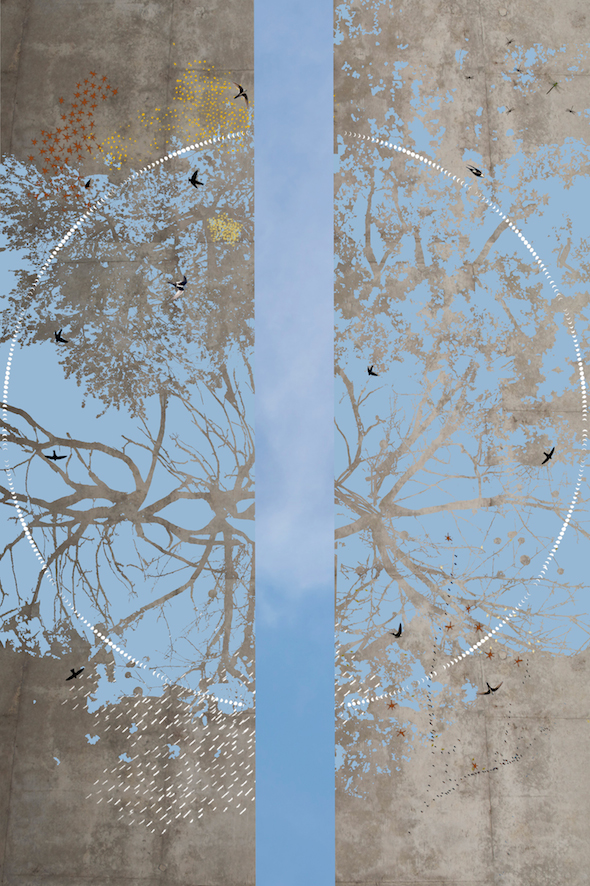 Bright Underbelly, the eagerly anticipated artistic revamp of the WX freeway's blank underside, will begin this summer, with a refined mural design officially releasing today at 5:30 p.m. at New Helvetia Brewing Company.
In addition to unveiling the latest version of Bright Underbelly's design, the brewhouse will also release its commemorative Bright Underbelly Bergamot IPA in celebration of the 70,000-square-foot piece—one of the largest public art murals in the region.
Tre Borden—the Sacramento arts impresario behind the Bright Underbelly project—will join his partners, the local muralists Sofia Lacin and Hennessy Christophel, at the release party to answer any questions regarding their massive undertaking.
Although the mural's overarching concept of peering up to blue sky through a leafy canopy will remain, the Bright Underbelly team has been focusing on the smaller details of the piece since its conception last year.
"We've been honing in on a specific shade of pale blue against the cement to echo the sky color and colors for the pillars that will reflect the seasonal shift under the freeway," Lacin says. "We also changed the pillar design to look a little softer and more elegant with a diffusion of color as opposed to a solid block of color."
Additional elements that will reflect the regional ecosystem—featuring white-throated swift birds (who nest under the WX), migrating geese and swarms of pollinating bumblebees—are to remain.
All proceeds from the New Helvetia event will go toward funding Bright Underbelly's estimated $150,000 cost. The creators hope to launch production this summer with an official ribbon-cutting ceremony open to the public, with thousands of patrons able to witness the ongoing progress on Sundays through the fall at the Sacramento Central Farmers' Market.
"I really encourage people to come check it out as it unfolds," Lacin says. "Because I think one of the most interesting parts of creating public art is seeing the entire process from beginning to end."
$20 donation (includes two pints of the new IPA). 5:30-9:30 p.m. New Helvetia Brewing Company. 1730 Broadway. 469-9889. newhelvetiabrew.com
Related Links
Artists debut huge new mural planned for farmers' market
New "Contagious Color" mural set to brighten road to Sacramento
Sacramento Beer Week 2015: Raise a glass at these 10 can't-miss events