Back to the Future
Don't believe in time travel? For centuries, humans have found ways to speak to the people of the future without all those pesky wormholes in space. Rather they've stuffed sturdy vessels—time capsules, as we now know them—with letters, photographs and assorted ephemera, and buried them for subsequent generations to discover. Word has it that Paul Revere and Samuel Adams were the first Americans to create such a capsule in 1795.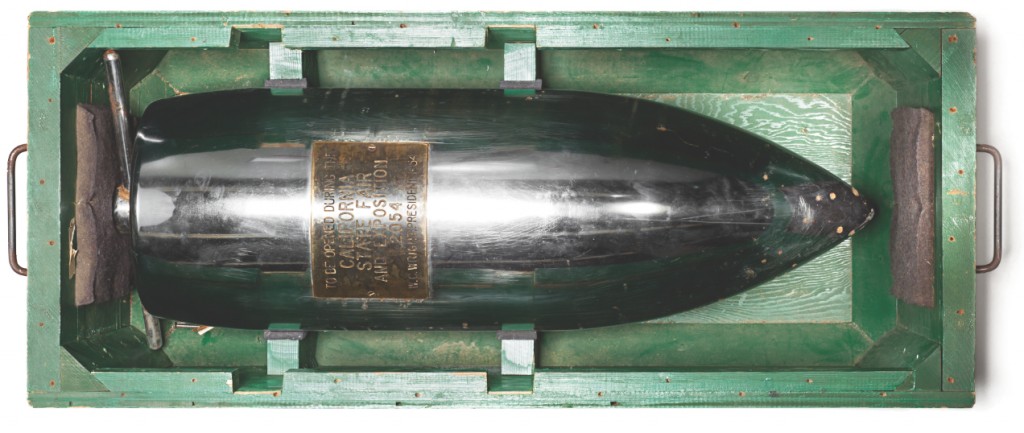 We've located a handful of these unopened vessels in our region—including a coffin capsule. Pictured above is one of them: a stunning 1954 time capsule for the 100th anniversary of the California State Fair, which was unearthed a year later after a leak was discovered and it now awaits its opening inside a secure, temperature-controlled room at the State Archives. Want a peek inside? You only have to wait another 38 years until it's unsealed at the 2054 fair. The good news: they will probably still have deep-fried Twinkies on the menu then. Some things just stand the test of time.
Sacramento Portuguese Historical and Cultural Society
Where: Portuguese Community Park
Sealed: 1999
To Be Opened: 2019
A 5-by-5-by-12-inch copper box buried in the Portuguese Community Park in the Pocket area contains, among other items, a photograph of the Portuguese flag, a 1908 survey map of the neighborhood with census information about Portuguese-owned property, and a copy of an original poem "Ode to the Capsule," which begins, "Into the ground you'll go. Who'll dig you up, we don't know."
City of Galt
Where: SMUD Park
Sealed: 1998
To Be Opened: 2024
This time capsule project was the brainchild of the late Dixie Johnson, who was 77 at the time and co-chair of the Galt Beautification Committee. According to The Sacramento Bee, Johnson gave local students acid-free paper on which to write messages to folks living in the future. Thirteen-year-old Christy Penney asked, "Do you guys drive spaceships?" The notes were placed in four PVC pipes and buried at SMUD Park.
Sutter General Hospital
Where: The building's façade
Sealed: 1987
To Be Opened: 2037
Embedded in the façade of Sutter General at the midtown hospital's dedication ceremony—at which the new facility was touted as the "hospital of the 21st century"—the time capsule houses, among other objects, a titanium heart valve built by Sutter's biomedical engineering department, as well as instruments, tools and journals detailing what was considered the height of medical science at that time.
City of Folsom
Where: The Folsom Community Center
Sealed: 1996
To Be Opened: 2046
Buried to commemorate the 50th anniversary of Folsom's cityhood, the capsule contains, in addition to other artifacts, an Intel Pentium chip made in Folsom, photographs from a Folsom High School junior prom, a sign reading "Yes on Measure O" (a failed attempt at establishing a new school district; the bill remains unpassed), and sheets detailing the backstory of the Pinebrook Village mobile home park and the history of Christianity by a local clergyman.
California State Fair Society
Where: California State Archives
Sealed: 1954
To Be Opened: 2054
This 225-pound steel-and-chrome-plated capsule—made to resemble an artillery shell and to last 20,000 years—was placed in a glass vault at the State Fair's former location on Stockton Boulevard for the festival's centennial. When the fair moved to Cal Expo in 1968, the capsule was moved to a secure, temperature-controlled room at the State Archives. Microfilms documenting fair ribbons, trophies and exhibits were placed inside, along with a copy of a 16mm film titled California's Golden Beginning.
Greenhills Elementary School in Granite Bay
Where: Near the base of the school's flagpole
Sealed: 1976 and 2010
To Be Opened: 2076
Created in honor of the U.S. Bicentennial and buried during Greenhills' expansion, this capsule—made of an 18-by-36-inch PVC pipe—holds things like a $2 bill, a Disneyland brochure, a reel-to-reel audio recording of a Del Oro High football game and an empty pack of cigarettes with the message, "We hope these are banned by the time the time capsule is opened." The school intended to wait 100 years to open the capsule, but unsealed it in 2010 to peek inside and add some new items before reburying it.
Old City Cemetery Committee
Where: Sacramento Historic City Cemetery
Sealed: 1988
To Be Opened: 2088
The committee was formed in 1987 after vandals knocked down over 90 tombstones at the Sacramento Historic City Cemetery. In 1988, the group buried a time capsule—with items like a key to the city and a copy of Sports Illustrated's 1988 swimsuit issue inside—in the form of a mahogany coffin, giving it a proper funeral, with pallbearers in tails and top hats driving the box to its resting place in a horse-drawn hearse, then ceremoniously entombing it beneath a headstone that reads, "Here Lies History."
Rio Cosumnes Correctional Center
Where: The elevator lobby of the facility
Sealed: 1989
To Be Opened: Unknown
Robert Denham, retired chief deputy of the Sacramento County Sheriff's Department and a history buff with a sense of humor, buried a red steel time capsule under gravel and poured concrete in the elevator lobby of the Rio Cosumnes Correctional Center during the contruction of the Elk Grove facility's expansion in 1989. Interred objects, which presumably won't be released until the building's demolition, include a New Year's Day edition of The Sacramento Bee and a letter co-written by Denham that read, in part, "There is a joke that if the present growth in jail population continues by the year 2000 the people of California will be in two classes: correctional officers and inmates."