Bacon & Butter set to reopen this month in Tahoe Park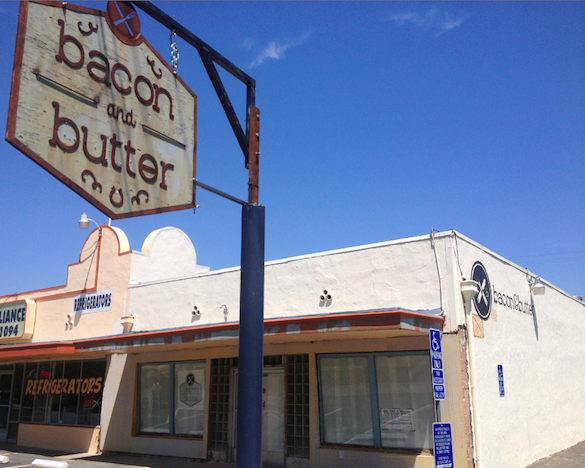 Update: Bacon & Butter is now scheduled to open on Sept. 27.
Flapjack fanatics, mark your calendars: The highly anticipated new Tahoe Park location of Bacon & Butter—chef-owner Billy Zoellin's beloved breakfast and lunch eatery previously located in midtown—is finally on track to open by the end of this month after receiving key permits from city inspectors.
The menu is still taking shape, but look for this new iteration of Bacon & Butter to hold to the original's devotion to seasonality and local ingredients in its frequently rotating lineup that will incorporate two seemingly opposing emphases: vegetable-heavy dishes and smoked meats like house-made sausages, charcuterie and pastrami. (Zoellin's famed fluffy, from-scratch pancakes and other breakfast items will still be central to the bill of fare.)
"From vegetarians to meat eaters, I want everyone to come to Bacon & Butter and love it," Zoellin says. "I am very excited, because this has been on hold [due in part to the city's permitting process], and kitchen people aren't good at waiting. I'm ready!"
All that planning and patience will yield a thoroughly revamped space in a 1940s-era building on Broadway. The atmosphere will have a "very French-country feel," Zoellin says, with elements like reclaimed wood on the ceilings and a diner-like counter bordering an open kitchen area. And as many a brunch fan may recall, with only 84 seats at the original location, waits were sometimes lengthy, an issue which will be alleviated by the approximately 40 additional seats at the new restaurant.
The new location will begin with breakfast and lunch service, and within a few months will add dinner—a first for Bacon & Butter, as is wine and beer service, which will feature a number of favorites from Sacramento breweries like Ruhstaller and New Helvetia. Once dinner service begins, breakfast fans can look forward to a handful of morning meals—like braised short-rib biscuits and gravy with hash browns—being available in the evening, with more being served at monthly breakfast-for-dinner nights.
"You will feel very much like you are at the Bacon & Butter of old, but with more polish, if you will," Zoellin says. "Everything we did, we will strive to do better."
Keep an eye on Bacon & Butter's Twitter feed and Facebook page pages for additional updates. 5913 Broadway. 346-4445. baconandbuttersac.com