Bailey De Young
The '50s sure are nifty for Bailey De Young, who stars in "The Marvelous Mrs. Maisel" as Imogene Cleary, the title character's best friend and fellow mid-century mom. With season two of the hit Amazon show launching in December, we catch up with the Sacramento native (and 21st-century mom) about playing a not-so-desperate housewife, the (very good) reason she skipped this year's Emmys—where "Mrs. Maisel" won best comedy series—and catching the acting bug on the Music Circus stage at age 11.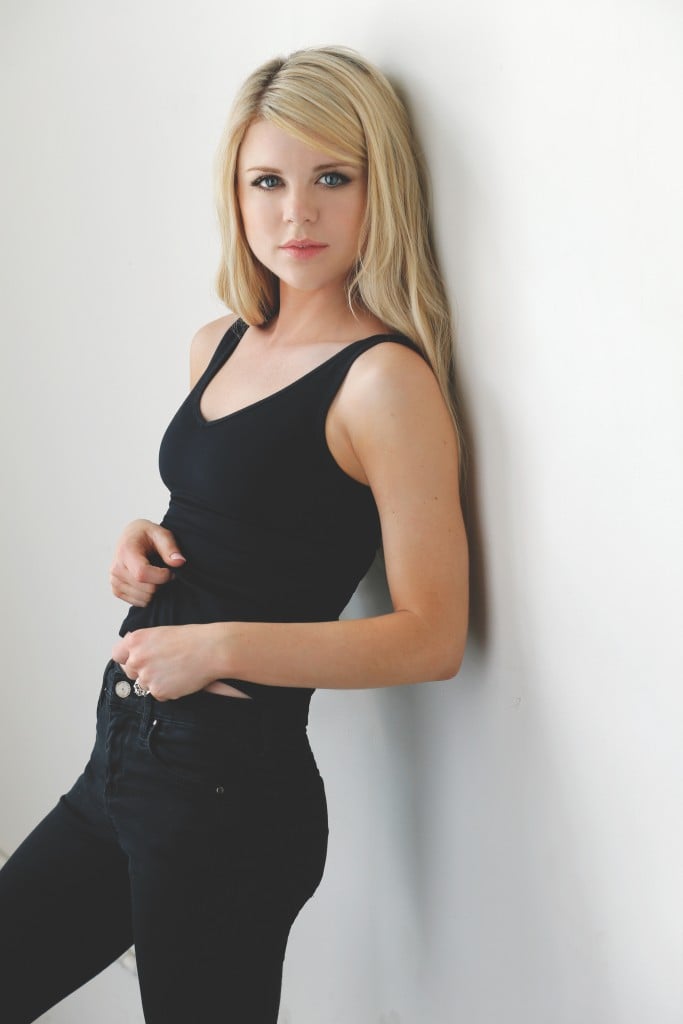 SSeason two of The Marvelous Mrs. Maisel debuts on Dec. 5. For those who haven't discovered it yet, what is the show about?
It's loosely based on Joan Rivers' personal story. It takes place in New York in the 1950s and is about a housewife [named Miriam "Midge" Maisel, played by Rachel Brosnahan] who decides to become a stand-up comedian at a time when women weren't really in that business.
I play Imogene Cleary. My character is kind of the Ethel to [Midge's] Lucy. Imogene loves being the perfect housewife. She wants to make the perfect dinner and she's all about Dr. Spock. She's very, "I'm going to be the best wife, I'm going to be the best mom, and I'm going to look really good doing it," and she has really no desire to do anything else. So as Mrs. Maisel starts to explore other aspects of herself and life, my character cannot even imagine it.
I love the period aspect. The costumes are so much fun, and I love the music choices—the music really takes you back to that time. So much has changed [since then]. I love to research and think about what it was like in the 1950s and what my character's world was like.
What are some things we can expect to see in the new season?
Midge is pursuing comedy and she's getting to the point where the people in her life before she started this journey are finding out and being affected. You'll see how her new choices affect old relationships. Imogene [gets] very clingy. They've always been two peas in a pod and liked the same things, so I would imagine that it'd be threatening for your best friend to, all of a sudden, have something that you're not a part of.
One of my favorite scenes is in episode two, because it's the first time Imogene crosses paths with Susie, Midge's [acerbic] mentor-slash-manager, and those two characters could not be further apart.
Mrs. Maisel was created by Amy Sherman-Palladino, who produces it with her husband, Daniel Palladino. You've worked with them before on the ABC Family show Bunheads and the Netflix revival of Gilmore Girls. It seems like you're one of their go-to actors.
Oh my gosh, it's like I died and went to heaven. I could be a go-to actor for them for my entire life. Yeah, this is my second Amy Sherman-Palladino [series] and I always love her dialogue. Her writing is so good, which makes my job really easy.
They are super talented. They build real people and colorful worlds. I just feel like so much of the stuff that I watch these days can be very "dun-dun-dun"—a twist here, a twist there, whereas they take characters on a slow-burn journey that gets you super invested. I have loved every character that I've gotten to play for them, but [when I first read the script for Mrs. Maisel], I remember thinking that this might be my favorite Amy and Dan thing. It was the combination of it being a period piece and also feeling like they were able to cross some lines that maybe network television wouldn't let them, which made it even better.
The show has gotten off to quite a start, winning both the Golden Globe and Emmy for best comedy series in its first year. How does it feel to be a part of such a successful show?
It's kind of surreal—it hasn't set in. I feel really grateful. I've been in things before that were really kind of niche, so not a lot of people had heard of them. I would meet people and they would either be a superfan or have never heard of it. But, I don't know if it's the wigs or how period [the show] is, people don't really place me from The Marvelous Mrs. Maisel. I also feel like I've kind of been hunkered down. I've been with my newborn, Penny, [since she] was born on Sept. 6, so I haven't really been out.
I take it you didn't go to the Emmys?
No. I had my baby like the week before. Actually, it's a funny story. I didn't [even] watch it live. The next morning, my husband told me, "Oh, babe, if you had gone, you would have gotten to go on stage," and I was, like, actively pumping milk. I looked like such a hot mess. I definitely celebrated with my family, and I got a lot of texts.
Speaking of texts, I reached you on your cell phone and noticed that you have a 916 number. Can you tell us about your Sacramento roots?
I was born in Sacramento and grew up in Carmichael. I graduated from Rocklin High School in '07—I was homeschooled until then. My dad had just passed away, so I took a year off [from school] and then I moved to New York and went to AMDA [the American Musical and Dramatic Academy] for two years.
It's funny—a lot more people recognize [the 916 area code] than I would expect. I'm in L.A. now, but even when I was in New York, people would go, "Oh, you're from Northern California?"
Does your family still live around here?
My mom is still out there—she's in Loomis. On my mom's side, all my aunts, uncles and cousins are out there. And my husband's sister and brother live in the area too, so both of our families are there.
Oh, your husband is from this area too?
Yes. Tyler grew up in Folsom. We met in 2013. We were set up by my sister. Tyler was a worship pastor at Bayside Church in Granite Bay and she was a member. There was a whole team of people who were Bayside members and knew us both, and they colluded to get us together. They called themselves Team Tyboo—Boo was my childhood nickname.
We went to Zocalo in Sacramento on our first date. We dated long distance for a while, and then he moved out [to L.A.] when things got more serious.
Do you both come back often? What do you like to do when you're in town?
Oh my gosh. So often. I feel like for every holiday and [family] birthday. Because it's home, I don't really go out and do the cool [new] things, but some of my favorite things to eat are still local. I love Jack's [Urban Eats]. I love La Bou. I'm weirdly obsessed with it. They have these chicken lettuce wraps and they've got this peanut sauce that you dip them in. So, while the chicken lettuce wraps are very healthy, the sauce is probably the [caloric] equivalent of a Big Mac, but it's really good.
We love Mikuni. My husband grew up going to Mikuni all the time. I had never even tried sushi until our second date. He was like, "If you're going to try sushi, you're going to try good sushi." He ordered the California roll for the beginners' [level], sashimi for the medium and oysters for the adventurous. Since then, sushi has become our favorite [food] and we have to go to Mikuni. We like to go twice when we visit.
My favorite Sacramento spot to visit is Sam's Hof Brau. That was my dad's favorite spot. Growing up, he used to take my sisters and me there, and now we like to go to celebrate and remember him. [I typically get] the hot, open-faced turkey Sam'wich. There's nothing like Sam's Hof Brau for lunch and Mikuni for dinner—what a perfect Sacramento day.
Your professional life also had its beginnings in Sacramento. Your first theater gig was at Music Circus. Did you catch the acting bug there?
[I played] Gracie Shinn in The Music Man. That was the start of the transition into liking theater. I had danced for a while, and then when I did Music Circus, I fell in love with the storytelling aspect and the collaboration of the music and the words and the movement. I don't think you could have made an 11-year-old any happier. I was flying like a kite.
From 7 to 17 years old, I practically lived at the [now-closed] Broadway Academy [of Performing Arts]. I would not be the person I am today, nor would I have had the opportunities that I've had without that studio and the people there—Dave MacDonald and Mary Taylor, they are amazing.
Would you ever consider performing at Music Circus again?
Before I had a baby, I had considered that option more. Well, actually, they're pretty short gigs because it's only in the summer. So scratch that. Yes I would if it was the right show and the right role.
More immediately—aside from Mrs. Maisel, of course—what do you have coming up?
I was really pleased that I had [Penny] in September and I could take October, November and December off. So the only thing in my future is cuddling my baby.