Barbie goes dark in a new Sacramento art exhibit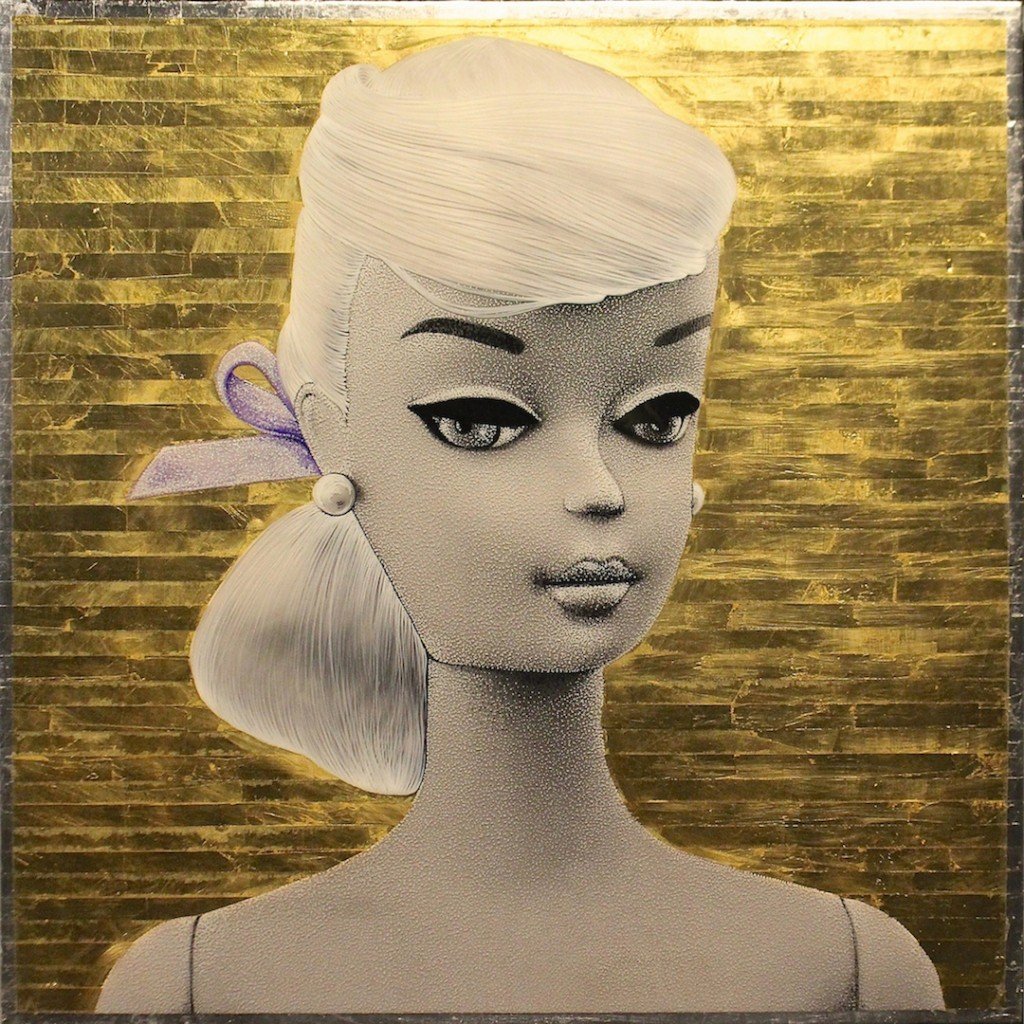 Painter and provocateur Maren Conrad's latest work is at the heart of a new exhibit, "The Darker Side of Pink," being mounted by gallerist Pamela Skinner in East Sacramento on Dec. 9 and 10. The show, which looks at Barbie from a variety of artistic perspectives, centers around Conrad's playfully transgressive series of large resin paintings that depict the doll and her boyfriend Ken naked and in flagrante.
Conrad's portraits of Barbie are painstakingly executed using pointillism, gold leaf and multiple layers of resin—portraits of a plastic icon rendered in plastic. The local artist aims to explore the idea that, with over a billion dolls sold worldwide, a significant portion of womankind learned about bodies and sexuality by disrobing the at once hypersexual and genital-free Barbie and Ken.
"As a 10-year-old girl, my Barbies had lots of sex," Conrad says. "I started talking to a lot of women I know, and all of their Barbies had sex too." To construct the series, she searched eBay to track down the same Barbie dolls and Barbie furniture she played with as a child. "All of my paintings are reenactments of things my actual childhood Barbies did," she says. "So it's not an adult's perspective on Barbies having sex."
Conrad wants the show to provoke dialogue among women, feminists and parents. "I am sure there will be some debate in the feminist community about [depicting] Barbie in a sexual way, but I feel that Barbie has this instrumental role in us growing up as healthy women, and I think that should be discussed," she says. "This universal thing we all did as girls was outside of the male gaze. My Barbies were doctors and badasses, and Ken was more like an accessory."
The artist is no stranger to controversy over the nature of her work. In 2013, the owner of Vanguard 1415, a nightclub near the Capitol, commissioned a series called "Politically Vulnerable" from Conrad that depicted women connected to California governors, including Linda Ronstadt, Nancy Davis (later Reagan), Maria Shriver and Brigitte Nielsen, with whom future governor Schwarzenegger had an affair while dating and living with Shriver. In her artist statement about the show, Conrad described these women connected to powerful men as representing "the strength of baring one's identity, telling one's history, and facing one's vulnerabilities, a strength often denied in the image-crafted world of politics." A female lobbyist who received a press release about the exhibit wrote to Vanguard objecting to the work as demeaning to women, without having seen it, and the club removed the artwork, sparking a hot debate about whether or not a celebration of wives, mistresses and muses could or should be deemed "feminist."
"The Darker Side of Pink," which will be on view for a single weekend at an East Sacramento exhibit space that formerly housed the JayJay gallery (which moved next door), also features pieces by 14 other artists whose work touches on the theme of Barbie, either figuratively or abstractly, including Miriam Morris, Paule Dubois Dupuis and Michael Shemchuk.
"The Darker Side of Pink" will be shown at 5520 Elvas Ave. on Friday, Dec. 9, from 4-7 p.m., and Saturday, Dec. 10, from 12-9 p.m.
You Might Also Like
Jeff Koons: Coloring Outside the Lines
Coliseum as Canvas: local art at Golden 1 Center
The Naked Eye: Profile of artist Mel Ramos