Bariani Olive Oil
A raw olive oil once only available thru the turn of the century.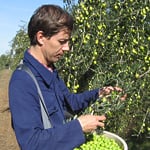 9460 Bar Du Lane
Sacramento, Ca 95829
Farmer: Sebastian Bariani
Sacramento and
Zamora counties
barianioliveoil.com
This local family-owned-and-operated business, going strong since 1991, utilizes sustainable practices and makes olive oil and balsamic vinegars that are certified organic. Owned by Emanuele Bariani and Sebastian Bariani, this local olive oil producer uses Mission and Manzanillo cultivars and is dedicated to quality rather than mass production and maximum revenue. We're proud to carry these wonderful olive oils in our stores.
Pick up Bariani Extra Virgin Olive Oil at your nearest Nugget Market location: