Beat the heat with Ginger Elizabeth's Parisian macaron ice cream sandwiches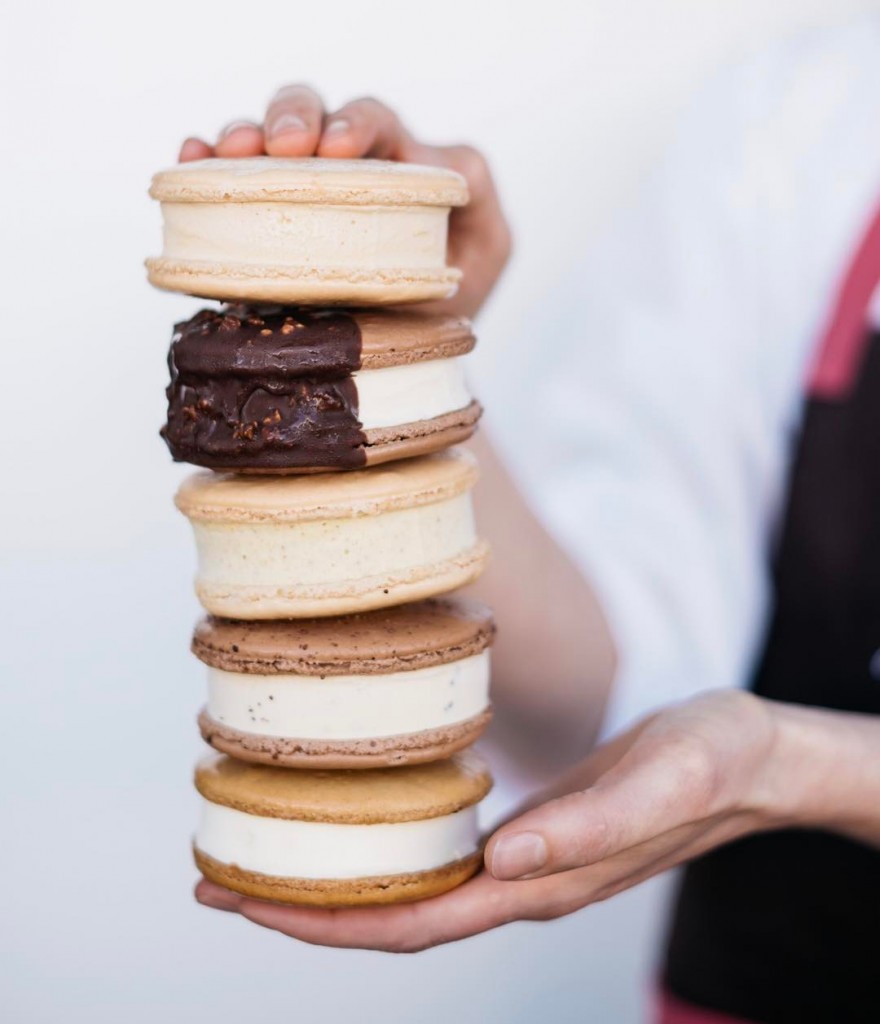 Aug. 2 is National Ice Cream Sandwich Day, but if you're like us—especially with the record summer heat—you don't need a holiday to fête the sweet treat.
Our favorite place to do so all season long is at midtown's Ginger Elizabeth Chocolates, which whips up at least five varieties of its Parisian macaron ice cream sandwiches every day from May through October.
Forget those brick-shaped freezer-burnt bars with that chocolate cookie coating that always sticks to the wrapper and your fingers. Ginger Elizabeth's version is refined in every sense of the word, from the airy, chewy, perfectly domed macaron that breaks ever so gently with each bite to the velvety ice cream filling—with nary a trace of smudges. In fact, with their clean lines and subtle colors (food dye and additives are never used, says executive pastry chef Alison Clevenger) one might think these sandwiches were assembled by a minimalist architect with an ice cream craving.
The decadent desserts come in flavors like almond rocher, with rotating specials like a s'mores creation, available Aug. 5, comprised of Valrhona chocolate ice cream layered with torched marshmallow cream, nestled between two chocolate macarons and dipped in chocolate and house-made graham cracker dust. Our favorite is the salty caramel, featuring rich caramel ice cream spiked with Jacobsen sea salt, a hidden swirl of gooey caramel sauce at its core.
Ginger Elizabeth makes its ice cream in small batches with organic milk from Straus Family Creamery and local ingredients like nuts from Fiddyment Farms in Lincoln for its pistachio macaron ice cream sandwich, Chocolate Fish's Finca La Merced roast in its coffee cocoa nib sandwich, and fruit from Good Humus Produce in Capay in its lemon gingersnap variety.
"To me, food is beautiful in its natural state," Clevenger says. "We let it do the talking."
And trust us, we're listening … while we take another heavenly bite.
1801 L St. 706-1738. gingerelizabeth.com
You Might Also Like
Ettore's bakery gets set to expand to Roseville
DSP announces Calling All Dreamers 2017 winner: Milk House Shakes
Four frozen, boozy drinks to put on your tab this summer