Benjamins puts best foot forward with stylish shoes made in Sacramento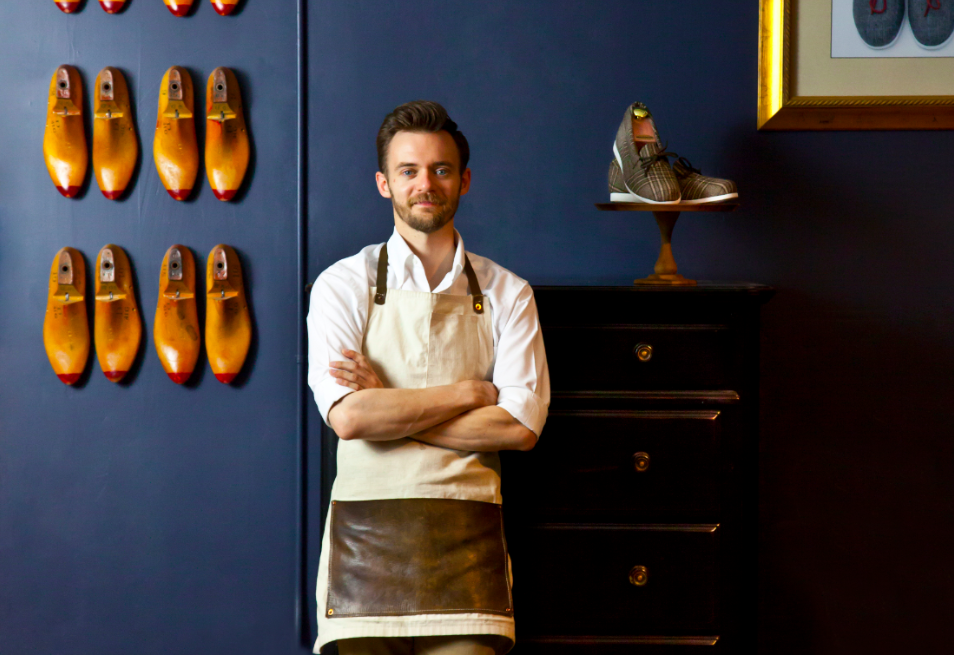 Benjamin Schwartz knows what you're thinking the first time you see Benjamins, his industrial workshop and store on the ground floor of the hip new Warehouse Artist Lofts (WAL) on R Street. "People come by," Schwartz says, "and they kind of look at the sign, then they look at the table, and they look at us making stuff. And they say, 'Are you making shoes?' "
Indeed, Schwartz is making shoes—to order, by hand, one pair at a time, stitching cashmere or cotton uppers to rubber soles. The 31-year-old has seen demand for his eponymous footwear—which ranges in cost from $195 to $245 per pair and resembles a dignified hybrid between moccasin and deck shoe, crafted with high-end fabrics from sources like Ralph Lauren and England's Fox Brothers (aka the inventors of flannel)—from online devotees as far away as Switzerland, Singapore, Thailand and Australia. They arrive in handmade linen bags with a thank-you note from Schwartz and a sprinkling of shredded cash that the US Treasury creates from uncirculated bills and ships in five-pound bags.
Hometown interest has spiked as well since his storefront opened at the WAL in mid-June: Of the 40 pairs Schwartz currently has on order, he estimates 30 were purchased in the shop. He has enlisted his girlfriend, Diana, and an apprentice to help him manage the store and manufacture the shoes, a process that takes roughly 10 hours per pair. (Deliveries are generally filled within eight to 10 weeks of ordering.)
Meanwhile, Schwartz's work has sparked collaborations with local artists like Irubiel Moreno (who lives in the loft complex and is painting three pairs of cotton twill Benjamins to be sold at the shop) and Insight Coffee Roasters. The latter partners, who have supplied burlap coffee-bean sacks to be repurposed as Benjamins shoe bags, are working with Schwartz on a limited-edition set of shoes made from fabric dyed in their coffee.
"Menswear is growing faster than women's wear right now, and there's this growing market of men who I think really want more to choose from," says Schwartz, an autodidact who learned his craft from an Australian shoemaking textbook and whose own interest in fashion dates back to receiving his first tailored suit as a 12-year-old growing up in Carmichael. "There really isn't a higher-end casual shoe that you can wear with jeans and a T-shirt, and also maybe wear with a suit." There is now—this shoe fits.
1104 R St. benjamins-shoes.com
You May Also Like
Eclectic lighting and home décor store opens in East Sacramento
First phase of TBD Festival lineup announced
New vintage craft store opening in Oak Park this fall