Birds of a Feather
Auberge alums and Milestone owners Nick Dedier and Alexa Hazelton team up again to launch Mom & Pop Chicken Shop. The result? Twenty-hour-brined chicken with 20 herbs and spices that's finger lickin' great.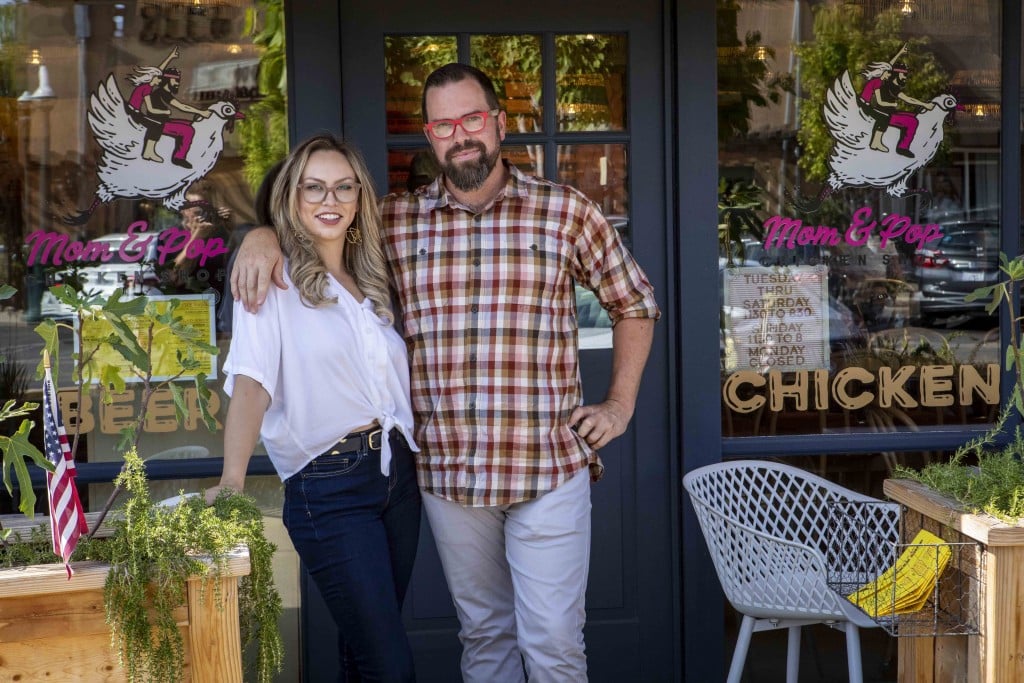 "No matter who you are or where you come from, fried chicken is a thing," says Alexa Hazelton, the eponymous maternal half of Mom & Pop Chicken Shop in the El Dorado Hills Town Center complex. In its short, nearly yearlong existence, the restaurant has become known for making superior fried chicken sandwiches. The signature stack (named Mom & Pop's, natch) teeters upon a fried organic chicken breast—golden and craggy-crisp on the outside, exceptionally juicy on the inside—while a generous slather of house-made pimento cheese tries to cement everything together, often in vain.
Eating this sandwich is a gloriously messy, many-napkinned feat, and attempting to maintain its towering architecture only results in house-made spicy pickles or puckering red onions slipping from the buttery brioche buns, delivered daily from Truckee Sourdough Company. The mouthwatering, jaw-unhinging main course may seem conceptually distant from the cast-iron chicken of Hazelton's Midwestern upbringing ("My grandmother had the remarkable sense to brine the chicken first," recalls the Ohio native of the family recipe's trademark succulence, owed to a so-called "marinade" of sugar, lemon juice and Lawry's Seasoned Salt), but its essence is just as comforting.
Meanwhile, her fiancé Nick Dedier III, the titular father figure of Mom & Pop who owns the restaurant with Hazelton, happens to have a high-profile background in fried chicken. Yet he insists that his personal preferences are more aligned with acclaimed Kentucky chef Edward Lee's down-home druthers, as recounted on the erstwhile PBS food series Mind of a Chef: "Find the fried chicken shack of your dreams," said Lee. "Get in your car and drive to the perfect shady tree … then roll down the window and fall in love with fried chicken all over again."
In 2011, Dedier was the general manager at Thomas Keller's Ad Hoc in Yountville, the casual, comfort-food foil to the celebrated chef's three-Michelin-star fine dining restaurant, The French Laundry. Eager to get even closer to an authentic fried chicken experience, Dedier approached Keller with an idea for a chicken shack that would eventually serve as the inspiration for Mom & Pop.
Addendum—currently "in hibernation"—was born of a refurbished shed from Keller's culinary garden and is situated in Ad Hoc's back patio. The shack's hand-scrawled chalkboard menu featured a simple Southern-style spread of fried chicken, barbecue ribs, pulled pork sandwiches and beer. Lines regularly formed around the block for the fried chicken at this refreshingly unpretentious walk-up counter.
With Addendum serving as its spiritual mold, Mom & Pop is the spunky younger sibling to Dedier and Hazelton's full-service American eatery Milestone, also in Town Center. (Dedier, an Elk Grove native, was also a managing partner at the development's Aji Japanese Bistro.) When the couple—who met in 2013 in South Carolina while working for Auberge Resorts (he was the company's food and beverage director, she was a member of the jack-of-all-trades "task force")—opened Mom & Pop last November, a socially distanced queue several blocks long became a regular sight.
"Opening during the pandemic was a ballsy move, but as Alexa says, 'Sometimes you just have to prove that you can do hard things,' " says Dedier, who adds that the two were further emboldened by Town Center partner (and Sacramento Republic owner) Kevin Nagle's enthusiasm for the project. "We had faith in the community and they really supported us." While the turnout underscored fried chicken's long history in post-industrial America as great curbside fare (just ask Colonel Sanders), actually making great fried chicken is not as easy as its fast-casual caliber would seem to imply.
"The problem with making good fried chicken is that you need so much time and space and oil to do it right," says Dedier, who attended the Culinary Institute of America in New York with another local restaurateur famous for fried chicken, Ian Kavookjian, who co-founded downtown's South eatery. "You can really cheap out on it, really half-ass it, but to do it right, you need a lot of space for butchery, cold storage, dredging stations, the works."
At Mom & Pop, boneless chicken breasts from Mary's Free Range Chicken in Petaluma tenderize for 20 hours in an apple cider vinegar brine. Then they're dredged in flour seasoned with the restaurant's proprietary blend of 20 herbs and spices, which include Hungarian paprika, cayenne and red chili powder. A dunk into luxuriously spiced buttermilk ensues, followed by a second dry coating. A final swim in sizzling vegetable oil is just long enough—mere minutes, really—to achieve peak fry, the masterly triangulation of a thorough cook, max succulence and crackly golden exterior.
The shop's popular hand-cut Chx Nugs—a riff not on boxed nuggets or basket strips, but rather the quintessential Ohioan sports bar snack known charmingly as "chicken chunks"—are given a similarly intensive and thoughtful treatment, the likes of which command a fancy flute of fizz like Riondo prosecco rosé, the restaurant's sole sparkling wine sold by the glass. "If you're having a fun time, bubbles tend to pair best," says Dedier. "And you're probably having fun when you're eating fried chicken."
To wit, Hazelton's interior design features a sherbet-like palette of pink, orange and yellow, with elements of basketry (reed-woven pendant lamps) and concrete (bas-relief murals of Yosemite and the Sacramento Valley) to balance the frivolity. But when a mirrored, chicken-shaped disco ball is hanging from the exposed ceiling rafters, you can bet that levity is never out of sight (if you've sidled up to the wooden bar-height communal table inside) or out of mind (if you've taken a cushioned seat in the alley lounge). "I just wanted to bring a lot of joy and light to the space," says Hazelton, who drew from her Auberge-trained eye for creating beautiful shared experiences.
With Mom & Pop's menu revamp in July, the stakes on poultry prep were elevated even more, thanks to the addition of fried chicken on the bone, but not for the purpose of filling buckets. "It's the law of diminishing returns," says Dedier. "Two or three pieces of chicken is great, but when you've got 10 pieces sitting in front of you, eating feels like a chore."
So while there are only two fried chicken pieces—a leg and thigh—that comprise a new offering called The Golden Ticket, an additional pre-fry confit step to slowly cook the chicken through requires, again, more time and space. The finished, almost ethereally crisp pieces—achieved by means of a pampering, pat-style flour dredge followed by a flash fry—are then placed on a made-to-order buttermilk waffle, drizzled with salted clover honey and finished with a light confetti of sliced Fresno chili.
A freshly added hoagie selection includes the Whiskey BBQ Chx, designed to outdo McDonald's popular McRib, a guilty pleasure of Dedier's. Picking the winner is a no-brainer, at least for discerning diners. Who wouldn't prefer succulent hand-pulled organic chicken gently tossed in a subtly smoky, slightly sweet Jack Daniel's-spiked barbecue sauce over a cloyingly glazed, preservative-laden boneless pork patty shaped to resemble a slab of ribs?
The sleeper hit of the sandwiches remains the Chz-Brgr, either in its "Original Bad-Ass" iteration (a thickset brisket and rib-eye patty from Kings Meats in Diamond Springs heaped with stewed Jack-and-Coke onions, an idea poached from Biker Jim's Gourmet Dogs in Denver) or in the "Plain Jane" style, featuring a mere swipe of ketchup. "It's like a McDonald's cheeseburger," says Dedier, once again plucking a nostalgic chord. Pro tip: Chase your choice of cheeseburger with a frosty pounder of Montucky Cold Snack, a refreshing lager with a lively, seltzer-like effervescence. "It's the new, cheap hipster beer," says Dedier. Pabst Blue Ribbon, we never knew ye.
Almost defiantly (for a fried chicken shack, that is), the salads have been amped in size and selection in the new lineup. From the Cali-Caesar to the Get the Greek, chicken definitely beefs up the meal, but still plays a secondary role to vegetables. Our favorite, the Whole Avocado Goddess, is unapologetically fowl-free. Lettuces, nuts and dried fruit aplenty are tumbled with cubes of the creamy headliner and then tossed in a house-made ranch dressing teeming with verdant herbs like cilantro and parsley.
Gone from the menu are the "loaded" fries, the ubiquity of which Dedier likens to fried calamari or mozzarella sticks. The equally sinful mac and cheese, on the other hand, was just tenured. Pre-al dente shells achieve perfect texture while luxuriating in a simmering house-made cheese sauce, a classic French béchamel loaded to stretchy heights with Prairie Breeze—"a nine-month cheddar that acts like a five-year cheddar, and the most amazing cheese I've eaten domestically," says Dedier—from Milton Creamery in Iowa. A topping of "crispy bits," the addictive, tempura-like flotsam from the fryer, is intended to trigger wistful memories of another fast-food favorite, Long John Silver's.
In fact, you could say that such feel-good sentimentality is the essence of the restaurant. But if you need more proof, just look for the tiny heart etched into the Yosemite mural, somewhere around Mirror Lake. That's where Pop put an engagement ring on Mom in 2019, and the rest is chicken shop history.
4355 Town Center Blvd. El Dorado Hills. 916-673-9563. chxshp.com