Blast 825° bets on build-your-own-pizza craze in Roseville, Rocklin and Elk Grove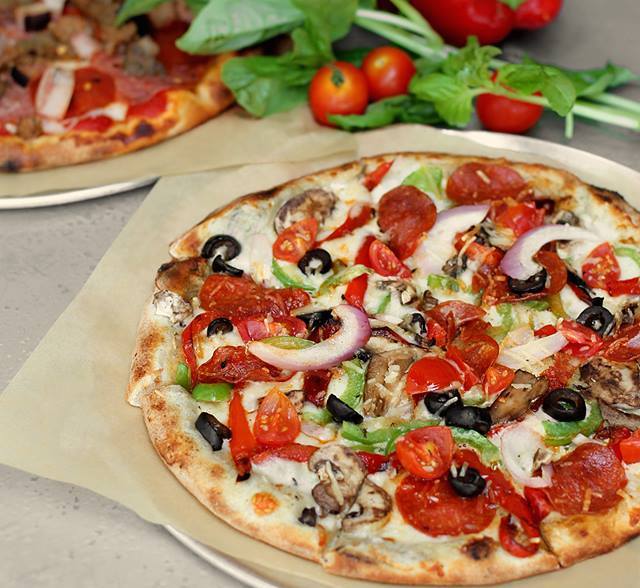 Blast 825°, a new pizza restaurant with big plans for the Sacramento region, has launched its grand opening this week in Roseville with an eye on charity.
The eatery, which invites customers to build their own pizzas from three different types of crust and more than 40 toppings (a la Chipotle or Subway), specializes in the quick-fired cooking method from which it draws its name: Pizzas are blasted in an oven at 825 degrees for roughly three to four minutes.
"We found that's the best way to cook the pizza," says Stacy Soderstrom, vice president of franchise development for Blast 825°'s Fresno-based parent company, Milano Restaurants. "It gives it the crispness, it melts the cheese, and it just makes the ingredients taste so much better."
Among those ingredients are tomatoes sourced from Stanislaus County; vegetables chopped, diced and/or roasted on-site daily; a house cheese blend combining smoked gouda, smoked mozzarella and Parmesan; four sauces; and hand-tossed dough prepared fresh each day. Toppings include traditional meats and veggies along with exotic offerings like roasted shrimp, pulled pork and toasted pineapple.
The pizzeria shares a concept with Pieology, the planned build-your-own-pizza spot coming soon to Sacramento, and arrives amid a wave of regional pizza upstarts that also includes midtown spots like Trick Pony and Pizzeria Urbano. Blast 825° opened its first location in Clovis in 2013 and had settled on expansion around the Sacramento area by spring of this year.
The Roseville location, across the street from the Westfield Galleria, came first this summer (the restaurant commenced a soft opening last month), with new locations in Rocklin and Elk Grove to follow in December and early 2015, respectively.
Meanwhile, its proprietors have partnered with four Roseville-area charities to raise money and awareness over the next week. Placer SPCA, Blue Line Arts, Albie Aware Breast Cancer Foundation and Placer Food Bank have contributed their own specialty pizzas to Blast 825°'s menu, leading to pies like the SPCA'S "Sophisticat" (featuring white sauce, Blast's cheese blend, roasted mushrooms, roasted onion and arugula) and Blue Line's meaty "Leaning Tower of Pizza" (boasting marinara, fresh mozzarella, spicy pepperoni, sausage, bacon, roasted red bell pepper, and pesto drizzle).
Starting today and running through Oct. 2, when a customer orders one of the pizzas, 50 percent of their entire purchase will go to the respective charity. The purchase will also count as a vote for an opening-week "People's Choice" award.
Blast 825° will announce the top vote-getter during a public event at the restaurant on Oct. 2, matching all purchases (up to an additional $825) and embedding the pizza on its menu throughout October. (The restaurant will then donate an additional 30 percent of the custom creation's proceeds throughout the month to the winning organization.)
"We wanted to tie in a grand opening and a large pizza party—not only for the community, but for the charities within the community," Soderstrom says.
1132 Galleria Blvd. Roseville. 773-0880. blast825pizza.com
Related Links
Pizza chain Pieology to open on 16th Street this fall
Slice is right at Pizzeria Urbano, midtown's latest pizza spot
6 local spots to celebrate National Cheese Pizza Day, from slice to pie