Block Butcher Bar readies for Monday opening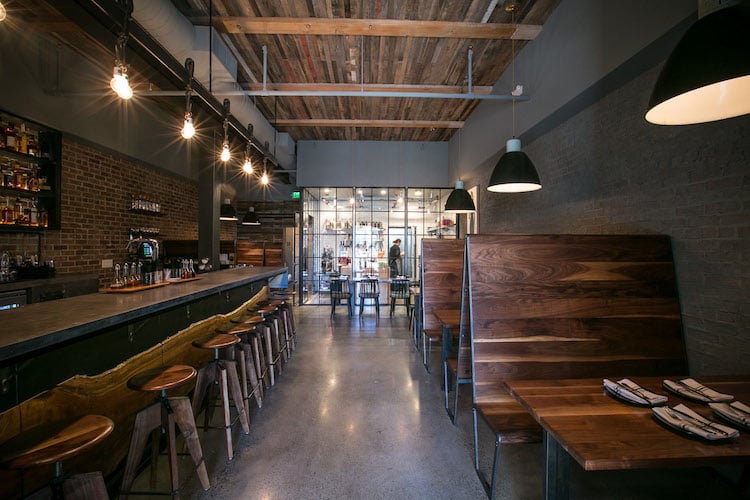 When restaurateurs tout their farm-to-fork credentials, it can be easy to be skeptical. Menus abound with terms like "local," "fresh," "sustainable" and other buzzwords, and while any chef worth his or her apron can explain the provenance of their food, there's still a supply chain that can tend to make the path of ingredients—meats in particular—from their source to your plate a little… vague.
There will be no such ambiguities at Block Butcher Bar, the new offering from LowBrau proprietors Michael Hargis and Clay Nutting. Located next door to their bustling beer-and-sausage destination at 20th and K streets, Block opens for business on Monday, Feb. 24, with craft whiskeys, rare microbrews and a meat presentation literally as transparent as it gets: Restaurant staff will break down pork for its house-made salumi, charcuterie and other carnivore cuisine in a glass butcher-block enclosure just off the dining room.
"If you see it, it's art!" says Hargis, who welcomed his and Nutting's investors to an invitation-only Block preview on Thursday night. He says that he first fell in love with the concept when a supplier with a farm near Fairfield invited him to a butchering exhibition there. "When I saw these artisans break down the meat," Hargis continues, "and teach about how it's broken down, I thought, 'This is the next evolution of farm-to-fork.' I mean, not only do you want to know where it's from, but you want to know how your food's produced."
The demonstration space has been in the works since before even LowBrau opened in January 2013 in the space formerly occupied by the restaurant and bar Lounge on 20. (Even the cleavers dotting the back of LowBrau's bar foreshadowed the more intensive developments to come.) The partners were using the vacant 1,100-square-foot space next door for kegs and storage when, last spring, their landlords informed them that they planned to put it on the market.
Later in 2013, Hargis says, word that a national chain had expressed interest in the vacancy "lit a fire under our butts" to fast-track a business plan and rough look for Block. Hargis, who coordinated LowBrau's design and has a background in architecture, drew the original conceptual sketch on a bar napkin.
Once the landlords signed off, Hargis and Nutting took the plans for Block to their LowBrau investors, who looked at the plans and doubled down on the new venture. "We thought we had something that would really complement what we were doing at Lowbrau," Nutting explains. "And we decided, instead of doing LowBrau Part Two, to do another brand that really complements what we were hoping to present."
The complementary approach is actually threefold. While that aforementioned meat grinder will stay busy supplying the artisanal sausage for Lowbrau (including a spicy fennel variety and an Andouille sausage made with fermented Fresno chilis), many of the regional meats handled in-house will provide the salumi and charcuterie that the proprietors say represents a stylistic evolution from Block's more famous neighbor.
Executive chef Michael Tuohy (who will oversee the kitchens at both restaurants, which share the hours of 11 a.m. to 2 a.m. seven days a week) will work with regional farms like Soil Born in Rancho Cordova, Chico-based Rancho Llano Seco, and Stone Valley in Alamo to provide the hogs—while also importing such world-class meats as jamon Serrano and jamon Iberrico. (In addition to cheese plates and pickled goods, Block will also feature pickled snacks and upmarket vegetarian dishes like the farro salad with tomatoes, kale, parsley, balsamic vinegar and olive oil.) The 21 available meats on the opening-day menu will be served in assortments of three, six and 12; prices range from $2 to $5 per ounce. Meanwhile, bar manager Dave Steinberg has curated scores of bourbons, Scotches and other whiskeys for his cocktail menu, also boasting bitters made in-house and sweet complements like Tuohy's peach cardamom preserves.
"There are a lot of restaurants around town that have what I call the obligatory salumi plate or cured meat plate," Tuohy says. "Everybody kind of feels like they have to do it. And nobody's really putting it in the forefront like we are. We built this place around that, essentially. I mean, brown spirits and cured meats. That's what this is about. Next door is sausage and beer. It's an extension to what we're already doing."
The team also brought aboard head butcher Brock MacDonald, formerly of Restaurant Thir13en, to manage the butcher-block work. "He has a pig tattooed on the side of his head, for God's sake," Hargis says. "We couldn't ask for a better guy. Before we opened, he got 'salt' and 'time' tattooed on his hands because he will be doing our in-house charcuterie. He's in it for the long haul, so that's cool."
Finally, a gourmet microdeli at the front of the restaurant will offer many of the Block's meats and other treats to go. "We want you to be able to come in here and stock yourself for a picnic for the day," Tuohy says.
For now, though, Hargis is happy to deliver to midtown the companion restaurant he says he always had in mind—the "darker, sexier and even dangerous, to a certain extent" counterpoint to LowBrau's bright, wide-open beer cathedral. And, of course, a little extra burnish of the brands' farm-to-fork creds. "Seeing the meat grinder in action in there?" Hargis asks, exulting. "It's pretty f–king cool."
Indeed. This is the one place where you actually do want to see how the sausage gets made.