Blue Trees Art Installation Coming to Sacramento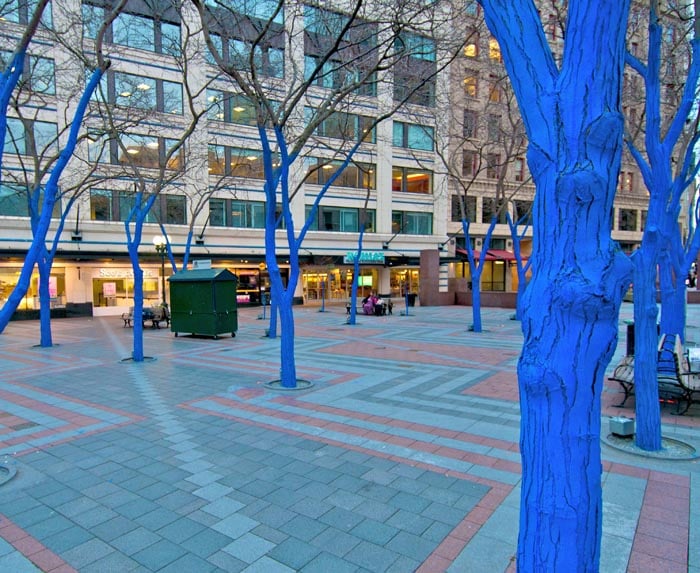 Get ready to paint the town…blue.
On Oct. 9, Australian artist Konstantin Dimopoulos will begin coloring about 20 sycamore trees on both sides of 13th street between J and K streets in downtown Sacramento, flanked by the convention center and the Sheraton Grand Hotel. Using eco-friendly, bright, ultramarine blue pigment, the artist will make a bold urban design statement while hoping to draw attention to global deforestation issues.
To date, Dimopoulos has created the project in Melbourne, Australia (2006), Vancouver, Canada (2011), Auckland, New Zealand (2011) and Seattle (2012). Sacramento will be the fifth "Blue Trees" city before the Dimopoulos takes his project to Gainesville, Florida in late October and Houston in 2013. The artist is currently in discussions to expand the project to New York, Boston, Liverpool and Vienna.
In addition to the 20 large sycamores, an additional 40 or more saplings will be painted and eventually planted at a site yet to be determined. The leaves won't be painted.
After Sactown published an article in our June/July issue suggesting the "Blue Trees" project would be a perfect fit for the City of Trees, the Sacramento Tree Foundation formed an exploratory committee to bring the art installation to Sacramento in time for the national "Partners in Community Forestry" convention, happening at the Sacramento Convention Center from Nov. 14 to 15.
The Tree Foundation quickly partnered with the Sacramento Metropolitan Arts Commission, the Sacramento Convention & Visitors Bureau and Sactown magazine to help organize and fund the event. In only about a week's time, the team raised approximately $25,000 from community groups and leaders to make the project a reality. Dimopoulos and his wife-manager Adele Dimopoulos visited Sacramento in August to visit potential sites and meet local officials and donors.
With the help of volunteers, Dimopoulos will paint the trees over the course of five days (Oct. 9-13). The paint is expected to last until the bark begins to shed in spring, so the trees will remain blue for approximately six months.
Dimopoulos will also be speaking at the TEDx conference entitled City 2.0 on Oct. 13 at the Crocker Art Museum.
To learn more about the artist, visit his site here, or watch a short video about the Blue Trees project here.