Blue Trees Video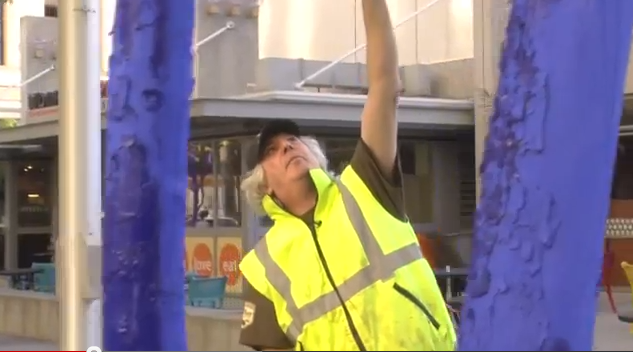 A new video by Laurence Campling, with time-lapse photography by Wesley Davis and Peter Saucerman, captures the making of the Blue Trees project in Sacramento last month. During the week of Oct. 9, Australian artist Konstantin Dimopoulos brought his Blue Trees project to Sacramento to draw attention to global deforestation issues. The Sacramento Tree Foundation, Sacramento Metropolitan Arts Commission and Sactown Magazine formed the core of a group that brought the project to Sacramento.
For the installation, Dimopoulos and community volunteers painted 20 large sycamores on 13th street between J and K streets with an ultramarine blue eco-friendly pigment that will last until the trees shed their bark in the spring. The team also painted 40 saplings that will be displayed around town until a permanent home is found for them.
To date, Dimopoulos has created the project in Melbourne, Australia (2006), Vancouver, Canada (2011), Auckland, New Zealand (2011) and Seattle (2012). Sacramento is the fifth "Blue Trees" city. Dimopoulos then took his project to Gainesville, Florida in late October, and he will take it to Houston in 2013. The artist is currently in discussions to expand the project to New York, Boston, Liverpool and Vienna.
Sactown originally published an article in June of this year, suggesting the idea for Sacramento.