Bold Sacramento
With the new arena coming to downtown, Old Sacramento has an opportunity to shine like never before. Here are a few ideas to turn something old into something bold.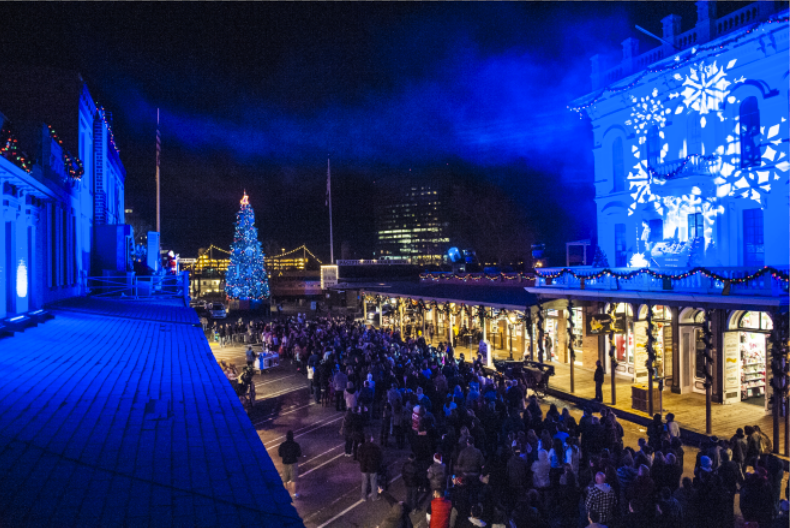 In coming months, a wrecking ball will level much of Downtown Plaza to make way for a gleaming new arena. If all goes well, the project will have a ripple effect that sweeps across the central city and beyond.
And while much of the focus will be on new developments that will take shape in the wake of the arena's impact, one of the oldest developments in town stands to gain as well.
Old Sacramento lies a mere three blocks from the arena that promises to attract more than a million visitors per year. In anticipation, merchants in the historic district have voiced their excitement, but also some trepidation. Will the arena consume every last parking spot in the area or negatively affect traffic (and thus business)?
Both are valid questions, but to my eye, it also represents an opportunity to reintroduce Old Sacramento to the many thousands of arena patrons who have, for the past 29 years, had little more than chain restaurants and stores to choose from during their pre- or post-game rituals, assuming they ventured past the parking lot boundaries of the Natomas arena at all.
And Old Sacramento already has a running start. In a city that has only recently learned to prize the value of civic authenticity—via the spectacularly successful farm-to-fork movement—our historic riverfront district is as authentically Sacramento as it gets. It reflects three of the city's most historic moments, each of which impacted the country and, to some degree, the world—the Gold Rush, the Pony Express and the Transcontinental Railroad.
After nearly being leveled by a wrecking ball itself in the pre-preservationist 1950s, and having survived the city's most boneheaded urban planning mistake ever—cutting the city off from its riverfront with Interstate 5—Old Sacramento has steadily found its footing over the decades, starting with its original modern-era tenant, The Firehouse Restaurant, which opened its doors in 1960 when most of the area was still considered a slum, and most recently with the Theatre of Lights, the annual Disneyesque holiday light show and celebration.
But with all its historical charm, unsurpassed riverfront location, and its ever-improving roster of tenants (although, it still counts about five T-shirt shops too many), it could still benefit from what Walt Disney called "plussing it." Even if something was great, Disney wanted to push it a bit farther. Whether it was for his films or his theme park attractions, he tasked his team to "plus it" for that extra something. Old Sacramento needs to do the same.
Now, I fully realize that even mentioning Disney's name in the presence of a preservationist or historian are fightin' words worthy of an old fashioned cowboy shootout. The word "Disneyfication," after all, is used by many in a pejorative manner. But in the context of Old Sacramento, I believe it's a thoroughly misguided reaction, especially in a historic district that doubles as a commercial one.
Just hear me out.
Did you know, for example, that its Main Street Electrical Parade was inspired by the world's first electrical parade, held in downtown Sacramento in 1895? Or that the engine of the Disneyland Railroad train (named the Lilly Belle for Walt's wife, Lillian) was based on a locomotive produced in Sacramento's historic railyards?
So in the interest of fairness, it's time Old Sacramento borrowed a few ideas from Walt.
First up, and most important: Music. Walt didn't invent it, but its contribution to Disneyland's success can't be overstated. It subconsciously sets the tone in every corner of the park. Sometimes it's front and center in a parade or show, or coming from a live performer, or simply emanating through hidden speakers throughout the park. But it's always there, always tickling your senses and elevating your mood  even when you don't even realize it.
In Old Sacramento, with the rare exceptions of the occasional live street musician or an annual event like the Sacramento Music Festival, the district is often devoid of music, relying solely on the fleeting, wonderful sounds of horses clomping down the cobblestone streets or a train's whistle puncturing the silence now and again.
Of all places in Sacramento, this historic district that looks like a Hollywood set begs for the sound of music. The magnificent wooden boardwalk that overlooks the river is the perfect place for, say, live Dixieland jazz bands to play every weekend. (Speaking of jazz, please bring back the jazz festival. Having the Music Festival is fine, but it's just not unique, and we need as many unique events as we can get. Perhaps we can do both?)
And for the other days of the week, encourage street performers to play on every corner (maybe hold a competition, à la American Idol, to get people excited about becoming one) or pipe in recorded music via speakers. Old Sacramento deserves its own soundtrack (and it will help drown out the buzz of the ill-placed freeway next door).
Next up: Performers. In Disney parks, employees aren't called employees. They're called cast members, because they're on "stage" all the time. Old Sacramento does a fantastic job with its Gold Rush Days and other events that embrace historical reenactments, and you can spot a few "cast members" around the area from time to time, like during the underground tours that start on April 5 this year. But having staff in period costume should be an everyday occurrence, from shopkeepers to blacksmiths to cowboys who can double as storytellers, bringing history to life.
Another key ingredient: Food "experiences." Sure, there are plenty of great places to eat in Old Sacramento, but in Disney parks, you can see and smell the food everywhere you go. Not only are the candymakers and bakers positioned right in front of large plate-glass windows that face the sidewalk, but Disney also pipes the aromas of, say, freshly baked cinnamon rolls or warm chocolate chip cookies through vents, ensnaring passersby on Main Street.
Old Sacramento has the Rocky Mountain Chocolate Factory, and its candymakers do create some of their sweet confections in the middle of the shop, but push that table right up against the glass facing the sidewalk. Not only will that draw more crowds, it will add to the sensory experience of everyone walking by. It becomes a public performance.
Another crowd-pleaser: Light. As mentioned above, the district's annual holiday show, Theatre of Lights—during which the story of Old Sacramento, along with "The Night Before Christmas," is told by lighting the buildings on a block-long stretch of K Street—is quickly becoming a Sacramento tradition, but it only plays for about a month a year. Here's where Disney applies again.
In 2010, the Walt Disney Company descended on Old Sacramento for a few days to build buzz for its then-new "World of Color" attraction in Disney's California Adventure Park. The company set up shop on Second Street for a few nights as it projected an eight-minute animated show (some of it Old Sacramento-specific) on the façades of several of the buildings, complete with music. It was a truly extraordinary spectacle, and one that, in some form or fashion, should be a regular feature. Some of Disney's and Pixar's top animators are from the Sacramento region; perhaps they could help.
On the topic of light, how about flickering streetlamps that emulate candlelight? Also, a few years ago, the district floated the idea of illuminating a sunken Gold Rush-era ship and building viewing platforms to allow visitors to see it. How cool would that be? And perhaps this is the perfect place to recreate the electrical light parade that Disney borrowed from us so many decades ago. It was ours in 1895; let's reclaim it.
Old Sacramento is a true civic treasure, but it also remains a partially buried one, both literally and figuratively. With millions of new visitors coming to downtown in just a few years and just a few blocks away, there's no time like the present—or in this case, the past—to "plus" one of our region's top tourist draws, and make it a bigger draw for locals, too.
The new arena promises to be the most technologically advanced in the world—a virtual Tomorrowland of technology, if you will. But we have America's original Frontierland right here at our doorstep. Let's bring back that pioneer spirit and make sure Old Sacramento doesn't get lost in time.