Brew and 'Cue
Ten years after conceiving the idea, two longtime beer buddies open Urban Roots Brewing & Smokehouse, where they hope to bring neighbors and strangers together, one glass of saison and tray of brisket at a time.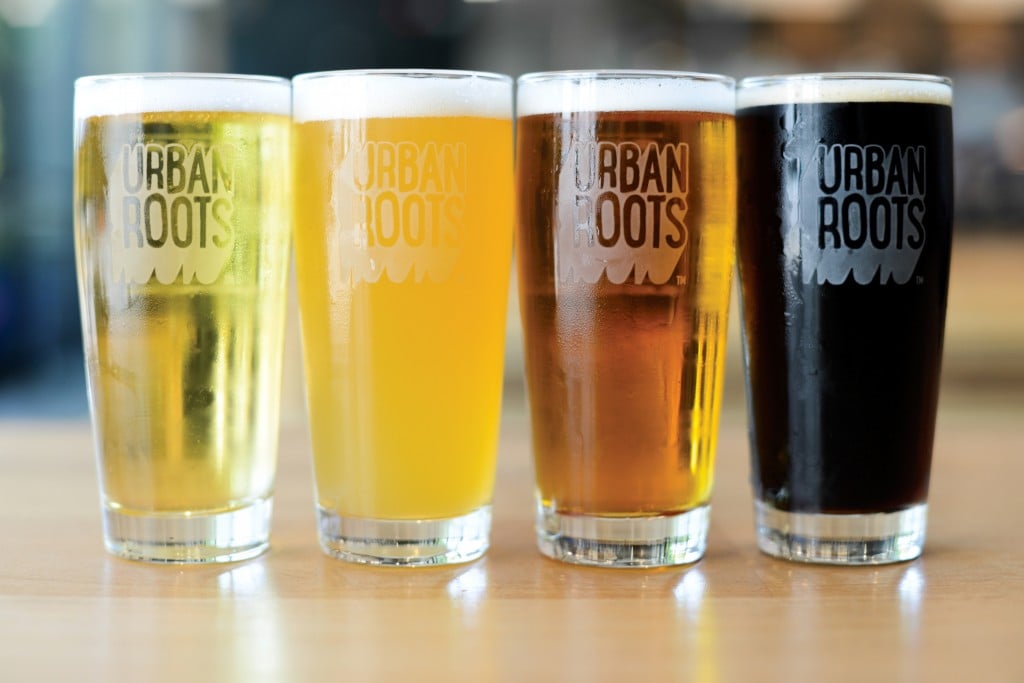 Urban Roots
Brewing & Smokehouse
1322 V St.
916-706-3741
urbanrootsbrewing.com
T"This project was just a promise between friends," says Rob Archie of the new Urban Roots Brewing & Smokehouse. He and co-owner Peter Hoey dreamed up the taphouse and restaurant nearly 10 years ago—they even drew up plans and formed an LLC—but the timing wasn't right (Hoey was just about to start a job with a
beer supply company that would require him to be on the road). "I'd tell him, 'I'd  love to do a brewery, but I'd never do it without you.' "
So they put their joint project on the shelf. In the meantime, Archie struck out on his own and opened Pangaea Bier Cafe in 2008 in Curtis Park, and the two continued to bond over their shared love of beer, particularly saisons— seasonal beers that are typically made from native or wild yeasts—even traveling to countries like Germany and Belgium to taste suds together.
Then in 2016, a massive, 17,000-square-foot brick-and-concrete industrial space at 14th and V streets in downtown Sacramento became available, and the beer buddies decided to finally dust off the blueprints.
"I was on the road 70 to 80 percent of the time and I have three young kids at home," says Hoey, formerly the head brewer of Sacramento Brewing Company. "So I was already kind of thinking, 'OK, it's getting to the point where I need to look after my family and transition back to a mostly local job.' That was right around the same time we discovered the building. And Rob was like, 'Well, you know what that means, right?' "
"When we found this location, it really brought together everything we wanted to include in a project," Archie says. The duo wanted to offer a "third place," a space outside of home and work where folks can come together and catch up with old friends or meet new ones over a pint. "If you don't have third places, where else do you connect as a community?" Archie asks. "It's important to be able to walk to coffee shops, pubs and [other] places where there's communal seating."
Thus, in May, he and Hoey launched Urban Roots Brewing & Smokehouse, a barbecue restaurant and taproom that's designed to entice people to pop in and strike up a conversation with strangers (or potential future friends), from its oversize picnic tables on the patio to its spread of Texas-style house-smoked meats.
"Barbecue is a festive food," Archie explains. "When you barbecue, it's not like you're doing it for one or two people. Most of the time you're doing it for a block party or family. We wanted that feel in here."
To achieve that feel, Archie turned to Pangaea's executive chef Brett Stockdale and sous chef Gregory Desmangles. In turn, Stockdale—whose background includes a stint at midtown's Mulvaney's B&L, where he worked the grill and roasted whole hogs—commissioned a custom smoker from Mesquite, Texas, that can cook up to 1,800 pounds of meat at a time (the chef says they currently smoke about 300 pounds of brisket, 200 pounds of ribs and 200 pounds of pork shoulder per day). The 6.5-ton behemoth also has a firebox in the back that is loaded with almond and oak logs, which burn hotter and emit a lighter smoke than the typically used wood chips or pellets and are key ingredients for producing a cleaner flavor.
"When you eat barbecue, it's not supposed to taste like smoke. You're supposed to taste the meat," says Desmangles, who has taken on the role as head chef at Urban Roots (Stockdale holds the title of executive chef at Urban Roots and Pangaea) and draws inspiration from his recent visit to Franklin, the celebrated barbecue spot in Austin, Texas, where devotees form famously long lines for the brisket, which is rubbed with mere salt and pepper before being smoked with post oak wood. "The smoke was sweet on it, versus other barbecue where the smoke is overpowering," recalls Desmangles, who uses a secret four-spice blend to season his brisket, which he serves naked (with a quartet of sauces that acts as optional condiments). "The power of simplicity is what it comes down to."
Other standouts include the juicy, tender turkey—prepared over a three-day process that involves brining and air-drying—and spicy house-made pork sausage. All the meats are presented on trays alongside cups of Southern-inspired sides like poblano cheese grits, collard greens and coleslaw. The sides are variations on the foods served at Desmangles' family table while he was growing up in Woodland, the recipes passed down from his Louisianan grandparents. "Yams, greens, barbecue beans—it's a lot of stuff I've grown up with and were staples at barbecues, Christmas and Thanksgiving," he says. "These are things I've eaten. It makes it that much more personal and I think this expresses what we're trying to do, where it's a space for people to come, eat their food, be comfortable and feel at home."
The homey vibe is further enhanced by the warm woods and earthy materials throughout the airy, open space. Large picnic tables—hewn from knotty alder wood by Loomis furniture company 48 Planks—inhabit the 3,300-square-foot patio, which looks into the main dining area through the building's original floor-to-ceiling windows and bears a highly Instagrammable, Where's Waldo-esque mural designed by local illustrator Lily Therens (the 14th Street façade of the building sports a piece by Sacramento artist Maren Conrad featuring two Converse-clad feet mid-step). Inside, a rugged concrete communal table provides textural contrast to the sleek metal stools. Behind the quartz bar, 48 taps pour a rotation of Urban Roots' beers, as well as collaboration brews (for example, a partnership with Maui Brewing Co. resulted in a lime- and ginger-infused ale aged in Hawaiian rum barrels) and guest draughts.
While house-favorite saisons—the name Urban Roots is a reference to brewing the farmhouse ales in a downtown environment—will always be well represented, the drinks menu features a diverse variety of styles, like the recent Nice to Meet You, a funky unfiltered pale ale, and Push to Start, a porter with hints of coffee, cocoa and vanilla. "We wanted something light, something dark, something Belgian, something American—a full complement of tastes and flavors for everyone who comes through our door," Hoey says.
And while his new brews may have already gained a following (three of them, the Tomorrow's Verse saison, Like Riding a Bike IPA and Bier de Roots petit saison, all medaled at the 2018 California State Fair), Hoey likes to mix up his lineup, trying different hops, yeasts, beer styles and techniques in an effort to constantly offer something different. "People don't walk into a bar and ask for their favorite beer anymore. They walk in and ask for what's new," he says. "So we may not have the IPA you had last week, but we'll have an equally delicious one this week."
With an IPA or saison in hand, Hoey and Archie can now look out on Urban Roots, a decade after hatching the idea for it, and drink to the fact that it's finally here. "You always have the fear when you're opening a new spot: 'What if people don't like it? What if they don't get it?' " says Hoey. "Seeing it packed on a Friday night—the fact that enough people like it so we get to keep the lights on and keep making beer—is really satisfying and validating."S