Brushes With Fame
Artist David Garibaldi has been wowing Sacramento crowds for years with his full-throttle live performances. But now this one-time graffiti-loving troublemaker is going global with the world's largest entertainment company. Meet the man who's putting the "dope" in Dopey.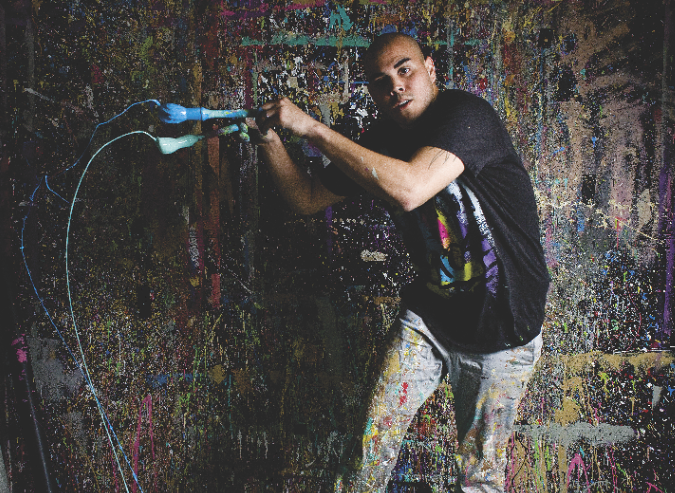 DDavid Garibaldi prowls the stage in front of a huge black canvas, the bright lights making his shaved head glisten. When the bass-and-drum beat kicks in, he thrusts forward, a paintbrush gripped in each hand. Sometimes delicately, sometimes violently, he strokes the canvas. A swash of blue here. A slash of white there. After about half a minute, he steps back and stares at the still indistinct image, swinging his arms side to side to the music's rhythm, his dark T-shirt rippling across his rangy frame. The crowd's murmur builds. A moment later, he stalks in again, first bending down to stab his brushes into containers of paint at the foot of the canvas, then uncoiling upward and attacking once more. A portrait starts to emerge. There's part of a face in profile topped by a shock of dark hair. Who is it? Kanye West? Jimi Hendrix? Elvis?
During a typical 45-minute show, Garibaldi may paint all three, plus one or two more—Marilyn Monroe, Bob Marley or another of the more than 100 celebs whose visage he can create in a fast and furious five or six minutes, taking time between each portrait to chat up the audience. It's a hypnotic and physical display, Jackson Pollock meets hip-hop. Which is to say, there isn't a whole lot about what he does that screams… Disney.
But here's the thing: After watching one of Garibaldi's shows in Las Vegas in 2007, execs from Disney Fine Art, one of the entertainment company's farthest-reaching attempts at serious art, tapped the Sacramento painter turned international pop-culture sensation to take part in the program. They have commissioned him to paint Mickey Mouse, Donald Duck and other famous Disney characters in his singularly kinetic style, making him one of only 26 artists worldwide to be chosen for the venture.
"They're really introducing me to a whole new audience," says the 26-year-old Garibaldi, who lives in Elk Grove with his wife, Joy, a few miles from the Vintage Park home where he grew up. "And at the same time, they're introducing their audience to me." As part of that ongoing introduction, Garibaldi will paint three Disney characters during a June 13 show at Stage Nine art gallery in Old Sacramento.
The Disney deal marks just the latest success for a rock-and-roll performance painter whose fusion of creativity and commerce has ignited a suddenly soaring career. He has coveted agreements with the estates of Presley, Hendrix and Marley to sell his posters and portraits of those late music icons in exchange for royalty fees. He's had face time on MTV. Then there's his L.A.-based clothing line (he came to a recent interview wearing a Garibaldi "Obama Quest" T-shirt). He's also opened for Snoop Dogg and performed with Tommy Lee, and last year he dropped by the Playboy Mansion, where Hugh Hefner sat for a portrait. All of that in addition to a tour of Canada with the world-renowned Blue Man Group that began last fall and resumes in October.
So it's a rock-star life?
"Without the egos," Garibaldi says with a soft laugh, sipping iced tea at Temple coffee house downtown, not far from his studio loft in West Sacramento. On a typical non-touring day, he arrives at the studio by 10 a.m. and spends several hours tending to business matters with Joy, who he speaks of as his muse, manager and strongest supporter. Then he heads upstairs to sketch or paint, sometimes staying as late as 10 p.m., driven by a passion that, in a kind of happy accident, has also made him a global brand, with art auction sites like The Collection Shop selling his originals for as much as $17,000. "People would probably laugh about it," he says, "but to this day, I don't have a business plan."
Business plan or no, his ability to straddle two worlds as far apart as Playboy and Disney serves as a riposte to any critic who might dismiss Garibaldi's act as a mere party trick. Indeed, Noka Aldoroty, director of Disney Fine Art—which is part of Southern California-based Collectors Editions, the line's exclusive global publisher—regards Garibaldi and the man behind Mickey Mouse as kindred spirits. "Walt Disney once said, 'I don't pretend to know anything about art. I make pictures for entertainment,' " says Aldoroty, whose firm ships Garibaldi's Disney works—which fetch anywhere from $500 for a signed print to $6,000 for an original—to galleries around the world. "David Garibaldi certainly knows a thing or two about art, and obviously so did Walt Disney, despite his modesty. But also like Walt, David makes pictures that above all have the ability to entertain."
In a sense, Garibaldi's work for Disney brings him full circle artistically while taking him farther away from a not-so-distant past that, as he tells young audiences when performing for them, veered into delinquency. Growing up in Vintage Park—dad owned a small popcorn company before going to work for Jelly Belly, mom still runs a hair salon in Elk Grove—he drew Disney characters and dreamed of working as an animator. But by the time he reached his teens, his creative pursuits had turned less innocent. He ran with a graffiti-scrawling crowd, defacing property across South Sacramento and falling into a pattern of slack behavior that delayed his graduation from Sheldon High School.
"I was definitely a follower at that time, going along with other people," Garibaldi recalls. He found his own path when Shawn Sullivan, an animation instructor at the school, urged him to apply his talent to less destructive ends. "Sullivan said, 'Look, you're doing the graffiti thing, but I want to show you how to bring your paintings to life.' " From his mentor, young David learned about detail, color, shading, highlight—and the virtue of practice. Garibaldi began to devote long hours to drawing and painting, and a few years later, at age 20, he decided to give himself to his craft, poverty be damned.
"When I first started teaching myself how to paint six and a half years ago, I made a conscious decision to live my life as if there were no second chances," he says. "My car was repossessed. I was about to get evicted from my apartment. I was malnourished."
True to the starving artist parable, his first sale was actually a barter to keep a roof over his head. The owner-manager of his apartment complex at 26th and N streets generously offered to give him two months' rent credit in exchange for Garibaldi painting an aquarium mural on the building's facade. The image remains, an early public work of a local kid gone global. "It's kind of become this landmark in midtown," Garibaldi notes with pride.
Around the same time, he started performing live late-night painting sessions at Fox & Goose, working with an ensemble that included a drummer, bass player and DJ. When the DJ bought one of his finished pieces—for $100, which was $200 less than the asking price—Garibaldi began to consider himself a professional artist. Soon after, he discovered the work of Denny Dent, an Oakland-born speed-painter who rose to fame in the '80s by engaging his audience while creating portraits of rock stars. Garibaldi saw his destiny come into sharp focus.
The concept of putting brush to canvas before a live audience has been around as long as art itself. But in "Rhythm and Hue," Garibaldi's title for his public shows, he delivers a performance as much as he creates art, melding color and light, sight and sound. In less time than it takes most audience members to dress for his show, he completes full-blown, 6-foot-tall portraits of just about any pop icon you can name: Carlos Santana, Albert Einstein, Martin Luther King Jr., Tina Turner—on and on. He paints some pieces upside-down, the image's identity only becoming clear when he finishes and flips the portrait around with a toreador's flourish, a moment that invariably elicits wild cheering. Between the hip-hop and rock music pulsing in the background and his Kanye-like stage presence, he says, "It's really like going to a painting concert."
His show obviously caught the attention of Disney, and his upcoming appearance at Stage Nine marks one of his first as a member of the company's Fine Art program. In February, he performed at the Walt Disney Studios in Burbank for an audience that included Roy E. Disney, nephew of the late Walt; Garibaldi painted a portrait of the uncle as an homage.
"David has such energy and enthusiasm, and he's totally unique in his style," says Troy Carlson, owner of Stage Nine, which is one of only two Disney Fine Art galleries in Northern California. Adds Aldoroty, "He has that rare combination of the creative Disney sensibility and a skill to inspire people."
Garibaldi has raised more than $400,000 for various charities, with a goal of reaching $1 million by the time he hits 30. But there's another reason he keeps returning to the stage even as his studio work nets five-figure sums: He wants to steer high school students and younger kids clear of the bad choices he made earlier in life. "What we're talking about is a bunch of things that don't cost a lot of money—some cans of paint and a canvas, things of little or no value," Garibaldi says. "I used those things to turn my life around."
Once, he was a kid who dreamed of working for Disney. Now, his own urban take on Mickey Mouse, titled Street Mouse, sketched and painted in West Sacramento, hangs in galleries across the globe. Maybe it's a small world after all.