California Dreamin'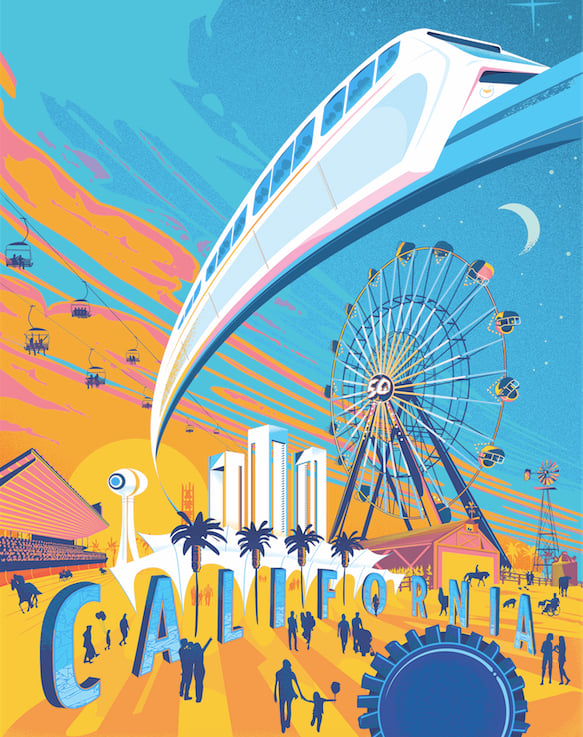 To mark its 50th anniversary at Cal Expo this year, the California State Fair is going back to the drawing board—literally—with a commemorative poster that's a picture-perfect homage to the location's fairy-tale beginning. The artwork, created by local illustrator (and longtime Sactown art director) Jason Malmberg, is a visual nod to the fact that the fairgrounds were originally dreamed up by former Disneyland executives and engineers, with its vibrant, sunset-inspired color palette and minimalist style reminiscent of the theme park's vintage posters that touted attractions like the Matterhorn, Pirates of the Caribbean and Space Mountain.
The concept for the design came from Amber Witzke—senior art director for the fair's marketing firm Uncommon and Malmberg's fiancée (the two share a love of Disney and have some of the classic attraction posters decorating their home)—who says that because the idea was to commemorate Cal Expo's inception, "it was the perfect time to recognize its tie to the 'Happiest Place on Earth.' "
"Part of our charge as a state fair is the celebration of our past," adds Rick Pickering, CEO of the California State Fair. "[The poster] does a wonderful job of showcasing some traditional iconic elements." Indeed, the piece—which will be on display at this summer's event (July 14-30) and is available for purchase at castatefair.org ($15-$25)—features venue landmarks like the monorail (whose arc of motion is meant to "bridge the past to the present and the future," says Malmberg) and water tower (sporting the original mod paint job from 1967). It also showcases the iconic "CALIFORNIA" letters that once welcomed visitors to Disneyland's California Adventure and were donated in 2013 to Cal Expo, where they'll hopefully live happily ever after.
For a deeper look into the design process, visit Jason Malmberg's website decabet.com.