California Museum opens Unity Center with block party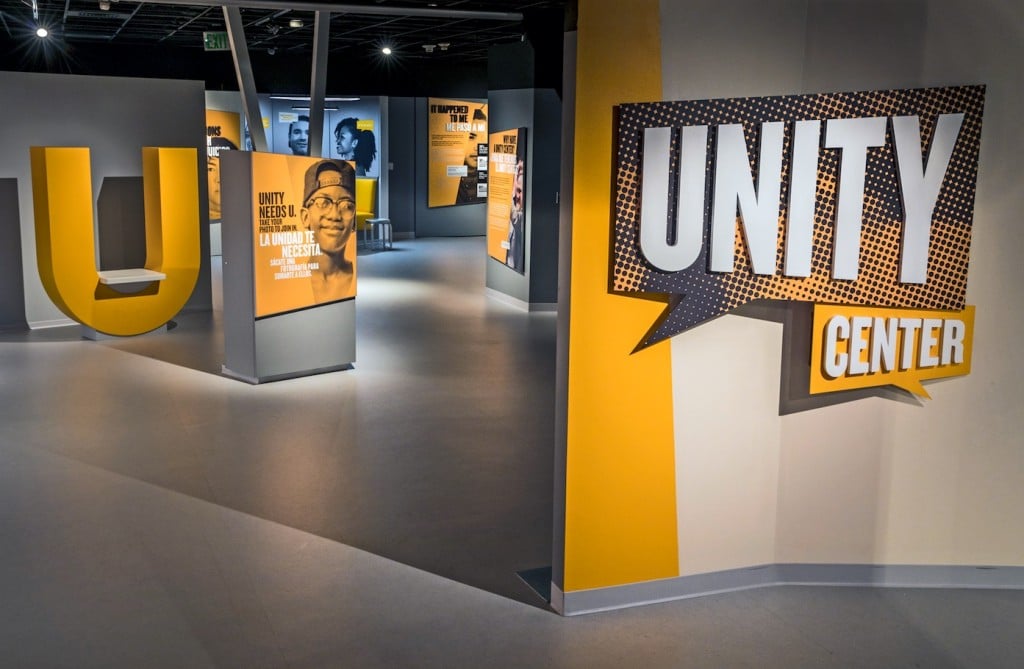 Stop a bully. Design a civil rights campaign T-shirt. Register to vote. Visitors to downtown Sacramento's California Museum can learn how to do these things and more at the Unity Center, which opens inside the second floor of the museum Aug. 26.
The permanent 4,000-square-foot exhibit celebrates the state's diversity and civil rights history, featuring interactive stations like Facing Assumptions, which lets folks listen in on recorded video conversations among marginalized groups, from Muslim-Americans and undocumented immigrants to transgender people. Guests can also share their own stories via videos that will be compiled for the museum's YouTube channel. Another station titled Courage to Act seeks to inspire visitors to take a stand against harassment and bullying by showing animated situations and determining which bystander will change the course of action.
"That is really the crux of what this exhibition is about—that hate and bigotry come from misconceptions and stereotypes," says Brenna Hamilton of the California Museum. "This project has been in the works for a really long time and there is no way anyone could have known that [these topics] would have been so relevant now once again."
The Unity Center was conceived in response to the 1999 "Summer of Hate" attacks in Northern California, during which white supremacists set fire to several Jewish synagogues in Sacramento, murdered a gay couple near Redding and committed several other hate crimes during a four-month period of violence. Shortly thereafter, former mayor Joe Serna and a coalition of local civic leaders announced plans to build the Unity Center. The project halted during the 2008 recession, but in 2014, the California Museum, with the support of now-mayor Darrell Steinberg, took on the venture.
To commemorate the Unity Center's opening day, the California Museum will host a block party with free admission to the museum. Steinberg will deliver a welcome address and Lisa Ling, Carmichael native and host of CNN's This is Life with Lisa Ling, will moderate a civil rights panel discussion featuring labor activist and Presidential Medal of Freedom recipient Dolores Huerta, Stuart Milk of the Harvey Milk Foundation, state senator Holly Mitchell and Daniel Hahn, Sacramento's first black police chief.
Along 10th Street, which will be closed for the event, visitors can watch performances by local cultural groups like the Aloha Dancers, Sacramento Gay Men's Chorus, Instituto Mazatlán de Bellas Artes and the Maquilli Tonatiuh Aztec Dancers. Kids can decorate a community mural and screen print handkerchiefs with the Unity Activist logo, while grown-ups grab fare from food trucks like Cousins Maine Lobster and Wandering Boba or brews from Bike Dog, Jackrabbit and Rubicon at a beer garden.
The Unity Center block party is free and will take place Aug. 26 from 10 a.m.-4 p.m. at the California Museum at 1020 O St. For more information about the Unity Center exhibition and the block party, call 653-7524 or visit californiamuseum.org.
You Might Also Like
California Museum presents rare artifacts from Hollywood's Golden Age
Q&A with actor and Social Activist George Takei
Local group launching campaign to relight the Tower Bridge with LEDs