Capital Dance Project leaps from the stage to the streets and our screens in new digital video series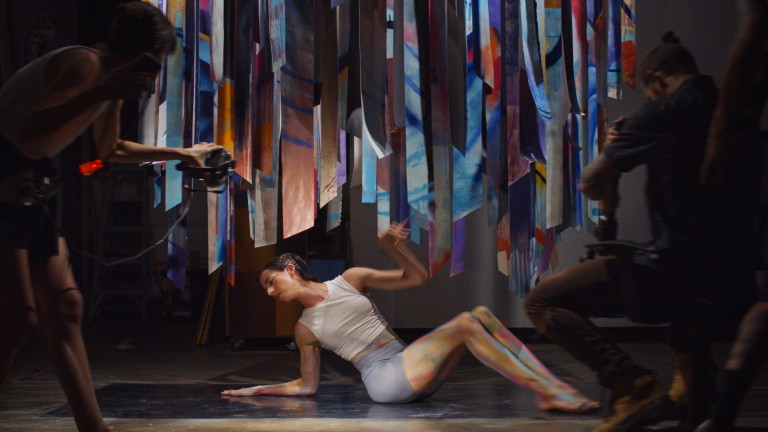 From a waterfront ballet to a rose garden boogie, all of Sacramento is a stage in Capital Dance Project's new digital dance series, which began Aug. 26.
After the company's sixth annual Behind the Barre show—an elaborate production of visual art, dance and music—was postponed due to COVID, members reimagined the event as a virtual series of 11 new works, each showcasing a different part of Sacramento. The original performances, which are each three to seven minutes long, are released and then archived on the company's website and Instagram every Wednesday and Saturday in September for free, with a presentation of all the vignettes, including behind-the-scenes clips and cast Q&A, available on Oct. 2.
"COVID seems like it's not going anywhere, so we have to be more imaginative and creative in how we present our work as artists," says dancer and Capital Dance Project co-founder Alexandra Cunningham. "We want to explore what art looks like in this new world."
Each of the 11 choreographers worked with filmmaker Brandon Manning to execute their vision. No longer confined to the Crest Theatre, which has been Capital Dance Project's home stage since its inception in 2015, Manning weaves around the dancers with his handheld Blackmagic Design camera, capturing movement from every angle and simultaneously turning the locations—from downtown rooftops to the under-construction Railyards—into characters in the performance.
In Over You, dancers and choreographers Anthony Cannarella and Isabella Velasquez immerse themselves in a baptismal American River, their sensual movements evoking the rite of passage that is lost love and heartbreak, while jazz vocalist Julie London belts out her signature song "Cry Me a River" in accompaniment. In contrast, Rex Wheeler's forthcoming shelter-in-place-inspired work features Cunningham dancing within the confines of an LED-illuminated prism (or prison, depending on your perspective) constructed by local artist Alex Trujillo.
Other acts include a silent-film-style ballet at the Old Sacramento Waterfront and a fast-paced interpretive number set to Bach's "Badinerie" at the World Peace Rose Garden in Capitol Park.
"Our motto for this project has been 'creativity perseveres,' " says Cunningham. "So many lives have been turned upside down this year, but we want to uplift our community and demonstrate that there's always a positive way to be expressive."
New films are released every Wed. and Sat. at 6 p.m. through Sept. 26. A compilation of all performances along with behind-the-scenes footage will debut Oct. 2. capitaldanceproject.org
You Might Also Like
Get a behind-the-screens look at artist workspaces during this year's virtual Sac Open Studios event
Wide Open Walls gets set to paint the town in 2020
Stay healthy at home with virtual workouts from local fitness studios and gyms