Celebrate fall at 7 great pumpkin patches around town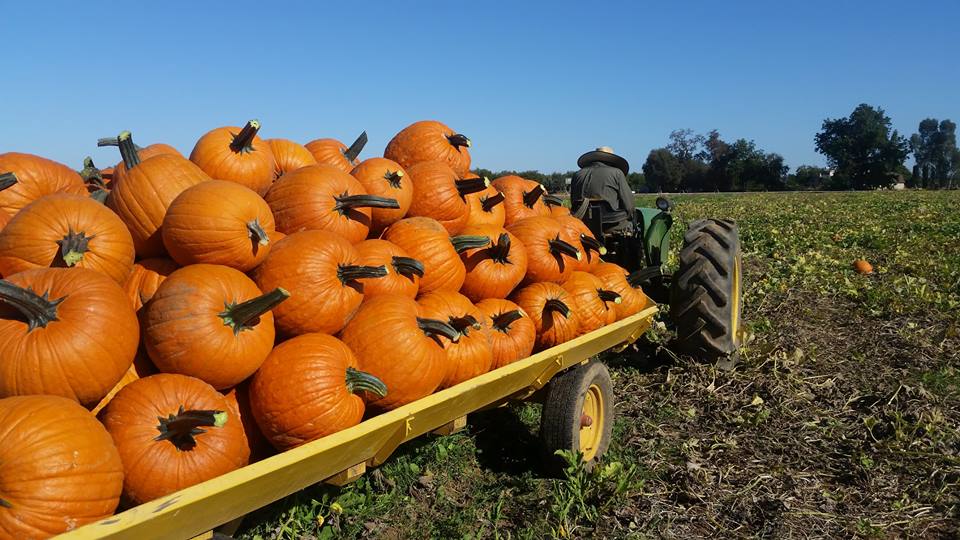 October is just around the corner, bringing with it autumnal activities and a chance to roam the region's pumpkin patches for the perfect jack-o'-lantern canvas. Sip apple cider slushies, get lost in corn mazes and bounce around on hayrides at these seven great patches.
Bishop's Pumpkin Farm
Though Oct. 31 Like an amusement-park-meets-county-fair, this 90-acre farm in Wheatland is tailor-made for hours of exploring. Wind your way through the 3.5-acre corn maze, go hog-wild at the "Naspig" races, catch a train through the apple orchards, or take a hayride to the pumpkin patch—where you can choose from 50 different varieties of the autumnal squash. Adrenaline junkies can line up for a 200-foot zipline, and foodies can queue up at the Cider Mill or Mrs. B's Country Bakery for goodies like French apple pie, homemade fudge and apple cider slushies. 9 a.m. to 6 p.m. daily. 1415 Pumpkin Ln. Wheatland. 530-633-2568. bishopspumpkinfarm.com
Bluestone Meadow
Oct. 1-30 At the site of a 20-acre ranch in the Apple Hill region that has been occupied since the late 1860s, Bluestone Meadow changes with the seasons from a Christmas tree farm to a lavender farm to a pumpkin patch, growing several varieties of the squash, including heavy Challengers, deep orange Wolf pumpkins, white New Moons, and baking-friendly sugar pumpkins. Meander through the bucolic grounds and pick up a jar of lavender honey on your way out. 10 a.m.-4 p.m. Sat. & Sun. 2025 Carson Road. Placerville. 530-621-1830.
Bobby Dazzler's Pumpkin Patch
Oct. 1-31 At this Davis pumpkin patch, you can get lost in the spirit of Halloween inside the Milo Maze, a two-acre web of corn that often takes guests 40 minutes to conquer. Little ones can get their faces painted, go aboard the cow train, and pay a visit to the petting zoo, which features a tortoise named Dozer who is in his mid-twenties. Bobby Dazzler's is also home to gourds and squash galore—150 varieties to be exact—meaning you'll find the perfect pumpkin for your jack-o'-lantern creation, or acorn squash and bottle gourds for decorating the table. Weekdays 12-7 p.m. Weekends 10 a.m.-7 p.m. 23300 County Rd. 99D. Davis. 530-876-4167. yourpumpkins.com
Cardanini's Pumpkin Patch
Oct. 1-30 In Placerville among the orchards of Apple Hill, the six-acre Cardanini's Pumpkin Patch lets you pick your favorite pumpkin right off the vine. Load up a wagon with all of your October essentials, like gray-blue Jarrahdale pumpkins or the whimsical, oversized Cinderella variety. After that, find your way out of the corn maze and visit the spooky haunted log cabin… if you dare. On your way out, stop by the Cardanini's general store for fall staples like pumpkin bread, pumpkin pie and even pumpkin ravioli. Fri.-Sun. 9 a.m.-5 p.m. 2655 High Hill Rd. Placerville. 530-644-2140. cardaninispumpkinpatch.com
Cool Patch Pumpkins
Through Oct. 31 Recognized in 2007 by Guinness World Records for having the largest corn maze, Cool Patch Pumpkins changes its maze layout every year, and this October's 44-acre labyrinth features the farm's logo and offers two levels of difficulty. After putting your directional skills to the test, tour the farm's village with tepees and a straw castle, take a few shots on the pumpkin cannon, or hop aboard a hayride for a tour of the 40-acre pumpkin patch. On weekends, Cool Patch offers a concession stand with items like tri-tip sandwiches, soft-serve ice cream, kettle corn and pumpkin pie. 9 a.m. to 8 p.m. daily. 6585 Milk Farm Rd. Dixon. 530-746-8725. coolpatchpumpkins.com
Pumpkin Patch, Draft Horse and Vintage Tractor Show
at Steamboat Acres
Oct. 25-26 Steamboat Acres, a family-run, 300-acre pear farm in Courtland will play host to this two-day festival showcasing its own organically grown pumpkins, along with farming equipment like a vintage crawler and wheel tractors. Browse for that perfect pumpkin, pre-picked and placed under the trees of the pear orchards, and nosh on barbeque lamb sandwiches from Dixon's Smokin' Ewe BBQ and Catering. Before you leave, nab a scoop of Steamboat Acre's creamy pear ice cream. 10 a.m.-6 p.m. Sat. & Sun. 15819 Sutter Island Rd. Courtland. 775-1166. steamboatacres.com
Uncle Ray's Pumpkin Patch
Oct. 1-31 After outgrowing its former location in West Sacramento, this pet-friendly farm and pumpkin patch has moved to a site located along Garden Highway near Sacramento International Airport. The patch now features corn and hay mazes, along with 15 acres sprouting 30 varieties of pumpkins, including New Zealand Blue, Sorcerer and Magic Lanterns. After picking out your favorite, check out Uncle Ray's other attractions, including the cow train, pony rides, and a pumpkin cannon shooting miniature pumpkins at high speeds into the air. 10 a.m.-6 p.m. daily. 5160 Garden Hwy. 997-8573. unclerayspumpkinpatch.com
You Might Also Like
Browse the region's hidden past during the Sacramento Archives Crawl
12 colorful spots around town to take your next Instagram photograph
Plant Nite sprouts up in Sacramento