Celebrate race day with hats, music and the Kentucky Buck cocktail at The Porch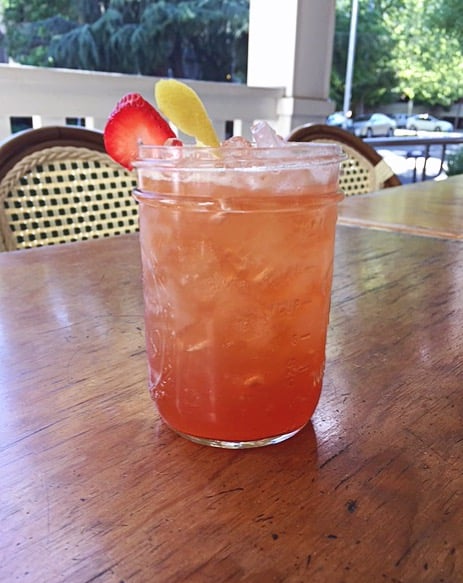 The Kentucky Derby falls on Saturday, May 7 this year, and The Porch Restaurant & Bar in midtown, known for its Lowcountry Southern cuisine, is throwing a party complete with a signature strawberry-topped cocktail.
Those looking to catch "the most exciting two minutes in sports" can celebrate as The Porch hosts its sixth annual Derby Days party May 7 from 2 to 6 p.m. The race will be shown on flat-screen TVs and highlights of the annual event will include competitions for best hat and best-dressed, with live Dixieland jazz by The Crescent Katz, and race day fare like the Derby Pie with ice cream, walnuts, pecans and chocolate chips tucked inside the pie crust.
The Porch will also feature a lineup of four specialty Derby-themed cocktails, including a classic mint julep, a Pimm's Cup and the lemony Horse's Neck. But the standout here is the bourbon-based Kentucky Buck cocktail, crafted with The Porch's house-made vanilla bean bitters and soda water that provides subtle carbonation and a pleasantly frothy top.
"It's a fun drink," says bar manager Ian Young, who tended bar at Red Rabbit and Shady Lady prior to joining The Porch last fall. "The sweetness—it's like being a kid at Disneyland."
The Kentucky Buck's combination of fruity flavors with tart lemon balances nicely with an added depth from the ginger liqueur, and one sip will have you feeling like a slow summer afternoon. Head to The Porch's Derby Days or craft one at home using Young's recipe below. 1815 K St. 444-2423. theporchrestaurantandbar.com
Kentucky Buck
(makes one cocktail)
2 strawberries
1½ oz. of bourbon
3/4 oz. ginger liqueur
3/4 oz. lemon juice
1/2 oz. simple syrup
Vanilla bean bitters
Lemon peel
Muddle one strawberry with simple syrup and douse the mixture with ginger liqueur, lemon juice, a dash or two of vanilla bean bitters and, finally, bourbon. Shake well and pour over a tall glass of ice. Top with soda water and garnish with a sliced strawberry and lemon peel.
You Might Also Like
Sacramento's first "Taco Party" comes to downtown in October
Craving of the Week: the Espresso Chocolate Mousse at RailBridge Cellars & Company
Three sweet new ice cream shops