Celebrated French cafe to move into larger downtown spot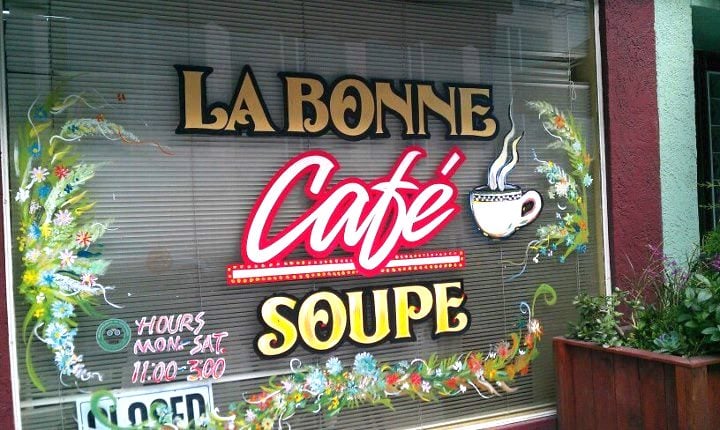 A storied downtown French eatery that once scored the highest rating for food in all of Sacramento, La Bonne Soupe Café is moving from its longtime location on 8th Street between I and J into a much larger space a block away.
Long known for its French onion soup (and long lunchtime lines), the diminutive spot will open in about two weeks, permits pending, on the ground floor of the Park Tower building on 9th Street between I and J, across from Cesar Chavez Plaza. It's growing from 385 square feet to 2,800 and will occupy the former location of a Quiznos sandwich shop that closed its doors in late 2016.
In 2008, under the guidance of the original owner, French chef Daniel Pont, the tiny foodie sensation shocked the local culinary scene when it earned the single highest food rating of any Sacramento restaurant—29 out of 30—when Zagat began including the capital city in 2008, beating out A-List Sacramento names like Biba, Mulvaney's and The Waterboy. Pont was a one-man show, taking orders, cooking, serving and cleaning by himself.
In 2011, Pont sold the cafe to its current owner and chef, Edward Stoddard, a New York native who formerly worked at Ella Dining Room and Bar. Under his ownership, the cafe has continued to thrive and still draws long lines daily. Stoddard says the weekday hours (currently 11 a.m.- 2 p.m.) will expand to 11 a.m.-5 p.m. and that he is hiring more staff to accommodate the transition.
"This little place is nice and it has a lot of ambience, but I'm ready to do something major after all of these years," Stoddard says.
Regulars can still expect a rotating menu of daily soups made from scratch, like the French onion (a robust blend of chicken and veal stocks, 20 onions and a bottle of sherry) and the creamy saffron seafood chowder with cod, salmon, clam and crab. Stoddard hopes to introduce a permanent sandwich menu of 10 to 12 varieties available throughout the day and for catering that will use braised meat, seafood and local vegetables, like the duck confit with caramelized onions and brie, as well as daily specials like an ahi tuna sandwich. All of the chef's creations will continue to feature bread from La Brea Bakery in Los Angeles, which he says is a key ingredient to his cafe's success.
Stoddard is quick to emphasize that he's aiming to carry over the charming atmosphere of La Bonne's quaint origins to the new café, replacing Quiznos' bright interior with a warmer color palette of red and yellow walls where paintings from regional artists like Nick Summers will hang. Chalkboard menus will tout the daily offerings, and Stoddard also plans—just as he did at the original La Bonne—to host local musicians like guitarist Mikey LP for lunchtime sets.
980 9th St. Follow La Bonne Soupe Café on Twitter (Seinfeld fans will recognize the Twitter handle @nosoupe4u​) for updates and its daily menu.
You Might Also Like
Totally tuber-lar: SactoMoFo hosts inaugural Sac Fry Fest
Kru in East Sacramento launches late-night happy hour
Fizz champagne bar to open in Downtown Commons