Cheese Wiz
With Melt, Garrett McCord writes the book—literally—on mac and cheese, from traditional stovetop versions to modern takes that redefine the enduring comfort food (coconut cheese wontons, anyone?).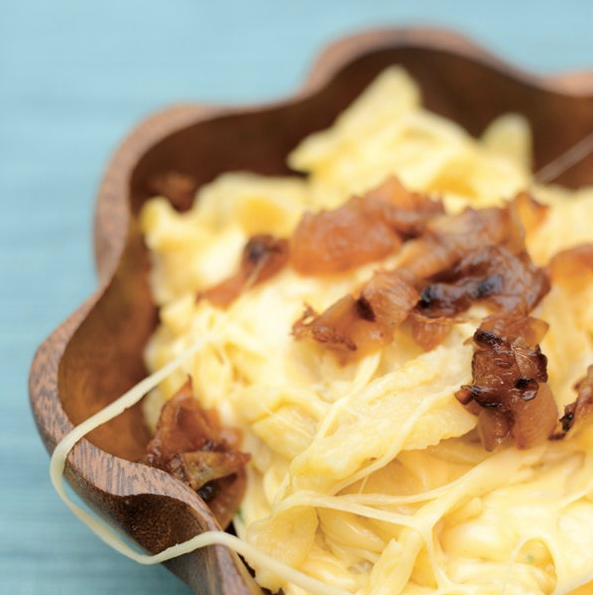 How did the idea for Melt: The Art of Macaroni and Cheese (which will be released on Oct. 22) come about?
[In 2011] after I finished my graduate work at Sac State, where my thesis was "Examining the Exclusionary Rhetoric of the Slow Food Movement's Recipes and Literature," I had time on my hands and I was ready to work on another project. I was having a phone conversation with my friend Stephanie [Stiavetti, an Oakland-based food blogger who co-authored Melt], and we were throwing ideas around [for a cookbook], and mac and cheese popped up. We both laughed about it for a second, and then we realized it was actually an idea that might have some weight. Mac and cheese is [something] people know. It's a recipe everyone already loves.
What's your earliest memory of mac and cheese?
I had two working parents—one was a therapist and the other one was a third-grade teacher—so honestly I never had homemade mac and cheese. I had the [Kraft] "blue box" with hot dogs cut up into it. I admit during the making of this book, I may have made that once or twice just for the kick of it because I got into a bit of a nostalgic rut. It tastes more of nostalgia than of actual flavor. We would have goat cheese and Maytag blue in the back and I'd still be picking up Oscar Mayer and a box of blue.
Nowadays when you see mac and cheese on a menu, it's not necessarily made with macaroni. In fact, in your book, recipes call for everything from orzo to chocolate pasta, rotini and spaghetti. How do you personally define mac and cheese?
Mac and cheese for me is just a good hearty pasta and cheese dish. There are a few recipes in there that you wouldn't define as [traditional] mac and cheese, like the KoKos [coconut cheese] wontons. But essentially wonton wrappers are flour and water. They're pasta. We wanted to write a book not so much about casseroles but more to introduce people to all these artisan and farmstead cheeses. Part of the goal was to engage people and to encourage them to play around with [cheese].
When you wanted to experiment with different cheeses, where did you go?
Taylor's [Market], Whole Foods and Corti [Brothers] is where I did the bulk of my shopping. Even at times when they didn't have what I needed, they were able to order it for me. The entire book can be made from stores here in Sacramento. Every recipe. You won't have to go and hunt anything down. You can go to any place that has a great cheese counter.
In Melt, you also included a spinach pasta recipe with cheese from the Davis Farmers Market.
I went to college in Davis, so once in a while, I like to drive to the Davis Farmers Market to get bread from Village Bakery, pick up some ingredients or just to go see Davis. We discovered this cheese [Nicasio Square] at the Nicasio [Valley Cheese Company] booth. I always loved their cheeses and I got to talking to them about the book. They gave me this recommendation of what to do with the cheese: get some spinach pasta, get some spinach and just bake it all together in little ramekins. They gave me a wedge of their cheese and said "Go home and make it right now." I did, and that day it went into the book.
There are about 80 recipes in Melt, including some pretty unique ones, like the mac and cheese baked in a sugar pumpkin and even a few dessert dishes. How did you come up with those?
Well, I have a pastry background [McCord is a former assistant pastry chef at Grange Restaurant & Bar]. I really wanted to make sure to include a few dessert recipes. There are five good recipes, like the sweet potato kugel. We wanted to modernize it and give it some more flavor profiles. So we roasted sweet potatoes, mashed that into the mixture with large-curd cottage cheese, coriander and dried cranberries. The whole thing comes out tasting like a cross between kugel and sweet potato pie. It's outstanding.
The stuffed pumpkin is probably one of my favorite recipes, because it's a beautiful showstopper. You take one of those sugar pumpkins, carve out all the guts, fill it with pasta and fontina, fill the whole thing with cream and then bake it. It's the most amazing recipe ever. We actually learned the method from one of [renowned cookbook author] Dorie Greenspan's cookbooks.  She's a friend of ours and inspired that recipe.
Going back to basics, do you have any cooking tips for mac and cheese newbies?
Here's the thing: I think people are daunted because making classic stovetop or baked mac and cheese requires making béchamel. For most people, béchamel is French and therefore sounds scary, but really all béchamel is, is milk sauce with cheese. That's all you have to think about. Really all you're doing is melting some butter, adding some flour and you stir in some milk.
Also, the one thing people often do when they're making béchamel is use cold milk from the fridge. You can do it, but I guarantee you're going to be sitting there and stirring your sauce for like 25 to 30 minutes. If you put [the milk] in a pot over a medium flame for like five minutes until it's just warm to the touch, it'll make your life so much happier. It's the key to cutting out 15 minutes standing over an oven.
What's the best mac and cheese you've ever tasted?
My grandmother would make beef stroganoff from scratch. I know that most people don't think of beef stroganoff as mac and cheese because normally there is no cheese in it, but she would add so much [cheese] that it essentially became mac and cheese with beef more than beef stroganoff with cheese. She would add whatever cheese was in her fridge at the time. She would add blue cheese if she had it. She would add cheddar or goat cheese. It was a treat whenever we got to visit her in Ojai. So we sort of recreate that in the book.
For people who want to eat, but not necessarily cook, mac and cheese, what are some of your favorite restaurant mac and cheese dishes around here?
During the making of the book, I went to Magpie [Café] and had their mac and cheese, and it was so good. It's blue cheese, Brussels sprouts and bacon. It's one of the best combinations out there. I went back the next day, had it again, and that weekend I started [making] batch after batch after batch trying to replicate the recipe as well as I could. Finally, I sent the recipe to [chef-owner] Ed Roehr at Magpie and asked him, "Is this close?" He checked out the recipe and gave us the blessing [to include it in Melt]. I was really happy to take some local inspiration.
The Rind also does an amazing mac and cheese. They know exactly what they're doing, so it's spot on. It has a blend of cheeses, lots of garlic, homemade breadcrumbs and plenty of prosciutto. It's just this nice, salty, garlicky bomb of mac and cheese. They serve it in small cast-iron serve ware, which keeps it ridiculously roaring hot.
Sounds delicious. How did you and Stephanie not gain 50 pounds writing this book?
We both put on weight. We [should] actually call it Melt: How to Get Fat Writing a Cookbook. I took to running. We cooked everything from our homes and my general testing days were Tuesday, Thursday and Saturday. So I sort of had a blanket rule to everyone I knew, even just barely known acquaintances: If it's Tuesday, Thursday or Saturday, swing by for dinner. There will be food here. If you can't stay, just bring some Tupperware and go. We also discovered an instant cure for eating too much dairy. Just pour yourself a glass of sparkling water and add like three or four dashes of bitters. It'll be like nothing ever happened and you can keep going. That's a recipe that never, sadly, made it into the book, but it's probably one of the most valuable.
On Oct. 23, from 11:30 a.m. to 1:30 p.m., Garrett McCord and Stephanie Stiavetti will be signing copies of Melt as American River College's Oak Café hosts a lunch with dishes from their cookbook ($15, reservations are recommended; 4700 College Oak Dr., 484-8526, arc.losrios.edu/chef). On Nov. 24, McCord will appear at a book signing and reception at Taylor's Kitchen, which will feature dishes inspired by Melt ($25-$55; 2924 Freeport Blvd., 443-4739, sactastybooks.eventbrite.com).