Chef Carina Lampkin on reopening Blackbird Kitchen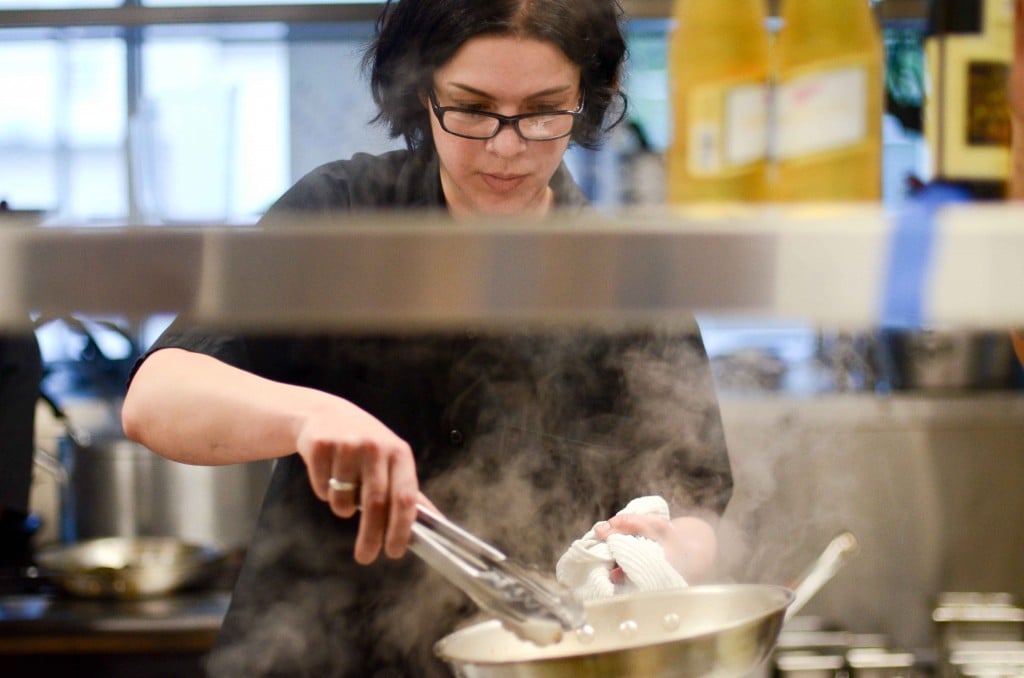 Last September, one of the brightest new stars on the downtown dining scene, Blackbird Kitchen, closed suddenly. The closing reverberated throughout town, not just because Sacramento was losing a popular restaurant with a community-minded owner, but also because the staff was let go via email, ruffling more than a few feathers within the devoted Blackbird flock. While she says she remains close to some of her former employees, and has even hired a few back, the staff email was one topic she didn't want to discuss.
After the restaurant's doors were shut, co-owner and creative force Carina Lampkin took some time off to regroup, and left town to spend the month of December working in the kitchen of San Francisco's Atelier Crenn, owned by celebrated Michelin two-star chef Dominique Crenn.
But it wasn't long before she began planning to revive the restaurant she co-founded in 2012 with her parents. Now she's working with new partners, co-owners Demetri Gregorakis, Tony Priley and Ron McGlumphy.
She spoke with Sactown today about the closing of Blackbird and her plans to reopen next month.
What was it like for you when Blackbird closed?
It felt like a death. It felt like my granny died again.
For the first 10 days after the closure, I could barely move off the couch. I was just overeating and playing video games. Ten days of Grand Theft Auto V. Luckily, the video game machine broke, which I was happy about because I couldn't waste any more time. On the ninth day, my mom looked at me and was like, "Carina, are you sure you don't want to go for a walk?" And my joke, was, "No, sorry, Mom. I'm too busy laying here praying for a blood clot." After that, I was like, "This wasn't going to work." So I found this meditation sanctuary up along the Yuba River and I went and meditated for 10 days. And through that mediation I found the strength to do this again. What's life without a little adversity?
Then you worked in San Francisco for a while.
It was great to go back to San Francisco. [Lampkin, who grew up in Sacramento, previously worked at Bar Crudo in the Bay Area.] I was becoming inspired again. [Atelier Crenn pastry chef] Juan Contreras makes all his own plates out of wood, unique to each dish. So now I'm inspired to try that, too. I just found some claro [walnut] wood and I'm going over to a friend's shop to try to make my own plates too. Claro is a wood that indigenous to this area so I thought it would be cool to represent our food on our wood. These are little ideas I'm taking with me.
What went wrong with the business?
There's not much to say other than doing business with family is hard. I was a rookie restaurateur. I took on a project way bigger than I could bite off. I didn't have the experience to back what we were doing, and I didn't have the support either. The difference now is that I'm experienced. And not only that, I have a team with a lot of experience that is going to complement my weaknesses and vice versa. I don't have to be in control any more. I can just be the executive chef.
What will your fellow co-owners be doing?
Demetri's goal is to make sure the place is ubiquitous and kill it with marketing. Tony has 15 years of experience running restaurants that were profitable, and when he saw what my problems were, he said, "Girl, we got this." Ron is going to come in as the GM. When we closed, I just didn't have any fight in me. What I thought was, "I need a professional management team." I knew what I needed and I asked the universe for that.
When are you opening?
We're on restaurant time, so it's probably looking like Feb. 10 or Feb. 15. We'll definitely hit February. The menu is pretty much developed. The staff is pretty much developed. The redesign is on its way. Because of all the controversy and drama we created, we will be doing an unannounced opening. We're going to open as mysteriously as we closed.
How will the menu be different?
The food is going to be as elegant but more approachable. Part of the problem before was that I was being too much of a snob. I wanted to be a pure seafood restaurant. We will be "seafood forward," but we'll also have chicken, steak and pork chops. Part of getting my food costs down is to bend my concept a little bit and, while still being seafood forward, adding a mix of other proteins. People always ask what my cuisine is and I like to just say it's local, Northern California cuisine. Of course, we'll get everything from sustainable farms that are close by. We will still have boutique oysters and spectacular dinner offerings. We'll have something for everyone now. I was a little too specific before, so we're going to broaden our reach.
I'm also working on a really cool coffee and doughnut dessert. We'll make our own doughuts, make coffee ice cream, and then glaze it with an espresso gel, with a chocolate cigarette next to it.
Other than the food, what else will be changing?
We're just going to fix the existing problems that we had. One was sound abatement. We didn't have repeat diners if they were over 60; they would love the food but it was so loud they couldn't have a conversation. So we're hanging velvet curtains everywhere to absorb that sound.
And the raw bar, though I loved it, was losing us money because our alcohol bar wasn't big enough. So both bars will be selling alcohol. We'll have our raw bar offerings still, but they'll just be coming out of the kitchen.
The food that we were selling was more destination dining, like if you're going to take your wife out for her birthday or your anniversary, which is why we were weekend heavy. So during the week, we're going to add a killer bar menu that is available through happy hour and late in the evening. We didn't have a bar menu before and I think that was just a huge mistake.
Another problem was we looked too much like a bar during the day, so we would lose out on lunch business. So we're taking the booths that were in the back and putting them in the front. It just wasn't a good use of real estate.
And underneath the stairs, we're putting in two large community tables, which one of our employees is hand-fabricating for us right now. They're just wicked beautiful and also made out of claro wood.
The full name of the new retaurant is going to be Blackbird Kitchen + Beer Gallery. What can you tell me about the beer program?
We're going for 50 beers on tap. The boys want to call it Blackbird Kitchen & Beer Gallery [instead of the old Blackbird Kitchen + Bar], so we're rolling with it.
Also, [comic artist Eben Burgoon] had the idea to do a municipal tap house. [That didn't happen] but I thought the idea was great. So with probably two or three of our taps, a portion [of the sales] will always be donated to charity. I want to work with local brewers to see what kind of donation they can make. Maybe it spreads through all the restaurants in the city.
I also have a personal relationship with Brian Hunt who does Moonlight Brewing [in Santa Rosa], and his Death & Taxes beer is like the best frigging dark beer in the world, and his stuff is highly coveted. He doesn't really sell much outside of San Francisco; and he'll be a resident tap here for sure. We will have beers here that aren't available at any other location in Sacramento.
What are you most looking forward to about reopening Blackbird?
I'm most looking forward to being successful and all of the creativity that's happening on our team and taking Blackbird to many different levels. We're not just a restaurant, we're a movement. We're here not just because we care about food, but we're here because we care about people. Despite what people think, we care about our employees. We're pretty much fully staffed. A few [of the original staff members] are coming back.
I'm also looking forward to working with like-minded entrepreneurs. We have a million ideas. The synergy and how dynamic we are together is really motivating. I'll be in the kitchen next week experimenting with all my ideas.
And I just can't fail again, you know? I think it takes a brave-ass bitch to try to come back and make everybody eat crow. I can't wait.