Chef Jeremiah Tower
He's been called the "father of American cuisine" by Martha Stewart and he's credited with starting the farm-to-fork movement in the 1970s as a chef at Berkeley's Chez Panisse, where he gained wide acclaim for his use of regional ingredients, including those from Sacramento. Over 40 years later, it's a full-crop-circle moment for Jeremiah Tower, as he comes to the capital city in September to oversee the Tower Bridge Dinner, which will cap the monthlong Farm-to-Fork Celebration. The food pioneer steps out of the kitchen to talk about the accidental birth of the modern locavore trend, his longtime friendship with local grocer Darrell Corti, and what it feels like to be back in the culinary spotlight.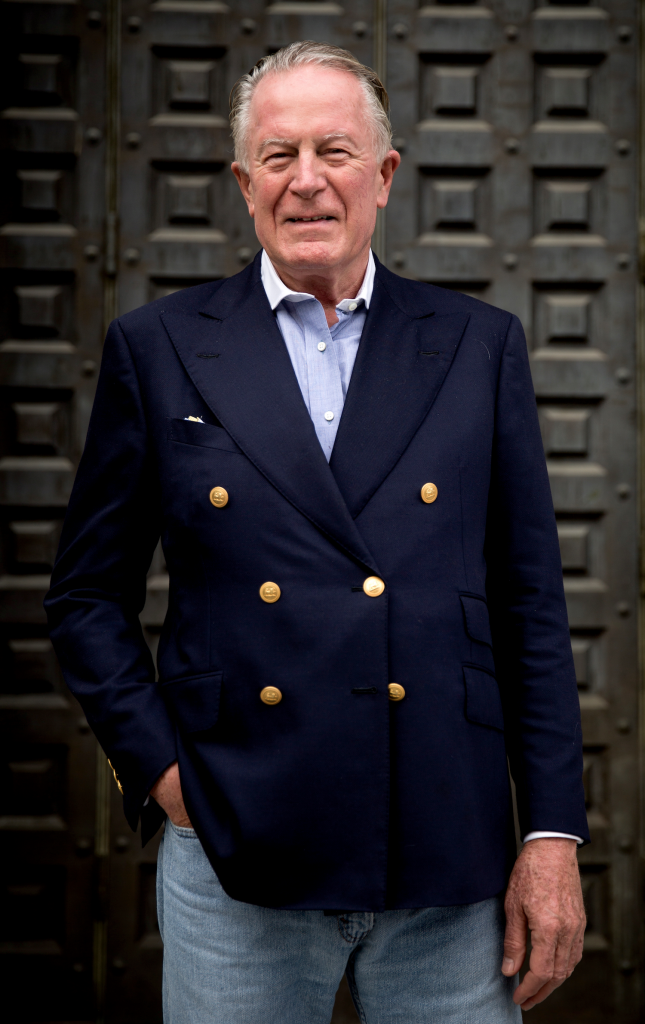 You'll be leading a team of chefs at the annual Tower Bridge Dinner on Sept. 30. How did you come to be involved with it? 
It was first mentioned to me by Darrell Corti and I started doing a lot of research because I knew a lot of my ingredients for [my San Francisco restaurant] Stars came from this area, but I didn't know the farmers [here] the way I did people in Sonoma and Napa. I hadn't realized how important Sacramento had become. I saw last year's information—the menus and everything—and I said, "Yes, I'll do it. Absolutely." The articles I read convinced me. This is one of the richest, most interesting areas in the United States.
I know the menu won't be finalized until closer to the event, but do you have any initial thoughts about it?
We won't be using many of the latest fad, chic ingredients—we probably won't do pork belly or kale. [Beyond that], I told the chefs, "I'm not going to impose ideas on you." They are the ones who can say, "These are the ingredients, these are the suppliers." My expertise would be to curate that and make a very balanced menu. The challenge is, when we're doing [a dinner] for 800, to make it taste the same as if we were doing it for 50.
You mentioned that Darrell Corti was your initial connection to the bridge dinner. You two go way back, to your days at Chez Panisse in the 1970s. Have you stayed in touch with each other?
Yes, we have. At Chez Panisse, I would [ask] Darrell, "Where can I find this? What is this?" He educated me. What I didn't know about, I would call Darrell and he would have the answer. He's wonderful.
It was a miraculous [time] to be at Chez Panisse. That was really the beginning of fork to mouth, farm to table, whatever you want to call it. It really started with Chez Panisse, where I was a chef and equal partner with Alice [Waters] and others. That's why the invitation came from Sacramento.
Indeed, your Northern California Regional Dinner at Chez Panisse in 1976, in which you highlighted area ingredients like oysters from Tomales Bay and cheese from Sonoma, changed the game in the culinary industry. 
I didn't set out to do that. When I say that, people's eyes glaze over because they think it's impossible. But I was just trying to fill up the restaurant because we needed to pay our bills and we had no money. I was doing everything I could so people would flock to the restaurant. It was an approach to cooking, making menus and running a restaurant that just caught on. There certainly wasn't a moment between cooking and working 90 hours a week when I said, "This is going to make a difference to the country." I had no idea. Maybe at the Battle of Waterloo, they knew they were making history, but not in Berkeley in the 1970s.
You can make up a menu and force whatever you can find in ingredients to fit the menu, or you can look at the ingredients available that you have that day and then write your menu. I wrote the menu every day from what was available. That's what in a nutshell changed the restaurant business in the United States.
I think in one's life, you are the sum of the chances you take. We took a lot of chances and that's what happened.
You've also been called the godfather of California cuisine. How do you define it?
People have been trying to say what California cuisine is for decades. It's what I was just saying: It's cooking with the ingredients you find in the marketplace rather than the other way around, thinking you have to have Dover sole even if you have to fly it in frozen.
You eventually left Chez Panisse and opened Stars in San Francisco in 1984, which, as the name would suggest, attracted a lot of high-profile guests. Can you tell us about that time?
All the famous Hollywood players and opera singers from all over the world [came to Stars]. Willie Brown was a great customer. As mayor, he would come to lunch almost every day. It was a real melting pot of the rich and famous, as well as people coming in from the offices across the street or the shop across the road. People said it was the most democratic restaurant in the United States.
"I wrote the menu every day from what was available. That's what changed the restaurant business in the United States. I think in one's life, you are the sum of the chances you take, and we took a lot of chances [at Chez Panisse.]"
After you sold Stars in 1998, you seemingly disappeared. Where did you go?
After 30 years of standing on my feet seven days a week, I was tired. People say I disappeared, but actually I did TV shows and public appearances, and [wrote] three books. I was never that far gone.
I went to New York first and did some TV shows for PBS. I did 13 segments for them [for America's Best Chefs]. It was about cooking with James Beard Award-winning chefs. We went to their restaurants and filmed them. After 9/11, I moved to New Orleans and then Mexico.
In 2014, after over a decade away from the restaurant scene, you returned to take over the kitchen at New York's Tavern on the Green. What motivated you to do that?
It was a challenge I couldn't refuse. I thought, "Give it a whirl. See if you can still stand there and cook." It was a stupid idea, but a very interesting and exciting one. It [lasted] three and a half months, maybe four.
It was a fine restaurant and the staff was fine, but the owners were absolute morons, and I just couldn't work with them anymore. They told me they should take over the food to make sure it's perfect, and in the same breath they asked me if lamb had both white and dark meat. And then I knew that was pretty hopeless, so I said, "It's been great, but no thanks."
Where do you live now and what do you eat when you're at home?
Merida, Mexico. I'm still writing books. My new book is called Flavors of Taste.
Tacos are what I have every morning at the local market up the road, in Santiago. There are lots of other things—wonderful lobster, wonderful octopus, wonderful hogfish. I don't bother to make tacos myself because they do a much better job than I ever could, and I'm not going to roast a whole leg of pork, for God's sakes. But when I'm at the beach, the fishermen bring me stone crab claws and lobster and I cook that for sure.
Between your turn at Tavern on the Green and the 2016 documentary Jeremiah Tower: The Last Magnificent, you've definitely found yourself back in the limelight.
It's great to be back and meet all the young people and see them cooking. I'm enjoying their careers. It's just wonderful for me to see.
I hope there are some lessons in [the film] for young chefs or people who want to go into the restaurant business. It's a story of success and failure and how that's all intertwined. I hope they can be inspired by it and learn what to do and what not to do.
What advice would you give to an aspiring chef?
Pay attention to everything. Listen. Observe. Be quiet. Work really hard. Create your own taste. Don't try and follow Michelin stars or other famous chefs. Learn what you want to do, learn who you are, and then do that. Stand out from the crowd. And spend a month eating in Barcelona.
You Might Also Like
Special K – The Hardin
"Why Not Here?": The Shapes of Water
Riverfront Essay: The Upside of Underpasses